Few things I review impact your health, your day, hell even your life like Vuarnet's Glacier Glasses. But you can't ignore snowblindness. I'm referring to when UV light from sun burns your eyes until you're temporarily blind (I've gotten pretty close before, wasn't fun). I'm also referring to the longterm effects of exposure to sunny snow which leads to cataracts and vision degradation (you'll get these bloodspots in your eye that only get worse). And I'm also referring to when it's snowing and blowing and the foggy lowlight makes it hard to see details with the naked eye, whether you're hiking in the backcountry or playing "dodge the snowdrift" in your car. Days when a wrong move could land you in a ditch, on the ugly side of a tree, or worse.
The struggle's real for us mountain folks. Luckily, to save the windows to your soul from the ravages of the elements, I've found one unbeatable weapon: Vuarnet Glacier Glasses (#1315).
Sun Protection
I'm gonna start with a big admission: I've always wanted a good pair of glacier glasses, ever since I first saw some climbing geek wearing them in the formative years of my youth. Vuarnet's Glacier Glasses deliver that rare-air timeless explorer vibe. The frames without the leather sideblocks also bring that French "movie star from the 70s" look everybody's been emulating since the nouvelle vague (and let's be honest, the 70s woulda been the best time to have been a movie star).
More important than echoing the steeze of somebody way more badass than me, I've got blue eyes, which according to my eye doctor tend to be more sensitive to the sun. So I couldn't keep rocking those $20 specials and expect to be able to see properly in a decade or two, if not sooner. Plus cheap glasses really do nothing for the snowy-blowy driving days I get living in the middle of Teton Valley, Idaho, where the wind whips snow into a blinding frenzy without trees or buttes to stop it and you can't tell where drift ends and ditch begins.
Frame
While the Vuarnet Glacier Glasses would fit in hanging out with movie stars at Sundance or Italian nobility in Zermatt, they're actually practical. Frames made of acetate and steel to keep up with even the rowdiest crashes and drops. Leather shields on the sides of the glasses and on the bridge block out the sun from the flank or top but aren't rigid against your face.
Skilynx Lenses
The lenses are mineral glass, delivering next-level clarity. I have the Skilynx lenses, made to increase contrast on low vis and foggy days, yet still bringing 100% UV protection while absorbing 90% of visible light (so you can see on those blindingly bright bluebird pow days). These are unquestionably the best-engineered eye protectors you've ever hung off your ears unless you're a scientist. So I put them through the ringer.
Mountain Test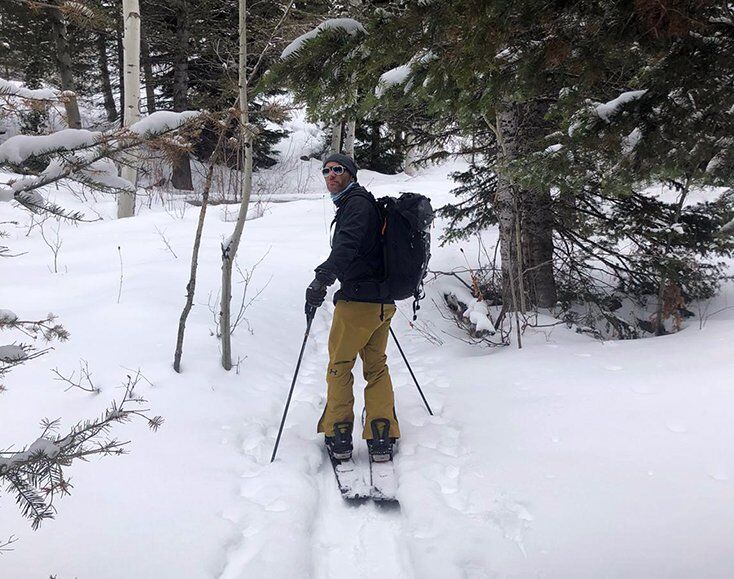 The first time I wore them, I was touring up the south Tetons. On a day that started off sunny and then turned into heavy snow, I saw clearly all day. They held on as I splitskied down to the uptrack, helping rein in a grill on the descent that I then helped drag up for mountaintop food and drink. And as I snowboarded back down from said party peak, rolling around in early-season snow and timber with the glasses in my pack, they didn't get so much as a scratch.
Since then I've worn them almost exclusively through the wind-drifted boulevards of Teton Valley. Conditions when you can hardly see the road with bare eyes, I could make out the road edge and the ditches and the difference between gauzy sky and cottony ground when wearing the Glacier Glasses. These Skilynx lenses bring the orange light of clarity to the sketchiest days. But unlike other glasses, I haven't once worried about their durability regardless what spills I took, even when rolling over early season barely-submerged deadfall.
Overall Impression
The Vuarnet Glacier Glasses ($730) are a gift from the zephyrs for all those who like to explore the high alpine but also like to rock classic style that turns eyes up the hill, on the street, at the apres, or mugging for your Insta on vaunted peaks. Bring in technology guaranteed to protect your eyes, elucidate the world, and withstand even the roughest days and you're unable to find a better pair of glasses for all your winter alpine adventures than the Vuarnet Glacier Glasses.
Related Articles: