Bib snowpants are an absolute must when you're in the backcountry. There's no worse feeling than snow going up your back and down your butt after a crash in deep pow.   Good bibs not only offer almost bulletproof snow protection, but they also provide extra pockets and a bit more warmth than their inferior non-bibbed brethren.  TREW Gear recognized this and in Hood River, OR back in 2008 they started their company with their flagship design, the TREWth Bib.
In TREW's words "The TREWth Bib helped us discover our formula for our entire collection: rugged utility, no-brainer functionality, and a style that instantly communicates that you're the right kind of backcountry partner (i.e., I want to go on a tour with that dude)."  I got my paws on a pair recently and got to really run them through the wringer, using them out guiding on a turbulent day of heliskiing while it was puking snow with a very high freezing level. So in other words, windy, wet and warm.
PNW3L Fabric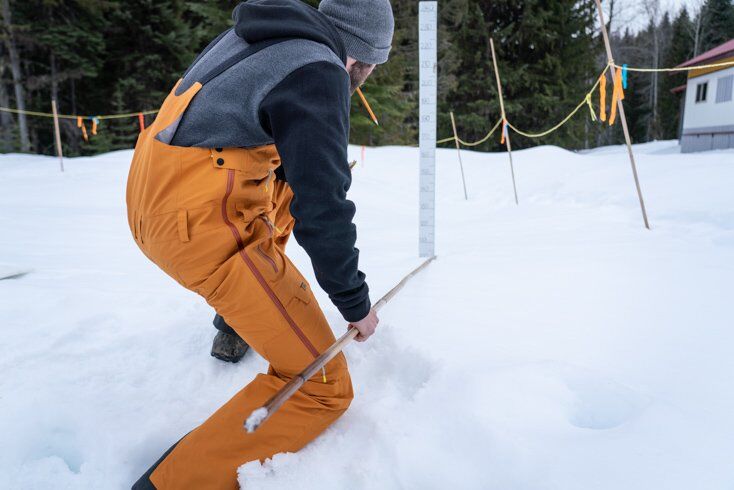 TREW Gear uses their custom PNW3L fabric, meaning Pacific Northwest?? or Performs in Nasty Weather? This material is 20,000mm waterproof/breathable, and Bluesign certified meaning it's sustainably resourced. TREW designed this material to be highly waterproof and breathable, but equally durable and able to take abuse. They have water resistant zips on all exposed zippers, and all seams are sealed with TREW's 3L seam tape. I could try to add more tech babble, but there's nothing else to say, these things are waterproof!
The day I had them out it was nuking snow and fairly warm (0°C or 32°F), there was around a meter (3.3 Feet) of fresh snow. My guide jacket has seen better days and after the first run it was soaked through. My legs however stayed dry all day!
Compare Prices
Last updated: 2023-09-26 04:56:50
TREW Bib Sizing
Fit wise the TREWth Bibs come in short, regular and tall inseam options so you don't end up with ridiculously baggy or uncomfortably euro tightness. The cut is on the slightly baggier side which is quite comfortable and allows plenty of freedom of movement without being a hindrance. Enough extra sag allowed in the seat of the pants means there is no restriction on your stride, which is a plus for touring days or bootpacking.
The upper section of the TREWth Bibs is fairly fitted, meaning if you like to keep some extra stuff in those pockets it may be uncomfortably snug. The legs are long enough that the built in gaiters stay in place on your boots, without being so long that they get caught under your boot and wear out unduly quick. These are definitely some steezy snowpants.
Features
These things have pockets, many pockets! Seven to be precise. On the upper bib portion there are three, one velcro closure pocket about the size of a CD case (thats likely a dated reference…its like the size of 2/3rds of an Ipad mini), a dedicated transceiver pocket with a built in D-ring with a waterproof zipper that is about the size of…a transceiver, and a triangular pocket that would nicely fit half a sandwich, or your phone, or other triangle shaped things.
Moving down, there are the two normal pockets on the upper thighs, normal size, good placement, both with waterproof zippers. Below that just above the knees are two quite large velcro closure cargo pockets, big enough to fit goggles or gloves or skins. I didn't love the placement of these pockets as they are on the front of the leg, meaning when I put my guide book in there it annoyed me. However I could have just put my book in my jacket pocket and not grumbled about it. The TREWth Bibs have long outer leg vents on both legs without the annoying mesh, both of which have waterproof zippers. Solid belt loops all the way around, and a fly so you can pee without having to take off your jacket as with some bibs that do not have a fly.
Overall Impression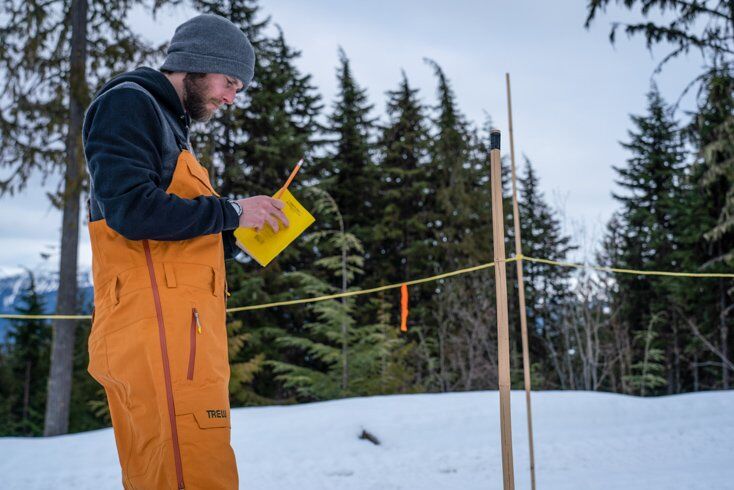 The TREWth Bibs ($439.99) are solid snowpants. If you haven't tried bibs, or have but want an upgrade these are excellent snowpants. All the features and functions you'd want without excess annoying gimmicky junk. They're waterproof, durable, comfortable, plenty of storage and well thought out. They feel good and look good, and come in several colors.
Another notch on the belt for these snowpants is that TREW is genuinely a cool company. They're not some huge commercial entity that only cares about profit, they trewly (Haha) believe in what they're doing. In their words "We believe that people who have positive experiences in the mountains are better stewards for the environment, happier people in their communities, and more motivated to make the world a better a place."
Related Articles: