Bibs are super warm and convenient but can be annoying at times; pants are great especially for resort riding but aren't as warm, don't keep snow out as well, and don't have as many pocket options. The Flylow Compound Bib is both, wrapped up in the highest-of-tech waterproof membranes and all sorts of other other game-changing textiles while carrying on Flylow's tradition of dominating the snow outerwear style competition.
30K eVent Waterproofing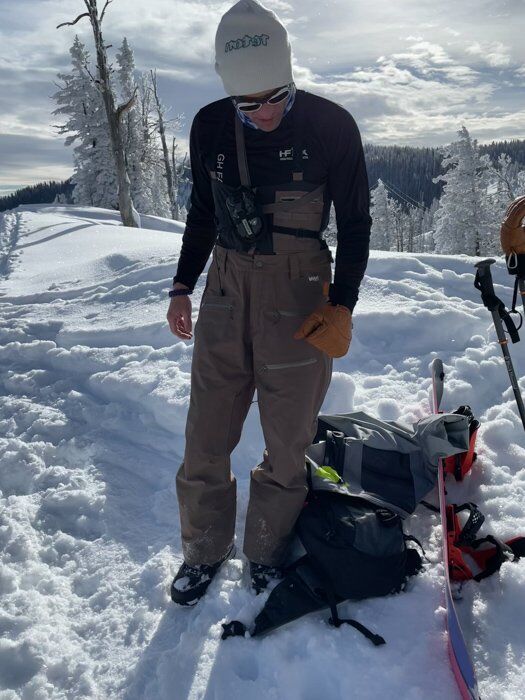 Let's start with the obvious, Flylow's eVent waterproof membrane. This outer brings 30k waterproofing with a proprietary, next-level breathability. This makes for some of the burliest leg-coverings anywhere. The Compound Bib actually brings eVent's top material, the DV Expedition, making sure your pants can handle every type of condition, ice, rock, or whatever you throw yourself into.
Since these are seriously backcountry specific, though, Flylow's Compound Bib has a bunch of other details to keep you safe exploring out of bounds. Like a bacon loop inside the thigh pocket since there is a big movement by guides to wear their beacons in a welded pant pocket. Plus other pockets for days – 2 zip hand pockets, 1 rear zip pocket, 1 thigh pocket, and the pocket on that stretchy chest panel. Though here's the real innovation – you can unzip the bib component and wear these as pants (especially great for those backcountry rest stops), using the built-in belt loops to, well, wear a belt.
Finally there are the 1000-denier cuffs to keep your pants from being torn to shreds by your crampon spikes, as a serious backcountry addiction always leads you to some 'ponning up a headwall or couloir eventually. And of course side seam and inseam vents because as anybody who's ever spent a few hours skinning on a bluebird day knows, your legs will get hot and your undercarriage will get funky.
Made for Deep Snow
I like bibs. They don't fall down, they give you an extra break pocket, and they really keep the snow out. Though sometimes I like pants, especially on a tour when maybe I had a gut bomb the night before, or I'm lapping the resort and might be doing some apres. The Compound is the one-stop shop because it has both.
I first took these out early this season, when the snow was coming in wet and warm (which actually means so cold since that wetness rips through most outerwear). They didn't let any moisture in. Actually I've worn a few pairs of bibs this fall and these were hands-down the most waterproof. Plus the chest pocket is the perfect size for your phone to grab those Insta-worthy shots while your body heat keeps your phone from dying.
Then the snow started flying and the Compound bib was huge for keeping snow out, without a doubt. Still, when I went to lap the resort during a 2-week squall that dropped a couple feet on our snow-starved Tetons and it was game-on. I unzipped the bib for a little more flexibility, plus more comfort when going inside for some warm-up at the resort cantina. Literally nothing came through, despite the deep feet of wet, dry, and windblown pow I sliced through in my favorite stashes. Then they were great for grilling out lunch in the parking lot, where I like to make the board to ski changeover while eating brats with the kid.
Hiking in FlyLow Bibs
The final test was a boot up the legendary Teton Pass ridge in 3-degree temps with winds reaching 45 MPH. I zipped the Flylow Compound Bib tops back on for this mission. It was grueling, and not surprisingly it was one of the few days when I was basically solo on the well-trafficked bootpack. While the hike ended with my face and brows encrusted with rime, my legs never for a second even hinted at feeling cold, especially not the ever-sensitive groin area. I also scraped a few rocks and trees up high, where it was still pretty wind-buffed and didn't even see a tear. I returned to my vehicle safe and super warm, with such little sweat after the intense workout that I could change into my work pants without having to worry about the post-grind funk; Flylow's breathability is truly unbeatable.
Overall Impression
Of the countless bibs I've tried, few could compete with the Flylow Bibs for waterproof breathability. I don't know if any can compete with these for durability. None can compete with these for snow sport brand cred. And I have yet to try any that function both as a bib and, with the slip of a zipper, a pant.
If you can only get one bib this year, and especially if you take your snow exploration seriously and settle for nothing less than the best in outerwear, the Flylow Compound Bib ($499.95) is your perfect self-gift to ring in a new year full of record storms out west.
Related Articles: