Combining heritage art, unbeatable comfort and bombproof construction must have been OR's goal when they made their Carbide Bibs. The Outdoor Research Carbide Bibs can handle any weather, don't crush your chest, and allow for wide fluid movement all the while looking super steezy.
Pertex Nylon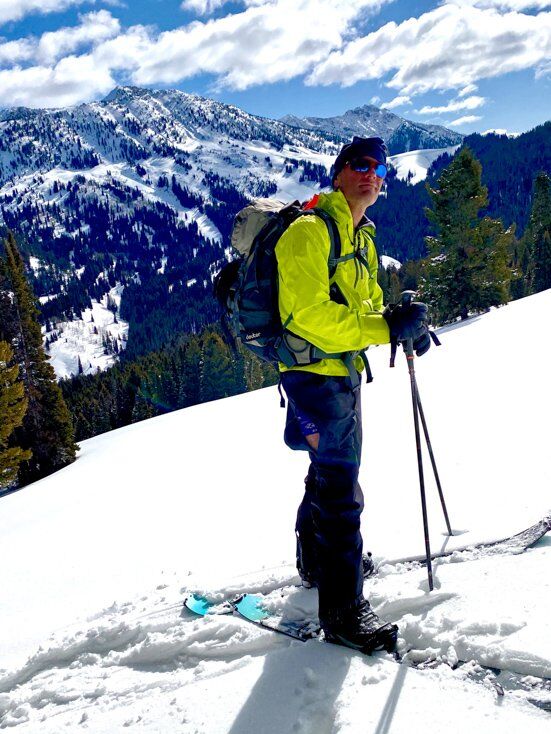 Start with that Pertex Shield 3L 100% nylon 40D outer, a material that seems to be leading the charge in developing cutting-edge waterproofing. The nylon 420D oxford scuff has done a damn good job handling slipping and sliding on this hard spring ice, and the rocks, and everything else. The dual side zips give enough ventilation for anybody to be healthy and the pocket options make this both a backcountry and a resort ski leg-covering.
It has a swing hatch, not a full drop seat (I've noticed full drops can start failing to come back up after a while) but enough access to "answer nature's call" as OR says. Plus there's an avalanche beacon pocket given the research saying possibly beacons are just as good if not better in pants, and extensive guide experience that points to the regular usage of both which no doubt OR got from many avy sages like IFMGA guide Martin Volken.
Basically, on paper these Outdoor Research Bibs should be bomb. So how are the Outdoor Research Carbides in some real testing?
Touring
I've worn these all season. In super cold days and throughout our warm Teton January. In the super-wet February and this March drought. The Outdoor Research Carbides have been my go-to pant. Bib. First off because they were so comfortable that if I was just wearing them on a long tour, they were doing as much heat dispersal through the top as through the side slits, much appreciated.
And it should be added that if you're wearing them like that with the straps showing, you're showing off your artistic appreciation. Their collab for a cause Arcade Elastic belts (super flexy) design was done with the Warli Tribe. An ancient Maharashtra, India, tribe who have been known for their artistry for over a thousand years, they designed this pattern. And proceeds from the use of this pattern support the Warlis. Pretty rad.
But seriously, the Carbides handled a day so full of windblown frozen rain that I never once had to think of the ventilation zips (and my fingers were irresponsibly white by the summit). And they were just as good on a bluebird, churning-leg pow day. In fact given their light weight, I was blown away by how much they repelled. Since that light weight made it great on the warm days. Plus with the hip pockets, the chest pocket, so many great pockets, they were better than all the other tight, "streamlined" premium waterproof bids out there.
My only issue is if you're ever looking for your bibs to add warmth, I didn't find these to be the ones.
Overall Impression
Are you looking for something that's waterproof with the most cutting materials? Yeah, the Outdoor Research Carbide Bibs ($298.99) deliver that. Want something with steeze, especially some conscientious art that means something? They got that. The Carbides deliver. But while they move and look just as good inbounds, definitely make sure you layer up underneath on resort days.
Related Articles: