If you're looking for a foldable electric scooter that does it all, you should definitely check out the Varla Eagle One Pro. This awesome piece of machinery is packed with features and can easily handle your daily commute with ease.
Plus, its sleek design and handy storage make it great for zipping around town without having to worry about parking. Let's take a closer look at what makes the Varla Eagle One Pro so special.
About Varla
Varla, a visionary electric scooter company born in 2018 and headquartered in El Monte, California, is dedicated to masterfully crafting high-performance e-scooters. It's the kind of company you'd want behind your electric scooter.
It is devoted to creating electric scooters that are resilient, efficient, and versatile—all of which are present in the Eagle One Pro (more on that in a moment).
Whether you're commuting to work each day or embarking on an off-road excursion, Varla's limited but sufficient lineup has something for nearly every need. Not only do the company's products provide optimal performance, but they also prioritize sustaining a clean and healthy environment.
As for Varla's Eagle One Pro electric scooter, it's the company's flagship model, and rightfully so. With its strong motor, extra-large tires, and extended-range battery, the scooter is perfect for riding on virtually any terrain or in any environment.
In addition to the Varla Eagle One Pro, the company also offers the Varla Pegasus, a more affordable model with a smaller motor and a shorter range.
Overall, Varla Scooter is a reputable company that offers high-quality electric scooters that accommodate different needs and budgets.
But how does the Eagle One Pro perform, and who is it best suited to? I answer these questions and more in my review below, so join me as I highlight everything that makes this scooter worthy of your consideration.
Who Is It For?
The Varla Eagle One Pro All Terrain Electric Scooter is perfect for those who want an electric scooter with plenty of power and a range that can handle a variety of terrains. But where it really shines is in its use as a daily commuter.
This scooter was made for long and short rides, and it's got the features to prove it. If you work in the city and are sick and tired of paying for expensive parking and fuel, the Eagle One Pro effectively eliminates the need for both.
If you're not keen on public transportation and prefer to avoid crowded buses or trains, the Eagle One Pro is a great alternative.
And because it has a foldable design, the scooter can easily fit in a car trunk or be carried around when needed. That said, its robust construction does make it quite heavy when you're carrying it around. This issue could pose a real challenge for some individuals.
How heavy is it? Hold onto your seat because it clocks in at a very hefty 90 pounds. Try to imagine carrying nearly 100 pounds up and down stairwells or packing 100 pounds around on public transportation.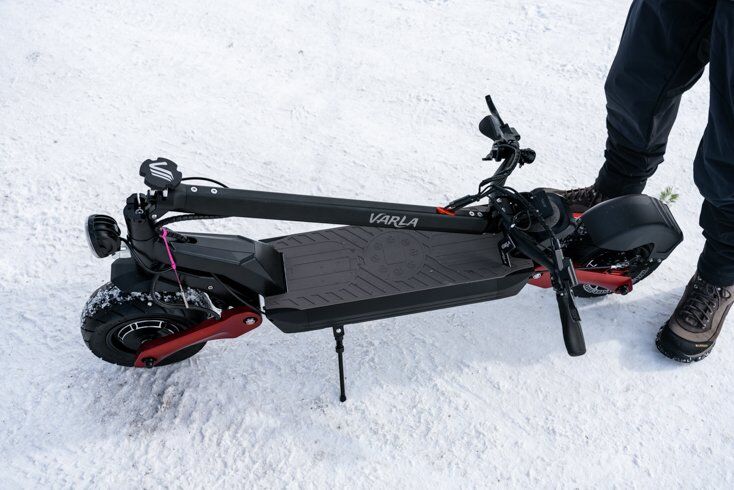 Not a very appealing prospect. For all the accolades the Eagle One Pro receives, this is one factor I can see causing some pushback.
In all fairness, however, I can't imagine this scooter being much lighter. It's designed to support up to 330 lbs., so it's well-suited to heavier riders.
With its extreme power and torque, heavy-duty battery, and hefty wheels, it's no wonder that this product carries such a hefty weight.
The hefty weight of the scooter makes it tremendously stable, allowing you to take sharp turns or go downhill with ease. Furthermore, this added heft provides additional durability and allows for a smooth ride even on bumpy roads, making it an ideal choice if your area has rough terrain. Not only that, but its bulkiness is also likely to keep thieves away.
It's also worth mentioning that the Eagle One Pro is designed for adults, so it might not be the ideal scooter for kids. That said, if your child already has experience riding electric scooters, the Eagle One Pro could be a great option.
It's designed to accommodate riders between the heights of 4'5" and 6'11", so there's a chance that experienced youths could find it comfortable and easy to ride. But if you're looking for a scooter specifically designed for children, Varla's Pegasus might be more up your alley.
As for the Eagle One Pro, it's certain to satisfy any adult rider who's looking for a powerful, reliable, and long-range scooter. Not only is this an ideal option for commuters, but it's also perfect for those who are looking to explore beyond the beaten path.
What Is Included?
There's a lot to like about the Eagle One Pro. It provides a highly-capable ride while also giving you essentials that should be on every electric scooter. With its powerful 1,000-watt dual-hub motor, independent suspension system, and dual shock absorption, you can expect an impressively smooth ride with plenty of power for hills and off-road excursions.
Plus, its 11-inch tubeless tires provide plenty of traction and cushion, making it suitable for bumpy roads or cobblestone streets. These large tires really need to be experienced to understand just how much of a difference they make in your ride.
Together with the front and rear dual shock absorption make your riding safer and more comfortable, truly superior comfort and stability. It's a huge improvement over conventional scooters and their bumpy rides.
Varla's Eagle One Pro is also a great option for riders who want an electric scooter that can handle their daily commute with ease while still being able to take on rougher terrain when needed.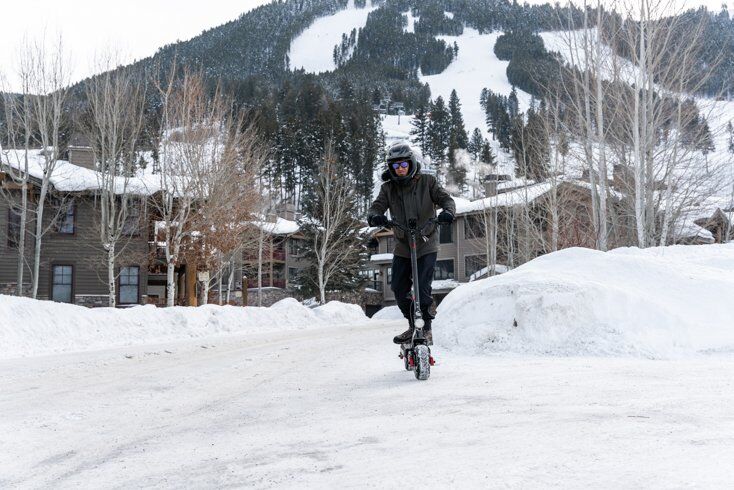 The only area where it faltered in my testing was snow and icy surfaces. You'll be hard-pressed to reach its max speed when it's slick—I was able to get the scooter to about 20 MPH, tops. So if you live in a cold climate and need something that can handle icy conditions, the Eagle One Pro might not be your best bet.
However, for riders who primarily use their scooter to go around town or on occasional off-road excursions, the Varla Eagle One Pro exceeds expectations.
Capable of reaching top speeds of 45+ MPH under normal conditions, it can make your everyday commute a breeze. Of course, you'll need to be mindful of posted speed limits. This is true whether you're on roadways, paths, or trails.
But speed is one thing; the long distance riding is also incredibly important any time you're dealing with an electric scooter. Fortunately, the power-packed battery allows you to cruise up to 45 miles on just one charge—so don't worry about running out of energy during those lengthy adventures.
And when you do need to recharge the battery, the two included charging ports allow for reduced charging time vs a standard single-port system. This is especially helpful if you need to get back on the road quickly since it cuts down your charging time.
I should point out, though, that Varla includes only one charger. That means taking advantage of the dual-charging system will require you to buy an additional charger. Fortunately, they are reasonably priced, so it's not a major added expense.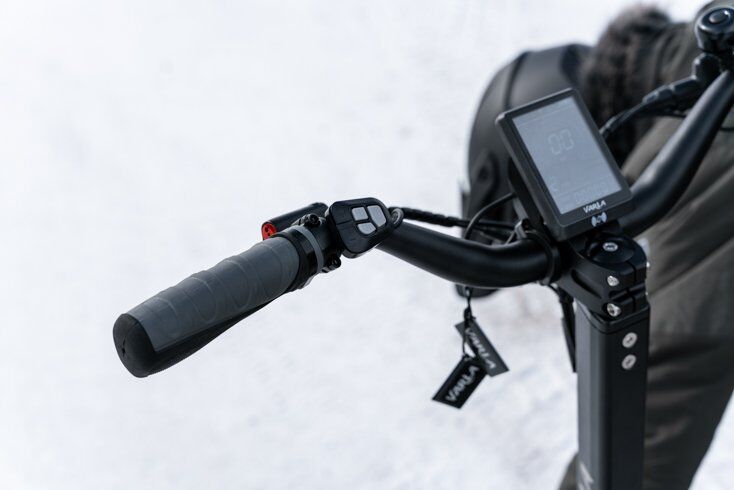 With the scooter also comes a 3.5-inch LCD display and intuitive controls, making the Eagle One Pro easy to use and navigate. I really appreciated being able to keep an eye on my speed and remaining battery, among other specifics like the current mode.
This display is a must-have that goes a long way in providing a more enjoyable—and safer—ride.
When Is the Best Time to Use the Eagle One Pro?
Anytime, really. Because it comes equipped with a bright headlight and taillights, the Varla Eagle One Pro is a great option for night rides. I had no problem seeing where I was going in dark and low-light areas.
There was one minor caveat that concerned me, though, and that was the flickering taillights. As you ride over various surface types, the taillights tend to flicker on and off. It's brief and intermittent, but it's worth mentioning.
The headlight, on the other hand, suffered no such issue. In fact, it was super bright and effectively illuminated my path throughout the entirety of each ride.
I also like that the scooter boasts a waterproof and dustproof design, which makes it suitable for wet environments like rain or snow (just remember to avoid icy surfaces).
I would recommend upgrading the ding bell on the handlebar to a much louder and more robust way of letting cars or pedestrians know you are nearby, especially at the rates of speed the Varla Eagle One Pro is capable of.
Where Can You Ride the Eagle One Pro?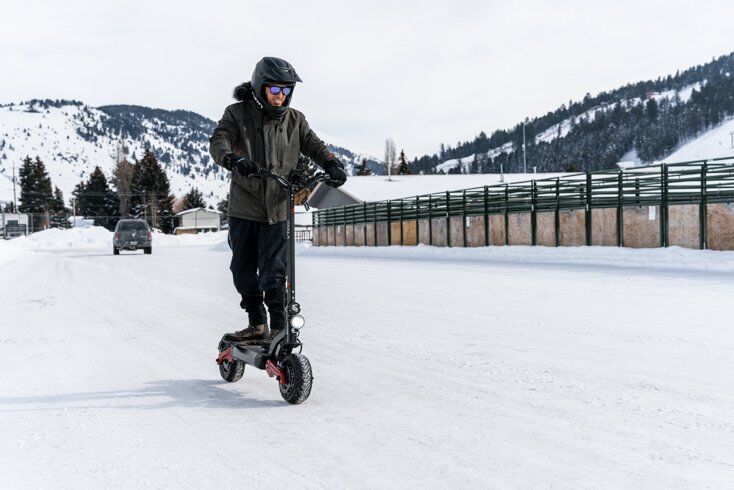 As I mentioned a moment ago, you can confidently take the Eagle One Pro on long rides, thanks to the 27 Ah 60-volt lithium-ion battery. This equates to a 1,620wH battery and features a total of 96 high-energy-density batteries. This beast of a battery has more than enough power to get you around town and back.
Or, if you like to traverse paths and trails on your camping expeditions, Varla's flagship can handle them with relative ease. That's because it can climb inclines of up to 35°, making it a great option for off-road adventures.
Coupled with its reliable battery, you shouldn't have any worries about making it back to your destination. You can expect great comfort while riding, too, thanks to the previously mentioned shock absorption system and large deck.
There's plenty of room to place your feet; depending on your preferred riding style, you have all the space you need to accommodate yourself. So whether you prefer a surf-style, ski-style, or back kick deck stance, the Eagle One Pro has you covered.
Theft Prevention
This electric scooter is incredibly versatile and perfect for all skill levels and various terrains. Although when navigating a city environment, the possibility of theft should always be taken into consideration.
Thankfully, Varla understands this common worry and has made sure that the Eagle One Pro is as tough to steal as possible. To ensure this, they've included an anti-theft feature that requires a unique NFC card to operate the scooter.
Gone is the traditional key, replaced by a secure and convenient NFC card that you can use to start up the scooter. This simple but effective solution makes it difficult for potential thieves to access your ride.
There's also a built-in folding clamp system that makes it easy to fold and store the scooter. It's great for when you need to take it with you on public transportation or stow it away in your trunk after a long ride.
To operate the folding clamp, simply turn it to tighten or loosen. An included locking key ensures your handlebars are safe, secure, and in place.
Why Would You Want the Eagle One Pro?
It's no secret that driving costs are continually on the rise. Gas prices, registration fees, and other expenses can make taking your car from point A to B a costly—and tiresome—endeavor.
With the Eagle One Pro, you can save time and money by ditching your vehicle and all its related costs and opting for an affordable, eco-friendly e-scooter.
If you're looking to save time and money without the hassle of planning a long-distance journey, then the Eagle One Pro is your go-to solution. It has all the features you need and is suitably powerful enough to take on any terrain.
So as long as your destination isn't too far away to safely ride on the Eagle One Pro, then this is truly the best option available.
Overall Impression
The Varla Eagle One Pro ($2,299) is a reliable and rugged electric scooter with high end build quality. It can handle all kinds of terrain, from city streets to off-road paths, and it has an impressive battery life that delivers a long ride with ease.
With its innovative shock absorption system and waterproof construction, this electric scooter is the perfect choice for every rider regardless of their experience level. It's sure to provide a safe and enjoyable ride, regardless of whether you've ever ridden an electric scooter.
Plus, the innovative anti-theft NFC card and folding clamp system make it easy to store and secure the scooter when not in use. If you're looking for a reliable and versatile ride, the Eagle One Pro is definitely worth a look.
Related Articles: