Winter is coming— but don't let colder riding conditions cut your cycling season short! Cycling apparel brand Velocio has come out with its own winter layering system to keep you warm and dry in less-than-ideal weather. For the past couple of months, the Velocio Alpha Mid-Layer, Signature Softshell, and Alpha Gloves have been my go-to clothing items on cooler night rides as I prepare for the even chillier weather ahead.
Among my cycling buddies, I am notoriously bad at dressing appropriately for the weather conditions at hand. You'd think I have learned my lesson by now (I'm getting there, I swear) after several close calls in freezing rain and sudden nighttime temperature drops in the desert. It doesn't help that I generally run cold, even on a good day, and I was hoping this Velocio winter apparel would finally put an end to my strained relationship with winter riding.
About Velocio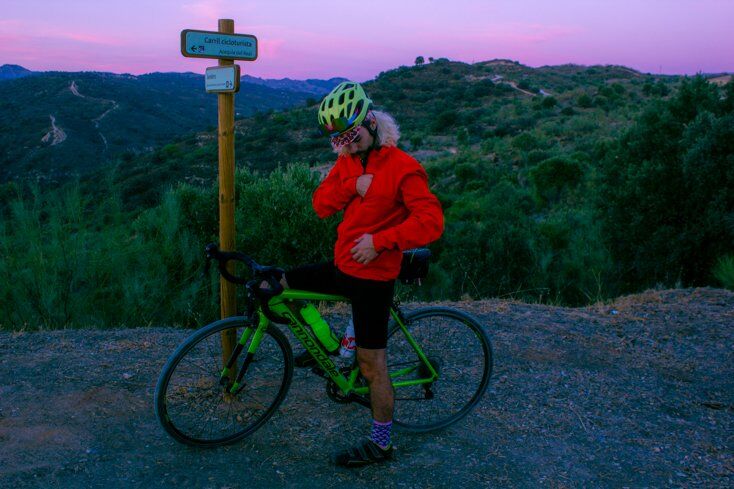 Velocio's company motto is "There's a better way" and they have been producing some fairly innovative pieces of cycling kit since its start in 2013. The products are designed in New England and the cardboard tags state made in Italy, featuring a comprehensive range of apparel from head to toe. The inside tag on the Alpha mid-layer says it was made in Lithuania and the softshell jacket in Albania, though.
The cycling outfit started out focusing mainly on women's apparel, including the "Fly" bib design with a small rear zipper that made nature breaks a bit easier without compromising on performance and comfort— a dope idea that showed the brand's commitment to innovation within women's cycling.
The brand even sponsored the Velocio-SRAM World Tour women's professional road cycling team during the mid-2010s. More recently in 2022, however, the Chicago-based SRAM group actually acquired Velocio, indicating the cycling powerhouse's trust in the fellow American brand. Velocio also has a commitment to sustainability, becoming a member of the Conservation Alliance and pledging 1% of gross sales to environmental causes. Velocio apparel collections often take advantage of recycled fabric and are shipped in compostable packaging.
The Velocio Alpha System is marketed as a kind of secret weapon for winter riding. The system is based around the Alpha mid-layer long-sleeve jersey that's designed to be combined with either the brand's rainshell or softshell jacket for even more protection from the elements and harsh cold.
The Alpha mid-layer boasts a kind of Cookie Monster-esque fabric that reminded me of apparel I've seen from Patagonia and similar brands. And that's because it's made from the same high-quality material— Polartec® insulation fabric. It's woven in a kind of grid pattern with a quarter zip and the rear of the jersey uses a different, stretchier athletic fabric. The exact material composition of the mid-layer is 90% polyester and 10% Merino wool.
The Alpha mid-layer was so comfortable and soft that I frequently found myself wearing it around the house as a casual layer. The wide weave of the fabric does let air through so the layer definitely isn't enough by itself on very cold rides. But that's not how it's designed to work best— the construction is supposed to be breathable while creating an airspace to trap warm air when combined with the accompanying outer shell. For more moderate temps, this mid-layer is a great long-sleeve for night rides complete with three back panel pockets. As a plus, I've gotten plenty of compliments on the Alpha mid-layer's cool fabric texture and bold fire-red color.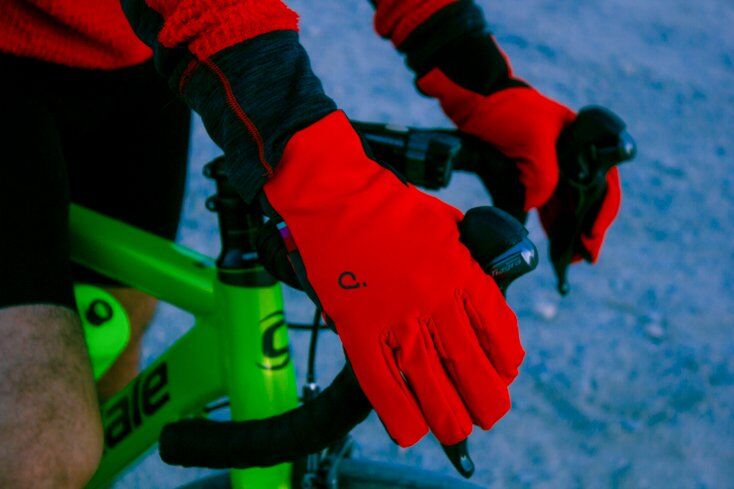 Another part of the Alpha system is the Alpha glove. It's a lightweight glove made from a DVStretch Softshell outer layer for wind and water protection along with that Polartec® material inside the glove for added warmth. The fabric is labeled as 90% polyester with 10% Elasthanne. There's no integrated padding in the palm which I liked since it preserved the lightweight and low-profile design of the glove. They are comfortably stretchy with long cuffs to avoid chilly wrists while riding.
The gloves are comfortable and premium-feeling but the lack of breathability makes these gloves better for the coldest temps (20-45°) where sweat is at a minimum. The Polartec material doesn't wick sweat well and pulling a sticky, moisture-laden hand out of the glove will likely bring the inside liner along with it. I tried these gloves on during a cool-but-not-cold ride and my hands got hot. Once the temperature dropped a bit, though, I was glad to have these toasty mitts on.
These aren't water- or windproof enough for snowy conditions, but hey— I don't really want to be riding in such bone-chilling weather anyway. One downside some riders may notice is that there aren't any grippy bits of silicone on the palm or surrounding areas. That's more of a mountain bike glove feature that I didn't miss too much as a roadie, but it might be something to keep in mind. The gloves are currently on sale for $60 which I think is a fantastic deal compared to their MSRP of $119.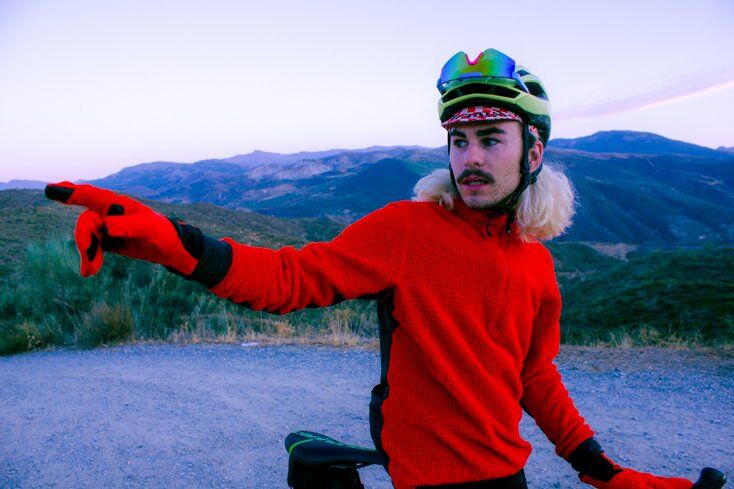 I also tested the Velocio Signature Softshell Jacket, the most expensive piece of the bunch priced at a steep $269, so I had high expectations. Similar to the Alpha mid-layer, the softshell was immediately uber-comfortable with a great balance of stretchiness and durability, an important factor for something that will be the outermost layer while riding. The water resistance is impressive and it handles moderate rain very well— it also passed the classic "running water in the sink" test with flying colors.
There's softer fabric along the collar and a neoprene-like strip to prevent air from flowing through the non-waterproof zipper. I appreciate the ample storage options with the three back jersey pockets and single chest pocket. Half of the cuff is made from a stretchy material so sliding the jacket off and on is easier than most. It's decently breathable and effectively breaks the wind to keep you warm. Paired with the Alpha mid-layer I can see them as a versatile combination I will reach for often this winter on the coldest days.
Velocio Sizing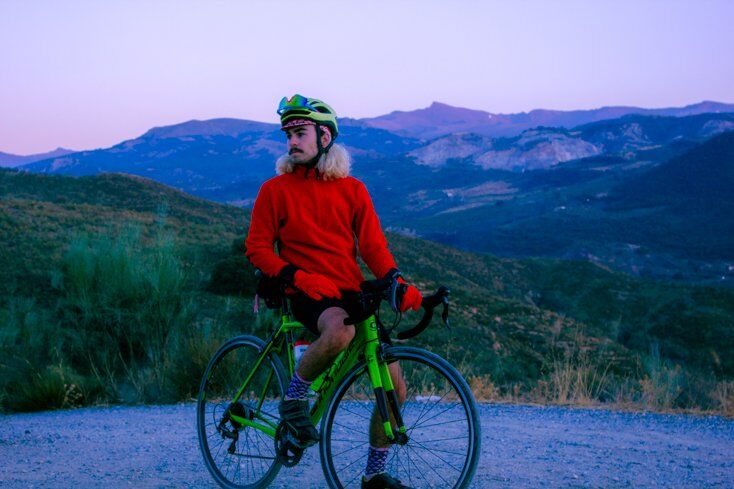 I'll wrap up this review with a note about sizing. Many cyclists have already reported that the sizing runs small and I definitely have to agree. My smaller frame typically matches a size S men's but the size L products I tested fit me very well, so I recommend going up a size or two from your normal choice.
But that's fine because Velocio offers a huge range of sizes on all of their apparel, dwarfing the options of many rival brands— customers can choose from between XS all the way up to 4XL!
Overall Impression
I've been impressed by the comfort and warmth of Velocio apparel so far, even if the high price tag prevents it from getting a perfect score. But if making the investment in this cycling clothing that'll last for years to come means getting in significantly more miles this winter, I see that as a worthwhile tradeoff. I know I'll be more excited this winter to hop in the saddle knowing I'll be warm enough— and who knows, I may even shake off my reputation of never being able to nail down a weather-appropriate outfit.
Related Articles: