A couple weeks back I received a portable Weego Jump Starter for review. To be honest I wasn't sure how I would be able to test this without a dead battery?
Then I found myself stuck without power on a Forest Service road in the middle of nowhere (way outside of cellular coverage) I thought well I might as well give the Weego 66 a go and hope for the best.
Weego Jump Starter Size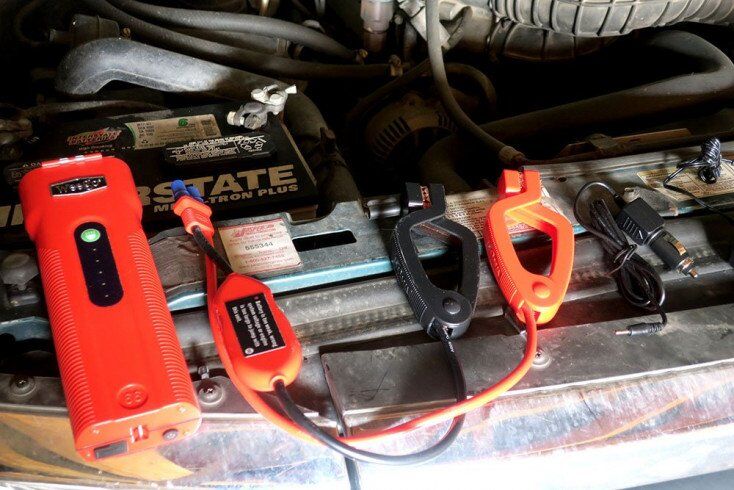 The Weego 66 Jump Starter is about the size of a large TV remote control,  or A Nalgene bottle cut lengthwise.  Could such a small device actually start a dead battery?
It takes less than 30 seconds to get this out of the box, hooked up and turned on.
Once unpacked the Weego 66 is very user-friendly.  One plug goes into the charger (shown on the left) while the clamps (shown on the right) attach to your battery. Simple as that.
Frustrated my battery wasn't turning over I yanked the Weego out, placed it on the inside of my truck and Whala,  Weego's green Ready light went solid.  I went back inside turned the key and my Bronco started up (a 1994 5.8L V8 engine) without any hesitation.
The first test went well, but what about charging a car battery that's been parked for way too long or has been drained completely?
Additional Uses
Have you ever filled up a raft with an electric pump?  Well turns out they make pumps that attach directly to your car battery for power. Seems like a good idea in theory. However, after a full day using the NRS pump attached to the car battery it died.
Hmm did the pump burn out?  Turns out we had fully drained the old Subaru battery.
Weego 66 to the rescue, again.
I plugged the Weego 66 in, waited for the green Ready light to show, this time it took about a minute and then attempted to turn the car on.  First turn and the Subaru started purring back to life.
Overall Impression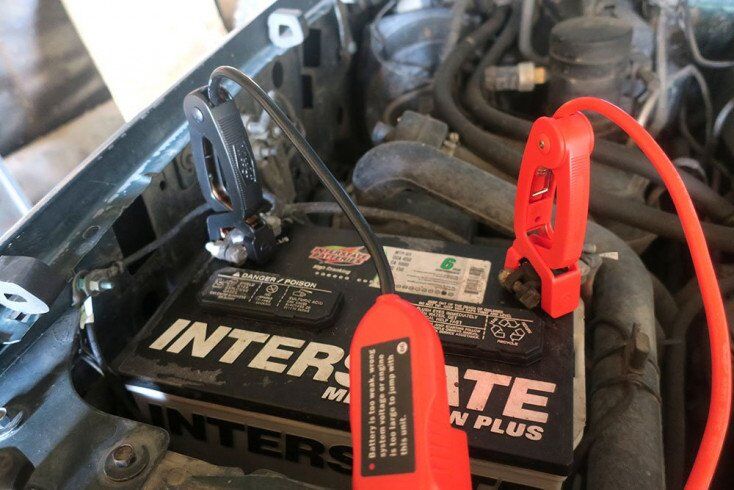 The Weego 66 isn't just made for charging your car battery. It works wonders for charging phones, tablets and anything else with a USB plug. Plus you can even charge a laptop via the 19v laptop port and they even have an accessory plugin for charging 12v accessories.
Most likely you have jumper cables in your car or truck.  Think of them as relics as the Weego 66 will take up less space than standard jumper cables, won't require a second vehicle to plug into and is easily the best piece of mind you can have when it comes to roadside safety.
But one of these for yourself, for your wife, your kids and anyone you care about.  Jump starts normally cost between $50-$75.  A Weego 66 can be purchased for only $199 with 1000 charging cycles and up to 3 years of standby power on a single charge.
In the past tools like these were only available to tow truck drivers, now the rest of us can have that same assurance and peace of mind while on the road.  Summer is near and most likely you're AC will be cranking along with your radio, maybe some accessories plugged in.  Never worry about a dead battery again when you go – Weego.
Couple additional notes:
You won't have to squeeze for dear life to use these clamps, Weego uses Smarty Clamps to connect to your battery terminals which can be opened with just your pinky and thumb.
Perhaps you find yourself stuck on the side of the road with a flat tire or something else the Weego can't fix.  The Weego 66 comes with a powerful built-in flashlight / SOS / Strobe light with 15 hours of flashlight time and 30 hours of strobe / SOS light on a single charge.
Related Articles: