DENVER, CO – What's the best yoga studio in Denver? This question had me scratching my head the more I pondered it. And so it began, the immersion into Denver's yoga scene. Over the course of a few months, I had the privilege of delving into ten studios, in and around Metro Denver. Of all the spaces I visited, I'm pleased to announce that not a single one of these yoga studios in Denver was a disappointment.
Here's our picks for the best yoga studios in Denver:
Denver Yoga Studios
CorePower Yoga – Denver
Even the CorePower experience was a pleasant surprise. I must admit, I almost skipped it entirely, due to their reputation for having a somewhat pretentious vibe, where there are mirrors everywhere and the focus is more on sculpting the body than receiving the healing benefits of yoga. And while some of the stereotypes seemed to be justly earned, I stumbled across some excellent teachers who were clearly versed in traditional Indian yoga, versus the fitness yoga that I was expecting. The fact that they are a hot yoga studio was also a nice bonus, being able to spend a week of the cold winter sweating out toxins and such, as though I was doing yoga in the Bahamas.
Phone Number: (303) 861-0114
Root Yoga Studio – Denver
Although the stint at CorePower was enjoyable, it didn't quite make the cut for my list of favorites. I was however able to narrow it down to four. Root Yoga was the first studio to really get my attention. The moment you step through their door, you are welcomed into a bright open space, with enormous geodes in the corners of the room, an exposed brick wall, aged hardwood floor, and a wall full of windows allowing light to pour in. The actual teaching style at Root was something quite foreign, as I would say I am accustomed to more traditional Hatha Yoga branches. This idea that I was entering a new world of yoga made sense when I discovered that Root Yoga's owner, Ana Forrest, created her own completely unique yoga style, which seems to be growing quickly in popularity. I found the classes to be challenging and playful at the same time. One example of this was Root's focus to help students improve their inversion poses (handstands for example), which was integrated into the majority of the classes that I attended.
Phone Number: (303) 505-3216
Vital Yoga – Denver
Another studio that is pioneering their own style is Vital Yoga, which is run by sisters, Desi and Micah Springer. While their space was equally bright and open, the primary memory of my week there was the style they taught. To me, it seemed as though they were questioning alignment principles that have become commonplace in yoga. It would be impossible for me to say whether or not their alignment modifications were vast improvements after merely attending classes there for a week. But I will say that the instructors at Vital appeared to have no doubt that their methods were righteous and I highly respect the courage it takes to question the norm and go against the grain where they see fit.
Phone Number:  303-477-8545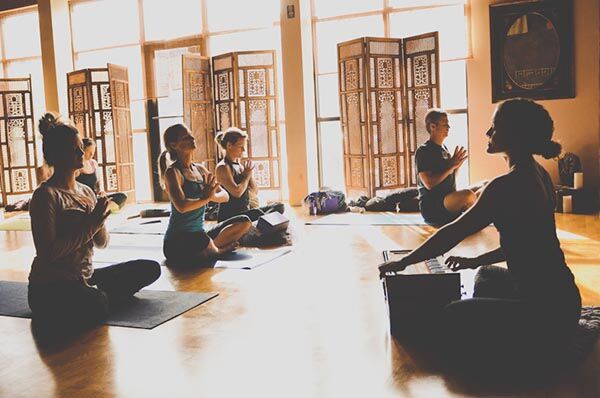 Samadhi Yoga – Denver
As far as my own personal inklings for the ideal studio, I was drawn to a couple in particular, Samadhi Yoga being one of them. Everything from the decor, the music and smells, to the variety of classes and workshops offered, I was really given the impression that this studio was catering to my specific personality type. Samadhi is the type of studio that has instructors chanting and playing an instrument for you during savasana (final resting pose) after giving individual adjustments and aromatherapy in order to encourage each student to completely unwind.
Phone Number: (303) 860-9642
If you are new to Denver or new to the yoga scene, I urge you to take your own tour and find the yoga classes that resonates most for you.
Related Articles: