I recently received the ABUS Modrop MIPS help to test. I previously knew the German brand from their sturdy folding locks which have kept my city bikes safely parked for years, so I was curious to see how their security pedigree carried over to the feature-packed helmet, which retails for a modest $139.99.
The polar white helmet has all the standard features – weighing in at 408g on my scale in size large (a bit over the 390g claimed weight), the Modrop features a sturdy, adjustable visor and 14 vents. The distinctive yellow MIPS label indicates that this helmet features a sliding plastic liner to provide additional protection against rotational forces – a feature I highly recommend. The Modrop sports a standard ratchet system for cinching down the helmet for a customized fit.
ABUS QUIN
Besides all these standard features above, this ABUS bike helmet ups the game with its QUIN. The QUIN is a little dongle, weighing just 5g, charged via USB and inserted into a dedicated slot on the back of the helmet. When paired with ABUS app, you can track your ride. However, the real point of the QUIN is that the sensor sends out an alert in case of crash. To do this, your emergency contact must also download the app, and are contacted in case of an emergency. While I luckily did not get to try out this emergency feature for real in the forest, this feature certainly adds an additional layer of safety while solo trail-riding.
Despite being in the middle of the stated size range, I did find the helmet's fit rather clunky. I had to ratchet the helmet down quite a lot; either it was too tight and uncomfortable, or it was loose, causing the helmet to move around too much. I generally try to purchase close-fitting helmets and I am perhaps not used to relying so much on the ratchet system. Either way, it is likely good to try the helmet either in store or at home before hitting the trails and spattering it with mud.
Tracking the Ride
The QUIN is definitely impressive, in that ABUS basically adds a new safety feature to a helmet. However, it requires opening the dedicated app, and "tracking the ride". Already having a Garmin watch which I sync to Strava, tracking a ride my helmet does not greatly appeal to me. While the app can be upgraded to its "APEX" version which includes more advanced metrics, these are certainly less advanced than a wearable which also tracks metrics such as heart rate allows. Finally, while the safety feature does appear new for a helmet, dedicated Garmin cycling units already have a similar crash notification feature, so for many riders the QUIN may be largely redundant.
Overall Impression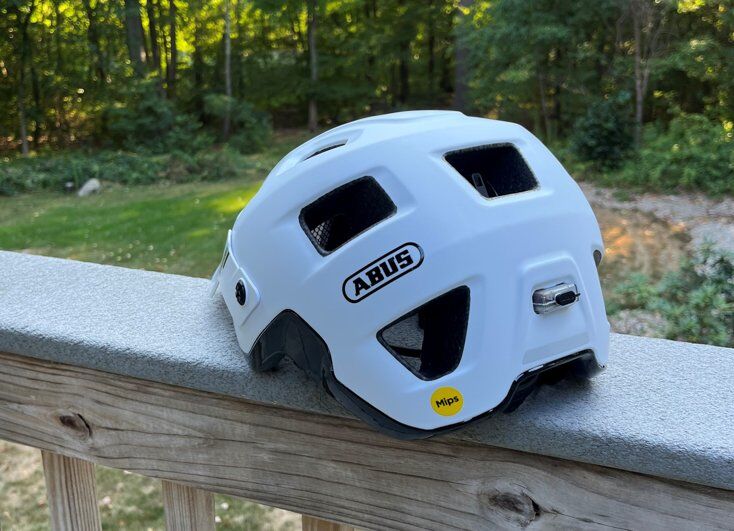 With the relatively low MSRP, riders who are do not have a device with dedicated crash notification and would like to up their safety should give the Modrop ABUS QUIK ($118.00) a look. Danke schön, ABUS, for sending it over.
Related Articles: