The Scott Argo Plus has become my favorite trail helmet. It's safe, light, and keeps my head cool. Surprisingly, there is no sacrifice to style when it comes to this helmet.
Safety Features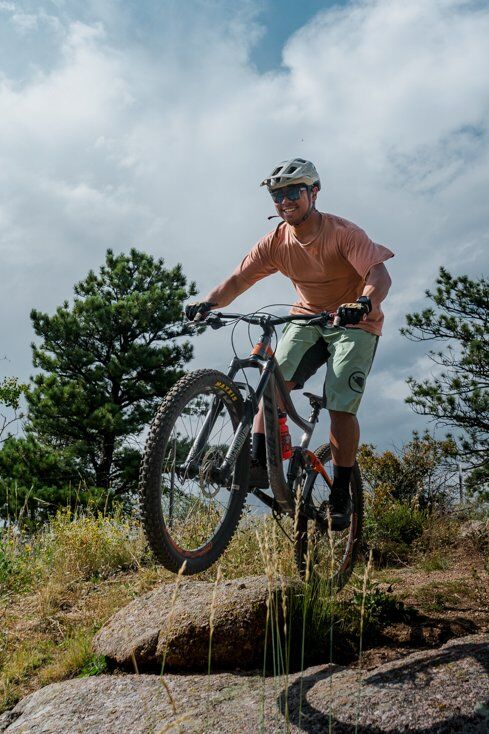 The Argo Plus makes me feel confident as a rider. It's designed to protect my head from a variety of crashes. Coming standard on many helmets, the Scott Argo Plus has MIPS which helps to mitigate angular damage by translating energy into rotational energy.
Secondly it has a PC in mold construction which keeps the helmet light and helps to absorb impact. If an impact is being absorbed by the helmet, that means it's not being absorbed by you.
Lastly, the shape of the helmet covers my head all around the sides and rear. The design helps to protect areas around my head that I definitely don't want to get damaged.
Comfort
This helmet has been more comfortable than other trail helmets I've worn in the past. Not only is it light because of the PC in mold construction, but the liner is also customizable with pre-perforated marks to cut.
The helmet is also adjustable with a fairly sturdy dial. It doesn't catch on anything or feel flimsy. I have no trouble cranking on the dial day in and day out.
The best part about the Argo Plus is the amount of air vents on this helmet. Six parallel air vents and four more around the back keep me from working up too much of a sweat. Even in 85F+ degree days, I find no problem staying cool.
Overall impression
For $119.99 the Scott Argo Plus is a helmet that comes with what everyone wants. Light weight, improved safety measure, and simple adjustments. This helmet is specifically for someone who is looking to upgrade their old helmet to something more durable and safer. Looks great, feels great, what more could you ask for?
Related Articles: