A helmet is one of the most essential staples in your ski kit. Luckily ski helmets across the market like the Anon Windham WaveCel are meeting the standards of safety and keep getting better.
Onto the next concern, fit and comfort are everything. Being active while skiing is not the time that I want to feel cold, uncomfortable, or like something on my head needs adjusting.
Fit
When it comes to helmets, size seems pretty simple. If it fits, then it fits. A size small has worked perfectly for me. Like many helmets, the Anon Windham Wavecell Helmet has a BOA dial on the back side can easily adjust the fit to tighten and loosen around the circumference of your head, even with gloves on.
The helmet feels comfortable on the inside and has been shown to be durable. The earpads and vents keep the helmet warm, but still breathable. After testing this helmet in a range of temperatures, I cannot say it has ever felt too cold or too hot.
Features
Rather than having a pinch buckle to secure the strap on and off, the Anon Windham Wavecel Helmet has a magnetic buckle. Because of this, it has been much easier to take the helmet on and off, and I can keep my gloves on. There is a goggle clip in the back that works well and has held my goggles secure. However, if you are adjusting your goggles and are not being careful it can occasionally slide out. It was made to be removable without tools, but for the most part, stays secure.
The fixed vents ensure that my goggles don't fog by keeping the air flowing, also making the helmet more breathable. The fleece liner and earpads stay dry or stay warm even in cases where my head was already sweaty from the tour up.
WaveCel vs MIPS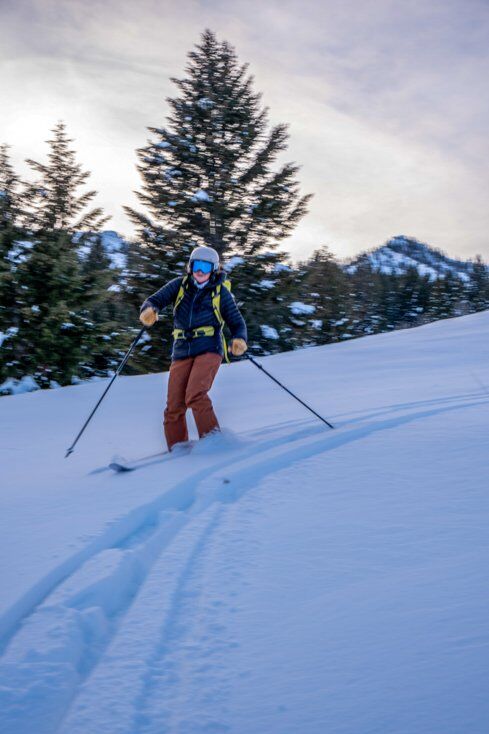 When it comes to protection, most brands in the industry are using MIPS technology (Multi-directional Impact Protection System). Anon's helmets are different from other helmet technologies because they use WaveCel. It seems the edge WaveCel has on MIPS is that WaveCel has considered the relevance of rotation of the head in a crash since most falls that happen on snow are angled, not purely linear.
To see how the Anon WaveCel works, feel free to look up "WaveCel technology" on YouTube. WaveCel has been shown to reduce rotational acceleration more, leading to significantly less likelihood of a brain injury compared to slip-plane systems like MIPS.
Who Is the Helmet For?
The Anon Windham Wavecel Ski & Snowboard Helmet is for any skier or rider looking for head protection in both the resort and in the backcountry. I've worn this helmet at Teton Village, skiing down Snow King after skinning up, touring on Teton Pass, and in Sun Valley, Idaho.
Overall Impression
Overall, the Anon Windham Wavecel Helmet ($189.99) was incredibly comfortable and well-ventilated. I was most impressed with how incredible it felt to put on at the top of a summit and ski down after my head had become sweaty from touring on the way up. I have been really into these unique, matte colors for ski gear, and the color of this helmet is unique, yet tasteful. It is a great color to fit with any ski kit!
Related Articles: