Sometimes a 140mm travel trail bike just doesn't cut it. It might be because you're riding gnarly terrain. It might be because you love smashing rocks. Whatever the case, you want a bike that's blazing fast down the baddest trails you can find.
That's what all-mountain and enduro bikes are for. These 10 are some of the best you can find in 2021.
Best Enduro Bikes

Evil calls the Wreckoning their "leg-powered DH legend." 161mm of rear travel might not quite qualify as a DH bike, but the Wreckoning is built for smashing technical courses at extremely high speed. Their DELTA suspension layout is highly regarded for just this purpose.
With Evil's signature lightweight carbon frame, you'll also have an advantage on the climbs. This isn't going to be a sprightly climber, but you won't be weighed down by extra pounds. The Jenson-exclusive build kit is similarly high-quality, with a RockShox Yari 160mm up front, a Monarch Plus shock, and an NX Eagle build kit (with XT brakes).
An SDG Tellis dropper, e*Thirteen wheels and tires, and similar parts round out the build. It's hard to find an Evil for this price, but Jenson has absolutely nailed it. The Evil Wreckoning 2021 won't be in stock long, so if you ever see it in your size, grab it.
Price: $5,999.00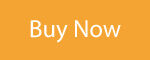 The SB165's Switch Infinity suspension design is legendary. It gives you the support you need on the way up and the squish you need on the way down. It's a 27.5″ bike, so it combines all of that travel with smaller wheels to give you a lively, fun ride that's equally at home in a bike park, on an enduro course, or finding new lines on your old favorites.
One of the geometry highlights of the SB165 is the 63.5º head angle, one of the slackest you'll find on a modern bike. Again, that shows just what this bike is designed for. The 77º seat tube angle is definitely in line with modern enduro standards, too.
The build kit on the T1 is a dream. A Fox Factory 36 with a monster 180mm of travel complements the 165mm of the frame nicely (and brings the Kashima bling). The XT drivetrain with XT four-piston brakes is all you'll ever need unless you plan on racing at the pro level (and, let's be honest — probably then, too). DT Swiss EX-1700 wheels with Maxxis Minion DHF and DHR rubber are perfect. And the rest of the smaller components are of the same quality.
Price: $6,300.00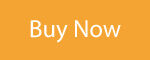 With 147mm of travel, the Ripmo toes the line between trail and all-mountain. But Ibis's phenomenal suspension design makes this bike extremely capable with a little bit less suspension. The aluminum (AF) version of this bike is quite a bit more affordable than its carbon sibling — and metal frames seem to be making a comeback, which is nice.
Front suspension duties are handled by a 160mm DVO Onyx D1 fork, something you'll find on very few stock bikes. This is one thing that sets the Ripmo apart from other bikes at this price point — this is a killer fork. And it shows that the Ripmo is serious about soaking up big hits at high speed.
The Ripmo has one of the smartest specs on this list. A long Bike Yoke dropper, GX drivetrain, four-piston Deore brakes, and Ibis 35mm rims are all perfect choices for a bike like this. Maxxis Assegai tires with EXO+ casings are a great fit and will see you through many a gnarly descent.
Price: $4,299.00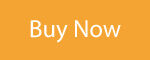 You'll notice three things right away about the Norco Sight. First, it comes with 27.5″ wheels, perfect for having fun both on the ground and in the air. Second, it has a super-steep 77º (78º in XL) seat tube. And finally, it has a very slack 63.5º head tube.
All of those numbers tell you one thing: the Sight is ready to get rowdy. Use that steep seat tube and lightweight carbon frame to pedal up, then take advantage of up to 200mm of dropper post to rail back down. 150mm of Rockshox Super Deluxe suspension on the back and a 160mm Lyrik up front won't hold you back.
Norco has been earning a lot of accolades over the past few years, though you'd be forgiven if you thought it was only for their shorter-travel trail bikes. The Sight takes that reputation and brings it to the enduro and all-mountain category.
Price: $5,1299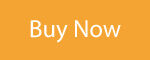 If you can swing just under $5,000 for an all-mountain/enduro bike, the Rallon is a solid choice. Orbea has been making great carbon frames for a long time, and this one is no exception.
With 160mm of suspension on the back and a 170mm fork, you get all the bump-soaking squish you'll need for racing or smashing your local trails after work. The Fox 38 Float Performance is a good choice for this build, with the 38mm stanchions adding stiffness and stability to a bike that's clearly made to test the limits.
The build kit is an interesting mix between SLX and Deore, with the higher-end components focused on the derailleur and shifter while saving a bit of cash on the brakes (though Deore brakes are still great). DT Swiss wheels are a good choice for providing value without skyrocketing the price of the bike, and a few house-brand components keep things from getting too expensive.
Price: $4,999.00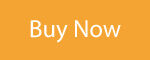 The Megatower is the big brother of Santa Cruz's popular Hightower model. This one packs 160mm of travel both front and back with front squish provided by RockShox's Zeb enduro fork.
The big draw here is Santa Cruz's redesigned VPP suspension. It's gotten tons of accolades for balancing pedaling and descending characteristics, which is especially important on a bike like this one. The RockShox Super Deluxe Select (or Select+) is a great shock for soaking up big hits, too, bringing a good balance to the bike.
The SRAM GX Eagle build kit hits the sweet spot of affordability and light weight. The big standout in this build is the Code R brakes, which are ready for serious downhill duty — you won't need to upgrade these anytime soon. Other parts from Crankbrothers, e*Thirteen, and WTB round out the great component set. The best enduro bike for the money goes to the Megatower GX Carbon from Santa Cruz.
Price: $6,245.00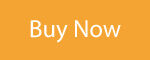 Scott Genius 960
With 150mm in the front and the back, the Genius 960 is more on the trail side of all-mountain, but you get plenty of trail-crushing suspension. And with Scott's TwinLoc system, you can lock out both the fork and the rear shock from your handlebar. It gives you a lot of versatility with very little effort.
Marzocchi's Z2 fork is a solid value pick at this price point, as is the SRAM SX Eagle drivetrain. The two-piston brakes are underpowered for a bike this burly, but at this price, you can afford to upgrade to a four-pot setup right away.
The geometry on the new Genius 960 lets you change from 29″ to 27.5″ wheels with the flip of a switch and has room for tires up to 2.8″ wide so you can go for maximum traction. Easily the best enduro bike under $2,500 we tested this summer, dont let the low price fool you this bike performs like bikes on this list that cost few thousand dollars more.
Price: $2,499.99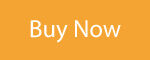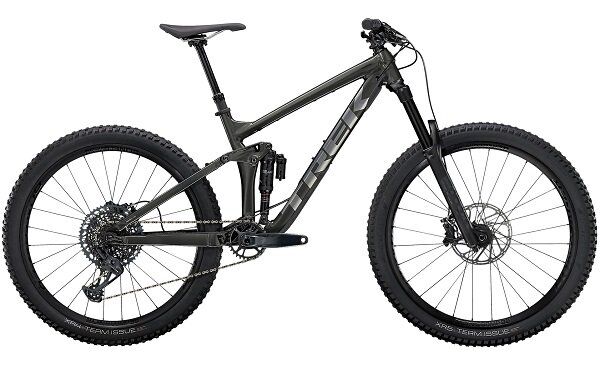 While Trek's Slash is made for riding technical trails as fast as possible, the Remedy has a slightly different focus. It's a 27.5″ bike and built only for smaller hoops. You still get 150mm of travel on the back and a 160mm fork, but this bike is built for fun. Smaller wheels give you more maneuverability and let you whip around on trails to find whatever line you want — whether it's fast or not.
The aluminum Remedy includes a RockShox Super Deluxe Select+ shock and a Lyrik Select+ fork for solid suspension performance. Trek's suspension design takes full advantage of these great shocks for phenomenal trail-smoothing power. Making this one of the best aluminum enduro bikes to hit the market over the past few seasons.
Beyond that, you'll get a GX Eagle drivetrain, Bontrager Line Comp 30 wheels, a Bontrager dropper post and — one of the best parts of this entire build kit — SRAM's downhill-ready Code R brakes. These are some of the best brakes out there, and you're going to need them on this bike.
Price: $4,099.99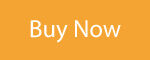 Trek's enduro/all-mountain machine packs 160mm of rear travel and a 170mm RockShox Yari fork for all the rock-bashing power you could possibly need. You really don't need to know a whole lot other than that and the fact that this bike packs all the awesome value you've come to expect from Trek.
Going beyond the NX Eagle build kit and Bontrager's well-reviewed Line Comp wheels, you'll find some very cool features on this aluminum version of the Slash. For example, it includes Trek's new in-frame storage compartment for stashing snacks and spares. And a replaceable downtube guard for protecting from rock strikes and shuttle runs.
Is this an enduro bike? A long-travel trail bike? An all-mountain slayer? Yes. It's all of those things. Trek did away with labels and just made an awesome 160mm bike with the Slash. And the aluminum version keeps the price under $4k. It's hard to ask for more than that.
Price: $3,699.99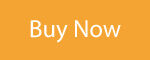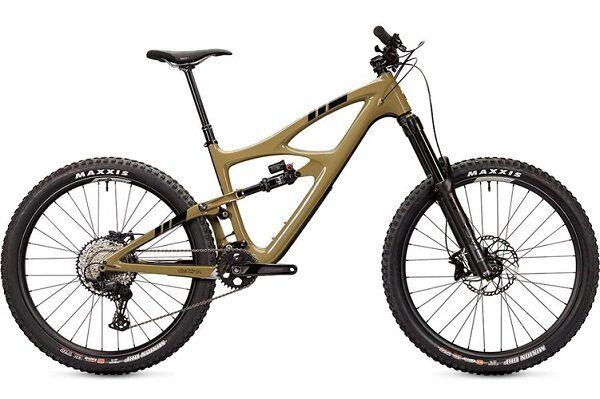 The Mojo has long been Ibis's 27.5″ brawler, and its newest iterations keep that spirit alive. This small-wheeled all-mountain bike packs 153mm of DW-Link suspension that punches above its weight, as well as a 170mm DVO Onyx D1 fork for big hits.
Modern all-mountain geometry combines a steep seat tube with a slack head tube for maximum power on the way up and back down.
The real story, though, is Ibis's attention to bike quality. Every Ibis has fantastic frame, suspension, and component designs. Whether it's carbon or metal, 27.5″ or 29″, all-mountain or downcountry, Ibis bikes are all-around awesome bikes. You just can't go wrong with . . . well, with pretty much anything from this brand.
Price: $4,399.00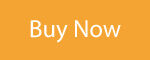 Related Articles: