Whether you're looking for downhill crushers, cross-country speed machines, or something in the middle, you'll find something in our picks for the best mountain bikes for 2020. And you'll find the best builds, lightest full-suspension mountain bikes, carbon, and stiffest wheels out there. All you have to do is pick the best ride for you.
Paying, however, is an entirely different matter.
Best Mountain Bikes 2020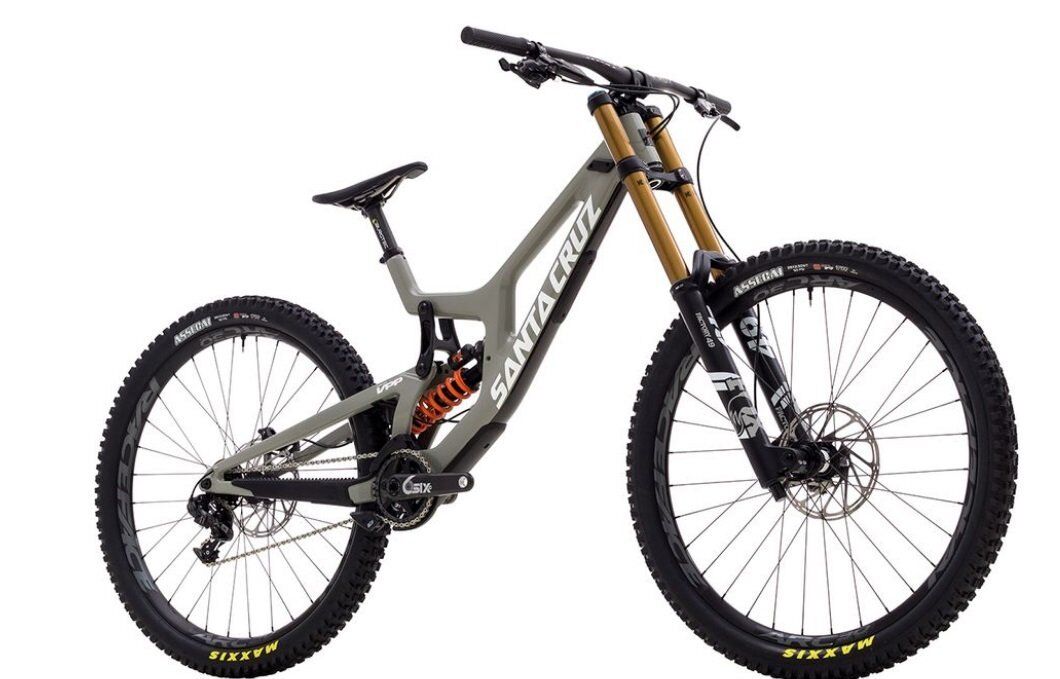 The mountain bike world has gone enduro. Everyone wants to climb and descend. But don't worry—there are still some downhill holdouts. And the Santa Cruz V10 is one of them. Full carbon frame. SRAM X01 build kit. Fox Factory shocks with 215mm and 203mm of travel. Everything you'd expect from a downhill rig.
This bike is not for climbing. It's not for enduro. It's for getting from the top of the hill to the bottom as fast as humanly possible. In that way, it's old-school. But there are some modern touches, too. This is a 29er, for example. And the 800mm carbon handlebar is on-trend with modern bikes. The Ergon titanium-railed saddle gives a nod to modern comfort sensibilities, too.
Want big wheels for more speed and better rollover? How about 160mm of rear travel for crushing even the gnarliest trails? Variable geometry with a flip chip? The Wreckoning has it all. Whether you're racing enduro, hitting the bike park, or just looking for a bike that can handle absolutely anything, The Wreckoning will do it.
Evil has dropped about half a pound from the previous version of this bike, but it still comes with all the things that made it super popular the first time around: an amazing build kit, Dave-Weagle-designed suspension, Boost rear spacing, and a slightly slacker-than-normal 66º headtube angle. Plus that yellow paint job. You'll never lose this thing on a bike rack at the bottom of the gondola.
Ready to have your mind blown? This is one of the best new 2020 trail bikes and here's why. The over-$10,000 version of the Pivo Mach 4 SL includes electronics that measure the trail 1000 times per second and adjust your suspension within three milliseconds to better suit your conditions. Not only that, but an accelerometer knows when you're pointed downhill.   When you're pointed over 6º down, your shocks stay in full open.
It's an entirely new way to ride. And because Live Valve defaults to the "closed" position, it goes back to a firm, cross-country-friendly setup when you're on in the bumps. Combine all of that with an ultralight frame, 100mm of rear travel, a 120mm fork, and a Shimano XTR build kit, and you have a bike that's out to set speed records. Pivot mountain bike prices are higher than the competition and for good reason, this Pivot Mack 4 model is one of their best overall trail mountain bikes that have been built to date.
If price is no object, the RIP 9 RDO with a 5-star build could be the ultimate do-it-all machine. The 140mm rear travel might not sound like a whole lot, but the bike is built around it to be as capable as possible. 150mm up front means you can lean into downhills, too.
Like every other company, Niner has put a slacker head tube on their newest bike. In its low setting, the RIP 9 has a 65º head angle. But you can steepen it up with the flip chip. You can also run 27.5+ wheels. And you can run 2.6″ tires on your 29ers. With the right mix of adjustability and a straight-up quality build, there's little that could stand in the way of this machine.
The Troy has been a successful all-mountain bike in Devinci's lineup for years. But they made a big change this year: you can now get it in a 29″ version. So you get the 140mm rear and 150mm front suspension that's made the Troy a great versatile bike with bigger, faster wheels. What's not to love?
Devinci redesigned their Split Pivot system to better handle a wide variety of conditions, and they've added Boost 148 rear spacing for added stability. Short chainstays and a 66º head angle give you the perfect combination of playfulness and snappy steering. This bike is made to do it all.
Yeti redesigned the SB165 to create a modern trail/enduro slayer. It's built around a 165mm rear suspension and a massive 180mm fork. The coil spring on the back gives you good progressive ramp-up over bumps big and small. The 27.5″ wheels add stiffness and maneuverability. And it's super slack: the head tube is 63.5º.
In short, the SB165 is built for one thing: slaying monster descents. One of the best trail bikes out there. But it can climb, too—the Turq carbon frame keeps it insanely light. This build kit doesn't pull any punches, either. SRAM Eagle all around, Fox Factory shocks, and DT Swiss wheels mean you wouldn't be surprised to see this on the pro circuit.
The Blur is built on Santa Cruz's lightest production frame ever. That should tell you that this bike is a speed machine. It's not just the weight that helps you get every ounce of speed out of it, though. Dual remote lockouts for the rear shock and the fork help you maximize efficiency on any terrain.
With only 100mm of rear suspension and 110mm upfront, you're going to get shaken up if you use this for trail riding. But some reviewers say it's surprisingly versatile on the rough stuff. Its pro-level build kit (largely made of SRAM X01 Eagle) helps turn every ounce of power into motion to get you from Point A to Point B in no time at all. One of the best 100mm cross country mountain bike top-end bikes.
Fat bikes are heavy. But Salsa decided to make the Salsa Beargrease Fatbike less heavy with a carbon frame. It's lighter and stiffer than the aluminum version but keeps the wide variety of bottle cage and rack/bag mounting options. The carbon fork keeps weight down too, while providing some of the damping that you lose by not speccing a carbon fork.
The Salsa Beargrease Carbon comes packed with high-quality components, too. SRAM GX Eagle gives you a lot of the awesome features of Eagle without the crazy X01 price tag. SUN Ringle hubs and rims support the massive 27.5″ x 3.8″ tires that give you phenomenal traction on just about any terrain.
As a descendant of Devinci's Spartan, the AC has the geometry and travel you need to fly both up the hill and down it. But this enduro steed comes with a Shimano Steps E8020 motor attached for even more uphill oomph. Pedal assist up to 20 mph saves you a ton of energy no matter how steep the climb.
Beyond the motor, this is a solid enduro bike with great specs. 27.5″ wheels are common on enduro bikes because of their versatility. 11 speeds of Shimano XT drivetrain give you the gears you need to tackle any climb. And 170mm of travel on the back paired with 180mm on the front lets you get gnarly. One of the best 2020 enduro mtb bikes in this roundup.
The Chameleon has been around a long time, but it's still adapting. Its new carbon frame is lighter than ever before, and it retains the playful geometry that the bike is known for. You can run 29″ or 27.5+ wheels on this version, too. You can even run it as a singlespeed. Keep it ultralight or use the mounting points for bikepacking.
In short, there's nothing the Chameleon can't do. And this version's carbon frame and SRAM GX Eagle build kit mean you can tackle all the adventures you want. The short stem, wide bars, 120mm fork, and 67º head angle give you modern trail touches without sacrificing any versatility.
Best MTB Bikes 2019
Want to see the bikes we've highlighted in the past? Here you go:
With a solid all-mountain background, the Santa Cruz 5010 has always been a great bike, but the latest changes to its geometry make it even better. A slacker head tube and steeper seat tube mean you'll be able to crush descents and generate more power on climbs, making this a great bike to take anywhere on the mountain. With more rear travel (130mm) and a redesigned suspension system, the new 5010 is absolutely unstoppable.
As you'd expect, the top-of-the-line carbon frame is feather-light making it one of the lightest full suspension mountain bikes for 2020. for a full-suspension rig, and the XTR and ENVE build kit is a dream. Included Race Face Cranks, RockShox Reverb Stealth dropper post, and Industry Nine hubs paired with 27.5″ ENVE rims make this just about the nicest bike you can buy. One of the best full suspension mountain bikes on the market.
The SB6 is a reincarnation of the venerable SB66, and it packs some impressive new improvements. Central to the bike's appeal is the Switch Infinity rear pivot, designed specifically to create linear rear-wheel travel so you can take the biggest hits out there without dropping your chain or losing power. And six inches of travel means you'll have enough suspension to ride A full-carbon frame and handlebar make the SB6 much lighter than its aluminum-framed brothers, and the inclusion of Sram X01 on this model makes for a very smooth ride with reliable shifting and impressive durability.
The Santa Cruz Hightower has always been a phenomenal bike. But with its recent conversion to a very enduro-focused rig, it's become a different sort of beast. And this build is stunning. It foregoes the trendy 27.5″/29″ dual compatibility and opts for the now-proven 29″ wheels. It also gets 150mm geometry befitting its enduro style. This is a bike meant to win races down the hill—but not suffer too much riding back up.
SRAM Eagle XX1 graces the Hightower LT, giving you a full 12 gears with no front derailleur. Santa Cruz packs their own carbon rims in combination with awesome Industry Nine hubs. Every other part of this build is what you'd expect for a top-of-the-line bike: Reverb seatpost, carbon Santa Cruz handlebar, Fox Kashima rear shock, and SRAM Guide Ultimate brakes. It's really hard to top this bike—which is why it costs as much as a small car.
Everyone is jumping on the enduro bandwagon, and this Ibis mtb bike may be just the perfect bike for mere mortals in the Ibis Mojo 3. 130mm of rear travel make it capable without being overly burly, and the geometry focuses less on massive hits and searing descents. It's more about getting you through every ride in comfort and style. And the fact that it can accommodate tires up to 2.8″ makes it comfortable on any terrain you'll find.
The Ibis Mojo 3 build is a marvel: SRAM Eagle X01 leads the pack with a 1×12 drivetrain, Ibis carbon rims on Industry Nine hubs add speed without weight, and you get a carbon crankset to top it off. Putting all of that on Ibis's carbon frame makes for a stellar ride. And while it's near the top end of anyone's price range, it's one of the best carbon mountain bikes for 2019.
27.5+ is here to stay. It offers huge amounts of traction while still giving you the nimble feel of smaller wheels. Plus-sized tires are often found on trail bikes, where they get to show off their traction chops, but the Pony Rustler is a more XC-oriented bike. With 140mm of travel, a carbon front triangle and seatstays to keep things light, and the venerable Rock Shox Pike fork, it'll see you setting new personal bests on all of your local trails.
Salsa wasn't content to limit the Rustler to a single wheel size, though: you can replace the included 27.5 hoops with 29ers. Which means you're basically getting two bikes for the price of one Sala Pony Rustler: a versatile bike ready for anything, and a cross-country scorcher. All you need to do is change out the wheels. When you think about it that way, the price tag is actually pretty reasonable. Another one of our picks for the best cross country mountain bikes.
With a scant 90mm of rear travel, the RKT 9 RDO is made for one thing: blazing through XC trails. There's no doubt that this bike is all about speed. A full XTR build punctuated with Niner carbon components (even the saddle has Ni-Cro Ti rails), a carbon XC wheelset, and RockShox suspension on the front and back show that the RKT 9 means business. It even has titanium chain protectors. Seriously.
Updated geometry makes the RKT 9 a bit more capable on gnarlier trails, and shortened chainstays help you stay nimble through even the tightest turns. Despite being a 29er, this frame has a claimed lowest weight of 4.5 lbs., making it a featherweight in the category. But Niner didn't compromise on durability, either, meaning the RKT 9 can be your XC race rig and your weekend trail bomber. One of the great new trail bikes 2020.
The Race-Day-Optimized (RDO) Jet from Niner is made for one purpose: to go fast. Of course, being comfortable is an important part of speed, so 4 inches of travel, a carbon frame and handlebar, and 29er-specific design make sure you're in the right position and that you can stay there when you need to put power to the pedals. Niner's carbon layup process makes for laterally rigid frames that don't beat you up over the rough stuff.
The inclusion of SRAM's X1 groupset on this bike is one of the reasons it made it to this list; with many of the technological advances of the top-of-the-line XX1 set, but without the exorbitant price tag, it provides race-worthy performance when you're gunning for the finish line or just out tooling on your local trails. Shimano, RockShox, and Fox parts also make it into this build, giving the Jet top marks in the XC mountain bikes category.
135mm of travel puts the Switchblade on the XC side of full-suspension bikes, but it has chops for rougher riding, too. It's capable enough for technical trail riding but quick and nimble enough for cross-country speed fests. And the fact that it comes ready for either 29″ or 27.5+" means you can take full advantage of both. Both versions come with Reynolds carbon enduro wheels, light and strong enough for absolutely anything. Despite being very capable of climbing, the geometry of the 2020 Pivot Switchblade favors gnarly descents. It's pretty much a perfect do-everything bike.
The XTR complete bike comes packed with Shimano's best: XTR shifter, derailleur, and brakes complement the KS dropper and Race Face crank. The fact that both the front and rear shocks have Fox's Kashima coating just adds a cherry on top. This bike's build really shines with the wheels, though. Reynolds' carbon wheels are legendary, and you don't see them on many pre-built mountain bikes.
Not everyone needs a huge amount of suspension when they hit the trails. If you don't, the Pivot LES 27.5 will suit your needs and let you rip any trails you come across. The carbon frame and 27.5-inch wheels are perfectly suited to cross-country riding—Pivot has taken extra time to make their carbon lighter and stronger than ever, turning the LES into a rocket of an XC machine. This 2020 Pivot is one of the best cross country mountain bikes of 2020
The X01 groupset gives you smooth shifting and durability, FSA and DT Swiss components add to the package, and 100mm of travel on the front gives you the cushion you need to take some hits on the cross-country trails. Hardtails are a lot simpler than full-suspension bikes, but that doesn't mean they have to be any less impressive. Fortunately, they are quite a bit less expensive, with the LES running at $5,000.  Although the price is right for one of the best hardtail MTB Bikes of 2020.
Trek has made an absolute steamroller of a hardtail in the Stache. Not many brands have stepped up to the 29+ level, but Trek nailed it with this one. It's hard to grasp just how big the wheels and tires on this bike are until you see one in person. It's impressive. And that gives you all the benefits of both worlds: great rollover for obstacles and lots of grip for technical terrain.
The 9.7 is Trek's highest-caliber version of the Stache: an OCLV carbon frame, adjustable rear thru-axle, asymmetrical chainstays for a shorter wheelbase, and a Pike fork make this a bike that's made for destroying trails. It's not like anything you've ridden before, but it's a hell of a lot of fun.
Mountain Bike Price Comparison
Looking for even more mountain bike gear?  Check out some of our favorites below