"What's the deal with your shoes?" is a frequent query directed at serious cyclists from uninitiated friends and family members. The panoply of cycling shoe options on the market all address this question – the "deal" is that shoes specifically designed for mountain biking, gravel riding or cyclocross can increase a rider's power output between 15-20%, and prevent foot injuries in rugged conditions.
Whether you use clipless mountain bike shoes or flat pedals shoes, you can find a shoe suited for your particular discipline, foot size and shape, and individual style. Here are our picks for the 10 Best Mountain Bike shoes out there:
Best Mountain Bike Shoes
Designed for flat pedal use, the Five Ten Trailcross LT looks like a running shoe, and with its lace closure and flexible, grippy sole it could easily double as one. Its flexibility makes it an excellent choice for bikepacking and rides that include frequent sojourns out of the pedals, although its pared down construction may not provide adequate foot protection on the rockiest of terrain.
With its mid-level price, the FiveTen Trailcross LT checks off all the boxes of attributes that a mountain bike rider looks for in a shoe. It's not a stand-out performer in any area, but it's perfectly competent, and it looks good too.
Price: $140.00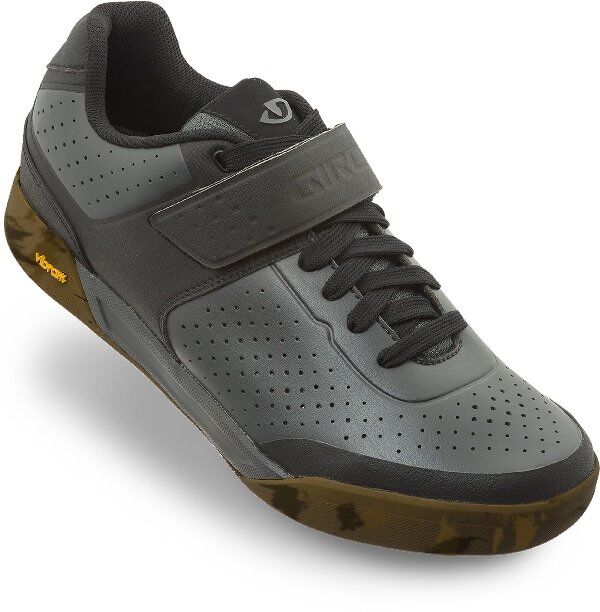 The Giro Chamber II mtb shoes are designed for gravity-oriented and enduro riders, and its durable upper material and combined laces and Velcro-strap closure reflect this focus. It has a wide toe box and protective rubber pieces fore and aft to protect the foot from debris thrown up from the tires, and a durable and very comfortable Vibram sole for those unplanned but never unexpected sections where your cycling shoe needs to double as a hiking shoe.
All this durability and comfort does come with a significant weight penalty –  the Chamber II Mountain Bike Shoe weighs in at a hefty 525 grams.
Price: $150.00
The adidas Five Ten Trailcross Mid Pro shoes are perhaps the closest thing to hiking boots that happen to also double as cycling shoes. A lace closure and bits of neoprene that extend beyond the ankle make them a particularly good choice for cool weather riding and bikepacking applications with frequent stream crossings and hike-a-bike sections, and their appearance as "normal" looking shoes won't draw attention during visits to the trailside coffee shop.
Grippy "rubber dot" soles mean that these shoes stick to pedals, whether they be platform or SPD style, and they offer a comfortable fit too, but perhaps at the ultimate cost of longevity.
Price: $170.00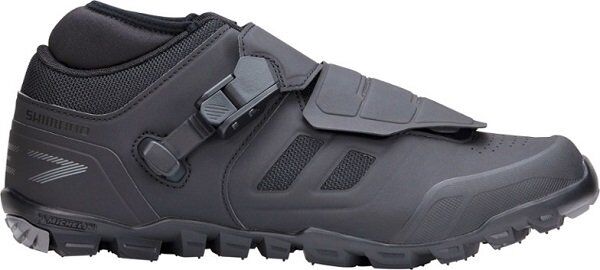 Versatility is the hallmark of Shimano's ME7 shoes, which do everything pretty well, with a nice balance of light weight, stiffness, walkability and comfort. As you might expect in a mountain bike shoe from the manufacturer of SPD pedals, they shine in power transfer through clipless pedal use, but the rugged Michelin OCX3 dual-compound rubber soles provide both protection and grip for hike-a-bike sections or trips to the brew-pub post-ride.
Lace closures are neatly hidden and shrouded by pull-over flaps to keep them from snagging on trailside shrubbery, and further secured by a ratcheting strap that can be tightened or released easily on the fly.
Price: $22000
Japanese company Pearl Izumi cut its teeth in the cycling apparel business starting way back in 1950, but he influence of Pearl Izumi USA's Boulder, Colorado headquarters shows in the X-Alp Summit shoes that are ready for epic journeys through the Rockies. The X-Alp Summits feature secure and comfortable closure with Boa cable and Velcro straps, perfect compatibility with SPD pedals, and a comfortable, walkable Vibram rubber sole.
The X-Alp Summits represent an ideal mix of performance and versatility.
Price: $150.00
Dakine is better known for their bags and protective gear, but the Drift Mountain Bike shoes represent a top choice for flat pedal use. Lace closures and a durable synthetic upper give the Drifts a casual, non-bike shoe look that will play well in the brewery after the ride is done. Still, the Drift shoes are purpose built for flat pedal cycling, with tacky and grippy DK UltraGrip rubber soles meant to transfer power to the pedals while maintaining comfort for the rider.
Price: $139.99
The Livewire shoes from Ride Concepts have an understated, even humble look that belie their performance credentials. These flat pedal shoes offer a grippy rubber sole and a breathable yet durable upper that will get the job of all-day backcountry rides done with competence.
They're neither the lightest, nor most breathable, nor the most durable shoes on the market, but their reasonable price and all-around versatility make them perhaps the best value of any of the shoes on our list.
Price: $110.00
Finally, any list of top mountain bike shoes would be incomplete without a representative from Italian company Sidi. Known for equipping the feet of Tour de France winners and World Champions in road, cyclocross and mountain bike disciplines, Sidi has a long legacy of performance, perfect fit, and Old World craftsmanship. All of this history and winning pedigree commands a higher price, but the Trace 2 MTB shoes represent perhaps the best value in Sidi's extensive lineup.
The RS17 combination nylon/polyurethane sole is stiff and facilitates total power transfer to clipless pedals, and the characteristic Sidi moulded heel cup enables a perfect fit that permits no energy loss. Like all Sidi shoes, the Trace 2s come in a wide range of regular and "mega" sizes (over size 12 US) for men, and they are specially made for women's feet as well. Better still, the Trace 2s come in both traditional black and a high-viz fluorescent yellow color that make them an excellent choice for gravel riders or mountain bikers that still share the road with cars on occasion.
Price: $189.00
Riders who value power transfer through stiff soles will particularly relish the Bont Riot MTB+ shoes. This typically means cross-country racers, or those with a road cycling background, and the Riot MTB+'s Boa and Velcro-strap closure system also makes these shoes an excellent choice for gravel cyclists.
Just don't try to walk in the Bont Riot MTB+ Shoes – stiff and lightweight soles mean these shoes won't suit bikepackers or enduro riders so much.
Price: $189.00
Stiff soles combined with a flexible toebox make the Specialized 2FO ClipLite shoes an excellent choice for riders who want both performance and comfort from shoes for clipless pedal use. A Boa-style cable closure means that the shoes can accommodate a wide range of foot widths and personal preferences for tightness of the uppers. The 2FO ClipLites are both lightweight and quick-drying, but a lack of ventilation may make them a less popular choice for riders who ride mostly in hot weather.
Price: $180.00