Are you looking for a set of active shades that offer protection on the trail, skin track, or drafting behind your buddies on an epic gravel ride? The Smith Bobcat Sunglasses boast a wide panoramic lens that provides stylish protection and vivid visual clarity.
I've had a chance to test the Bobcat in a variety of settings over the last few weeks, from running a road marathon in Jackson Hole, mountain biking the last few laps of single track of the season, and plain old commuting to work. The Bobcat has proven to be both comfortable and lightweight across a variety of activities, and while style is subjective, these glasses offer a more refined and grown-up look compared to other alternative large lens glasses.
Smith Bobcat vs Wildcat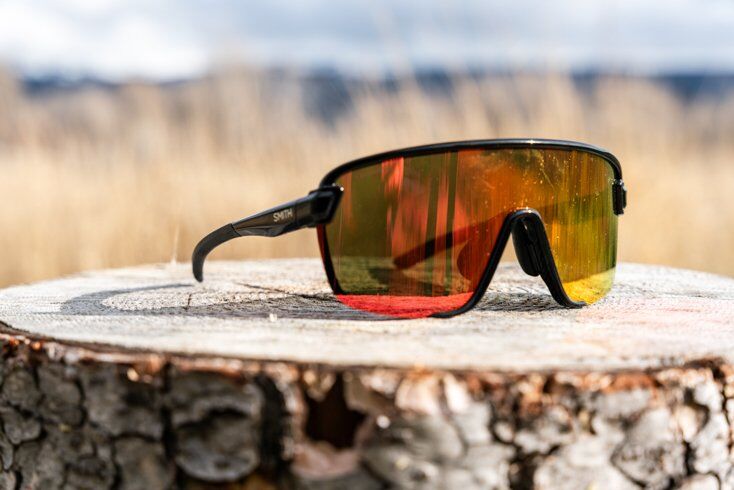 Compared to the larger Smith Wildcat model, the Bobcat Sunglasses are a better fit for people with a slightly smaller face. The Smith Bobcat is available in 7 different lens options, 6 ChromaPop Lenses and 1 PhotoChromic option with light transmission ranges between 10-85%. While Smith Optics is well known for their high-quality lenses and ChromaPop Technology, I was very impressed with the clarity and enhanced contrast these glasses provide.
I tested the Black + ChromaPop Red Mirror Bobca Lens and compared to other sunglasses I own, I found it much easier to read my phone screen without punching the backlight to maximum.
Carrying Case + Bonus Lens
The Bobcat comes with a large carrying case and a bonus clear lens, which provided great coverage and protection during a nighttime E-bike ride along the greenbelt in Boise (a bike path with dramatically varying levels of ambient lighting).
Changing the lenses is quick once you figure out the attachment points on the frame, although you'll want to keep a lens wipe handy to remove any fingerprints when you're done swapping lenses.
Overall Impression
Bottom Line: If you're looking for eyewear that offers most of the protection and wide visual field of a goggle, but with more ventilation, the Smith Bobcat Sunglasses ($209.99) is an awesome and versatile addition to your kit.
Related Articles: