The Burton Family Tree Hometown Hero Splitboard fires on all sides while wrapping you up in all those good warm feelings when you need them. Just like a good family. Tree.
I've ridden a few Burtons but the Family Tree Hometown Hero is the first split I've tried, and it delivers the all-around, dialed-right-out-of-the-box performance you've come to expect.
Burton Family Tree Splitboard Profile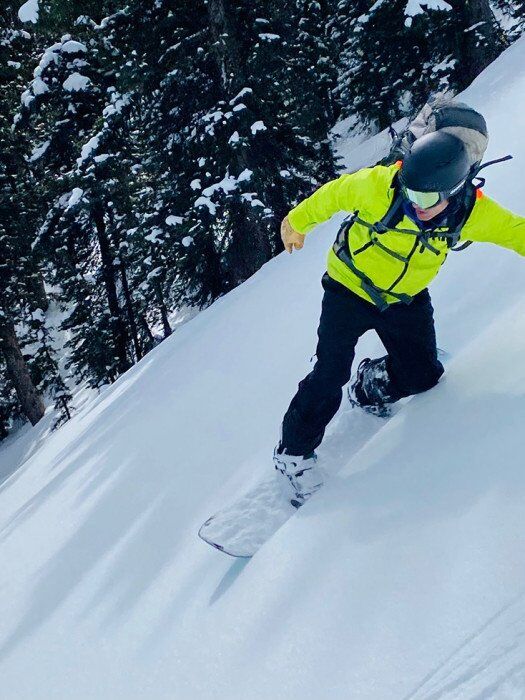 The Burton Family Tree Splitboard has that exotic camber rocker shape that's so fun on splits. Because a split needs the camber and the rocker considering all the snow conditions you hit on the way down a line. The camber lets you turn on hardpack; the rocker helps you float through the deep pow pow. And yes, it's directional. A setback camber with a freeride directional shape.
The core is Burton's Super Fly II 70G Splitboard Core lays down lighter, stiffer woods to create a board that punches high above its weight. And the Dualzone EGD wood grain beefs up the toe and heel of the board for more edge hold and strength. And the 45 degree Carbon Highlights Fiberglass build adds a carbon layer, just to increase lightness and stiffness without adding any weight.
All told, this is a split that incorporates Burton's incomparable history to create the perfect all-around split for all conditions.
Touring on Burton Family Tree Splitboard
This board was fun on every tour I took it on. It isn't a specialized board for any one condition but rides really well in all conditions, continuing the legacy first set by Burton's Custom, the bestselling board of all time.
For a camber board, it holds surprisingly well to flat, hardpack tracks. And as it moves on into soft snow, the Hometown Hero sinks in but not too deep. It doesn't slip around too much either, again despite the camber.
I loved it on hardpack, and on soft first tracks. When I started sidehilling, it was able to penetrate into the ice much better than other boards, though you really have to punch it.
But where this board is really fun is in getting all freestyle in the backcountry. I popped off plenty of little cornices and rocks and it was damn fun. And when I shoot just before a tree, the camber lets it turn quick the second you need to.
It was a little funky when the snow switched from soft to variable. And trying to nosepress butter it hit a frozen line underneath and responded immediately, resulting in quite a tumble. But who can fault a board for precision?
Burton Channel System for Splitboard
And with the Burton channel system, setting up your split has never been easier. Just slide the pucks into place, using the special little tool they provided. As a splitboarder, constant mods are our life. And the Burton split allows for the quickest, easiest binding angle and location adjustments you can imagine. It literally took me less than a minute to set up my pucks perfectly.
Union Binding Compatibility
Unfortunately without jerry rigging the Burton Channel Inserts there is currently no way to use Union Bindings with Burton Splitboards. We hope this changes soon.
Overall Impression
The Hometown Hero Splitboard from Burton was recently awarded one of the best splitboards of the year in our annual test. Odds are it will make the cut year after year, it's that good. A Family Tree makes you feel safe no matter what comes at you. And a Hometown Hero excels when his or her people need him most. This fits the Burton Family Tree Hometown Hero ($849.95) to a T.
The Burton Family Tree Hometown Hero is that board that drives hard in all conditions but thrives where you're looking for some style on the down.
Related Articles: