Casio knows that adventure wrist machines like their PRO TREK PRG340 are gonna get the most abuse of almost any piece of gear on your body. That's why they made this watch tough. They know also that you need all the beta for whatever adventure you've chosen easily accessible.
That's why they made it with the right features for about anything you'd want to do. They also know that it's probably one of the tightest pieces of hard gear you'll have to your body. That's why they made it super comfortable. And where those three meet you get the Casio PRO TREK PRG340, a timepiece every bit the outdoor warrior that you are.
Casio PRG340 PRO TREK Specs
Casio's heavy duty PRO TREK watches have been trusted adventure companions since they first splashed onto the scene in 2003. Every year the company has added a little more, modified some things, and updated with newer tech and smaller whatnots and all that geek stuff. So on top of 31 time zones, a 1/10-second stopwatch, a calendar and alarms, there's the outdoors mission features that make the PRG340 so fantastic.
Barometric pressure with temp to make sure you won't die from too much or too little heat. And altitude measure you can also set up to measure your upward progress. Plus a compass, all in a 10-bar water resistant, solar-powered super watch. Did we add that it's made from biomass plastics (i.e. made from plants) so not only does manufacture have less impact, if somehow you manage to break this watch it won't just add to that plastic island.
Though given my testing, it'd be a tough task snapping the PRG340 open.
Testing in the Mountains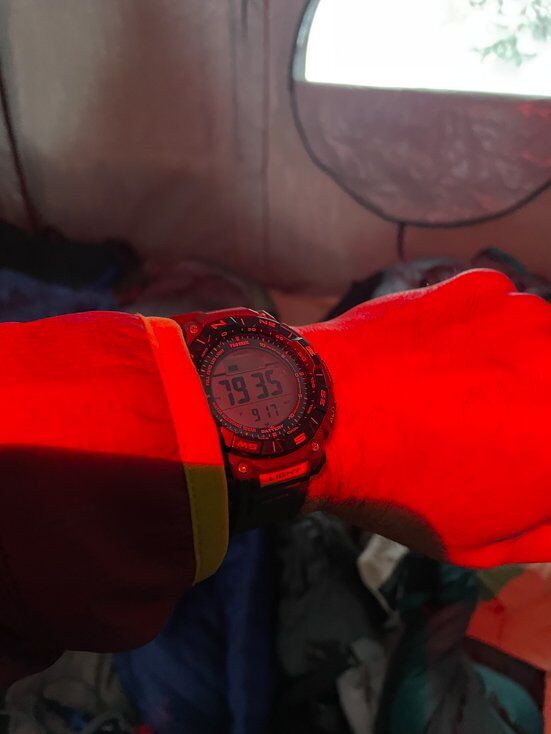 When I first got this watch, I let my girlfriend try it out since she's about as adventurous as me but with considerably more sensitive skin. She first noticed how soft and comfortable the band feels on her wrist (I have only marginal feeling myself, though I'd noticed it doesn't stick or pull hair like even my other PRO TREK). That bio rubber is pretty amazing.
Then I started skiing with it. Crammed into gloves, smacked against poles, even joining me for a few spills off mid-air into the hard pack, the PRG340 still hasn't shown a single ding or blemish. On a multi-day hut trip I was able to get the altitude and the weather to figure out how our next mission was going to be, and where we were. Its readouts are easy to see, even in our dark yurt under red light.
I climbed with it. I ran a chainsaw, chopped wood and pushed down trees. No damage. No itching or scratching of my skin. I put it through hot days when usually my sweat would make a watch band rub and cold days when it would get too hard but this biomass plastic adapted like Bruce Lee in a MMA fight.
Yeah, the PRG340 killed it.
Overall Impression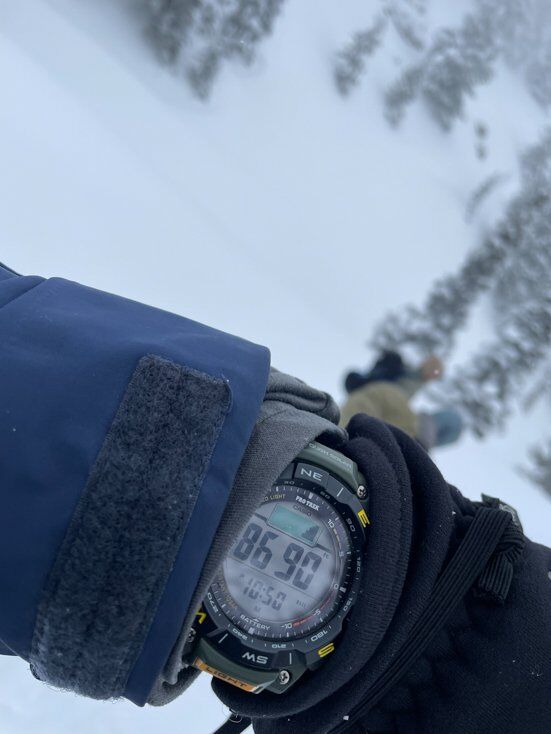 PRO TREK PRG340: The Must-have for serious mountain explorers. The first time you go on a big day with serious mountaineers, you'll notice how they all have a badass mountain watch; something that measures their performance, keeps an eye on changing conditions and even lets them know how you're doing on getting back to the car before dark.
So I've tested quite a few, bought a couple others. None has achieved such a perfect nexus of comfort, performance, and durability like the PRG340. Especially when you add in the environmentally-conscious construction and the striking colors (why did they decide all other watches have to be black)?
If you're looking for your next great gear purchase, an all-around mountain-hungry adventure buddy, the Casio PRG340 ($280.00) is a must-have for the serious explorer looking to push to new heights.
Related Articles: