Most new skins are…skins. Many of them have a similar clip system, same kinda glue, a high traction or glide model etc. When I received the Contour Hybrid Skins I didn't think much of it, just skins. Then I took them out of the bag, read the booklet included and became curious. They have an assortment of interesting features differentiating them from the majority of other skins on the market.
Contour Hybrid Mix Glue
First thing is the Hybrid glue, this stuff is pretty amazing. Nice and tacky, sticks to the base of your split whether its cold or warm and seemed to have no issue with multiple laps. Leaves no residue on your base, or on your gloves. The coolest thing about this glue is you can stick the skins to themselves without skin savers and they pull apart easily…like very easily. My mind was blown. No more having to use every ounce of strength to pull your skins apart. They just…pull apart, easily and smoothly.
On the website contourskins.com there isn't a specific traction (or lack of traction) specification for these skins, it just says they're good for slopes and powder which is a bit vague.  Through my use of them they seemed to fit nicely in the "universal" bracket, not excelling in super steep, icy conditions, not gliding exceptionally well. Being a 65% mohair/35% synthetic blend they are right in a nice mid range, better grip than a high glide skin, better glide than a high traction skin. Unlike many other skins these cover your board tip to tail giving you a lot more surface area to work with when the skin track gets ugly.
Contour Skins Tip & Tail Attachment
Now to the method of attachment to the board. These are unique, not utilizing the standard clip over the nose then stretch down to the tail system. The skins come with the nose clips attached via a Velcro patch, and included are the bits you need to attach the tail clips dependent on your board size. A little hole punching and trimming ends up with the skins having a fixed tail clip. The interesting part is to put them on, you first clip the tail, then place the skin, then using the Velcro nose clip you secure it to the tip of your split.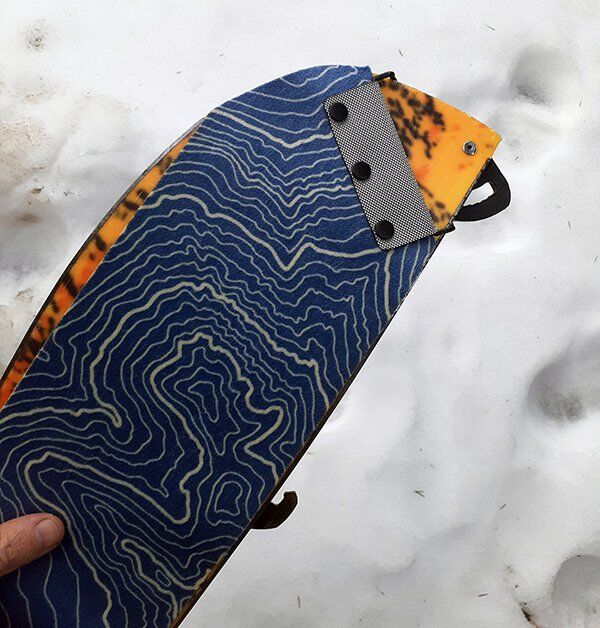 If you did a good job installing the tail clip it almost self aligns the skin perfectly and keeps it snug and secure against the base. Using Velcro as the attachment for the tip clip seems like it could cause issues, as the right snow could clog it up and make it not function which could be a day ender. I didn't get to test them in the perfect wet-dry-stick-to-everything type of snow, but there were no Velcro problems while touring in mostly dry powder.
Overall Impression
All in all the Contour Hybrid's are great skins. The unorthodox method of attachment may take a little practice to get really fast at putting on but so did the normal method when you were new at using skins. I'm slightly dubious about the Velcro tip attachments, but if you're cautious about keeping them out of the snow there shouldn't be an issue. The Contour Hybrid Splitboard Skins ($199.95) climb well, glide decently, and offer full base coverage. The primary benefit to these skins is the amazing hybrid glue. The first time you stick them to themselves and pull them apart your face will melt. Absolute sorcery. I look forward to pushing their capabilities in the future.
Related Articles: