With more and more splitboard boots coming out with welted heels (32's Jones MTB, the Spark DeeLuxe XV, Fitwells, K2's Aspect BOA, Burton Tourist to name a few), snowboarders can now upgrade to heel-bailed crampons for snowboarding, which give you much better hold and cut down time getting your crampons on by a considerable margin.
If you're spending a lot of time booting up couloirs, where you're often penetrating through crust/rotten snow/pow into ice/rock/more rotten snow, all while chunder/snow/ice chunks/rocks are fighting to rip your crampons from your boot, you'll quickly realize the drawbacks of a full-strap crampon.
That said, since most hiking crampon models give you the option to choose between completely bailed, heel-bailed, or just nylon straps, and the full-strap model is more versatile as to footwear compatibility, whether you go partially automatic or full-strap is up to you (or just get two pairs, one for distance and one for climbing).
Crampons For Snowboard Boots Price Comparison
Grivel Air Tech Light Crampons ($149)
Black Diamond Cyborg Crampons ($209)
Petzel Vasak Crampons ($189.95)
Black Diamond Contact Strap Crampons ($139)
Grivel Air Tech Light Crampon with Antibott Device & Flex Bars Black Crampons ($149)
Petzl Vasak 12-Point Mountaineering Crampons ($139.95)
Steel vs. Aluminum Crampons
You think it's all about weight in this battle, nope. It's all about the surfaces your going to encounter. If you going to be kicking rocks with aluminum spikes the points are going to blunt. Steel is pretty bombproof; you could climb a rock face and not have to worry about it. I would go steel, you not buying crampons to hike up a powder field.
10 or 12 Point Crampons
10 point is better for trekking and general climbing. 12 are designed more for situations where you need a firmer grip on ice. The price on these is pretty much the same, but you're going to add a little weight with the extra points. Personally, I think the more points the better, I mean more points in the snow/ice, the more stable you are going to be, and the safer you will feel.
The best things you can do is go to your local outdoor shop and bring a boot. Every boot is different and you want to get the tightest fit between your crampon and boot. So throw your boot in a couple different pairs and see what fits best. You want to make sure when the crampons are adjusted, that the metal points where the strap connects and touching the edge of the sole of the boot. If you can't find something that fits perfect you can bend these points a little for a tighter fit.
If you think you're going to be using them a lot it is best to get your own and find a pair that works with your boots well.
So first thing, you obviously want full strap crampons. Most of the strap systems work incredibly easily and allow using them between multiple boots, even trailing running shoes if you are into that.
Grivel's Air Tech and G series are nearly unmatched when it comes to reliability and performance. I love Grivel's G12s if there's going to be any serious glacier travel (they're still my go-to for long hikes that have a glacier or ice section) or you're really needing to penetrate deep. But while you sacrifice some spike length and penetrating heft switching to the Air Tech Lights, you make up for that with the fact that they're half as heavy, an important consideration when adding extra weight to an already-full pack (and you'll likely have to add an ice axe almost any time you're needing some crampons). [Purchase: $149.95]
Black Diamond's Cyborg is my go-to crampon for all split mountaineering missions. These are entry-level ice-climbing crampons, meaning they give you superior hold on steep couloirs, lend themselves more comfortably to front-pointing on rock, and once you graduate to full-on split mountaineering (plenty of fun objectives have a pitch of low-level mixed climbing), these are unbeatable. The only drawback is weight (twice as heavy as the Air Techs) and the fact that you need a heel welt on your boots to use them. [Purchase: $209.95]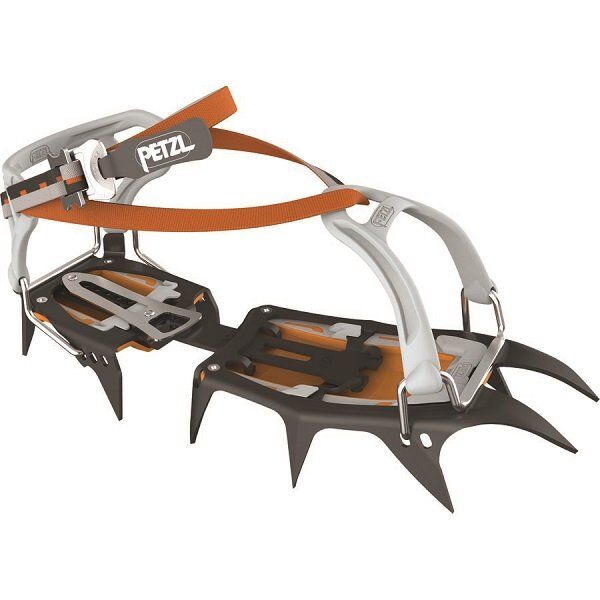 Petzl's Vasak is an oldie but goodie, with a long and unblemished track record. Heavier than the Air Tech's but a little lighter than comparable Grivel G12s or BD Sabretooths, the Vasak is a great compromise for a crampon with penetration and performance without paying too much when it comes to weight – and its strap system has gotten rave reviews from its faithful followers. [Purchase: $189.95 at Backcountry.com]
Black Diamond Contact Strap Crampons [Purchase: $139.95]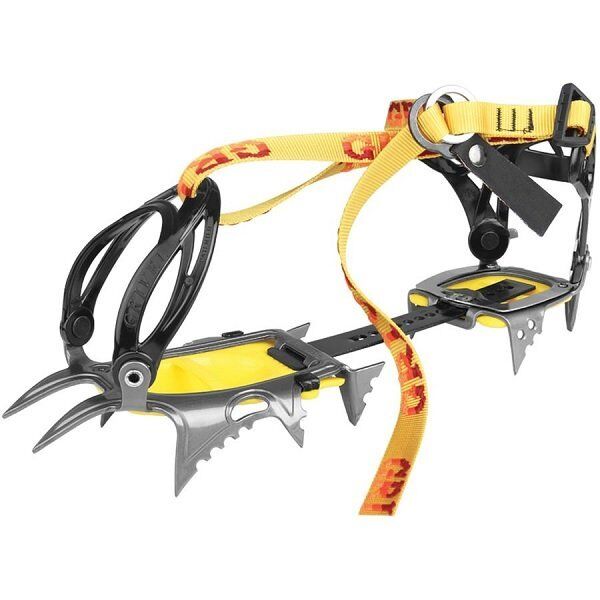 Grivel Air Tech Light Crampons with Antibott Device & Flex Bars [Purchase: $149.95]