The Dakine Heli Pro 20L Backpack is a slim-fitting backpack designed for snowboarding, splitboarding and can even be used for skiing too.
Dakine Heli Pro 20L Capacity
The Dakine Heli Pro 20L Backpack isn't the largest capacity bag that Dakine makes, nor is it the smallest. It actually fits right in the middle offering room for anything you could possibly need including all of your avalanche gear.
The front panel works great for storing your larger avalanche rescue gear including a shovel blade, handle and avalanche probe. The only downside with the front panel is it was not designed "specifically" for avi gear. There are sleeves for pens, a smartphone, and an iPod but not for the avi stuff? Weird, but either way the gear fits in nicely and can easily be accessed in case of an emergency.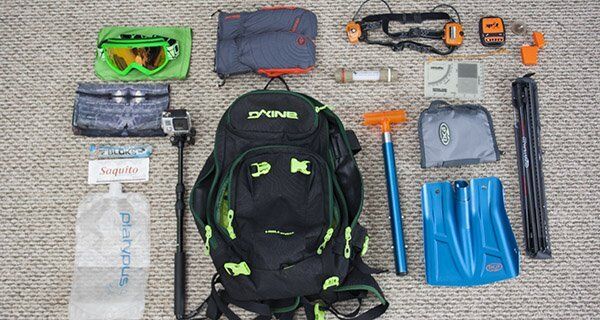 Heli Pro Backpack Features
A top the pack is a padded goggle holder made of fleece, which is a nice touch, although my goggles normally always are in their sleeves. I found this worked really well for storing sunglasses and even using the top pocket to store sunscreen.
The main compartment offers lots of room for storing extra layers, gloves, more avalanche gear, food, and water. As mentioned above this pack is just about the right size, if you go smaller you will inevitability leave out some important gear, and if you go up a size odds are you will just end up lugging more stuff into the backcountry.
Snowboard Carry Backpack
The Heli Pro 20L is designed for vertical snowboard carry, so if you're the type that likes to jump on the boot pack you will love this pack. Two buckles easily hold your snowboard in place while hiking and if the winds are strong there is a third buckle that is hidden at the top of the pack. The best part is this can be pulled out and wrapped around your board or used to secure your ski poles in place.
This is an incredibly well thought out design.
Overall Impression
The Dakine Heli Pro 20L Backpack is perfect for someone that spends time riding at their local ski resort but also likes to duck the ropes and drop into the backcountry.
You never know when someone might want to go take a lap, be prepared for anything the mountains can throw at you by riding with the Dakine Heli Pro 20L Backpack ($94.95).
Related Articles: