Exped's Dura line is their thickest, warmest and most durable sleeping pad option. The Exped Dura 3R 3-season pad might seem like overkill for most summertime excursions but being only slightly heavier than the typical ultra lightweight options (at 1 lb 9 oz for the medium option), the additional cushion and burly-ness are welcomed in my pack anytime.
The Dura 3R comes with a stuff sack, repair kit, and Schnozzel pumpbag. The Schnozzel pump bag is particularly interesting because it serves three purposes (and I'm a sucker for multi-functional gear):
You can inflate your mat without using your mouth
It prevents moisture from entering the mat
It doubles as a waterproof dry bag
Thickness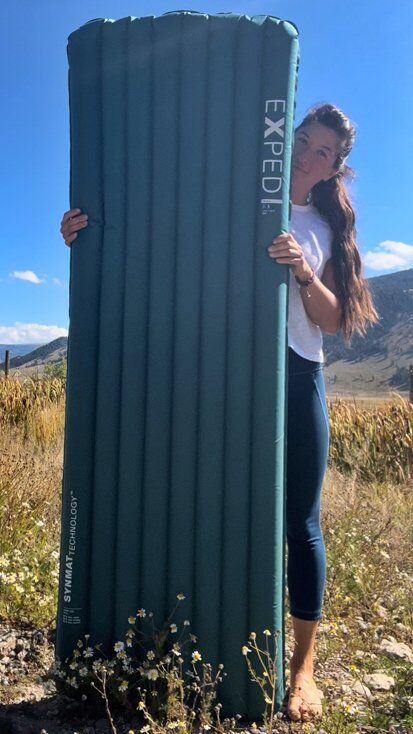 The Exped Dura 3R Sleeping Pad has a 3 in (7 cm) thickness when inflated which, for me, feels like I'm sleeping on a luxury mattress and I never felt like I was rolling or slipping off of my mat in the middle of the night. After doing a bit of research, I learned this was because the outer air chambers are slightly thicker than the inner chambers, creating a cradle like system keeping you in place. It seems so simple yet so effective!
The pad also comes with an R rating of 2.9. To explain, R ratings range from around 1.0 (good for warm weather) to 5+ (use in extreme cold). Essentially, the higher the R value, the more insulated the pad. At 2.9, the pad is good for cool to cold weather.
Inflating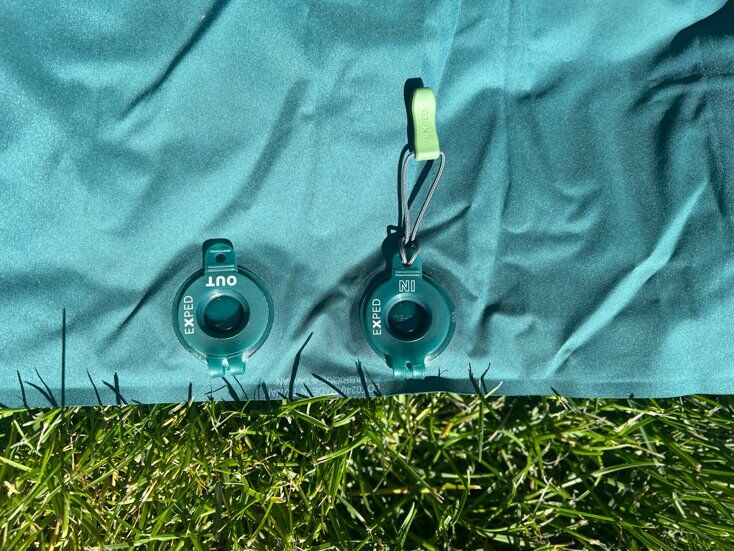 I love the separate inflate/deflate valves, with the inflate valve being one way to capture progress. Despite being a bit thicker and bigger than the mat I typically use, the Exped Dura 3R was surprisingly quick and easy to fill both using the Schnozzel pumpbag and with the lungs (I gave both a try for comparison).
Plus, the additional material thickness means no noticeable air loss over multiple nights of sleeping and changing air temps. On a 6 day backpacking trip where we saw sun, rain and snow, I didn't reinflate the pad once.
Deflating
Pop open the deflate valve and the pad easily empties without having to roll it multiple times to get it flat. One of my favorite general gear features is when the stuff sack/carry bag is big enough to fit a not-perfectly-rolled pad/bag/tent/whatever. EXPED's stuff sack leaves some room for error, meaning you don't need to be an origami wizard to get it back in. If I remove the Schnozzle bag, the stuff sack also leaves enough room to include my inflatable camp pillow and sleeping bag liner. Points for helping me keep all my things in one place!
Exped boasts about its sustainability efforts and commits to measuring, reducing and fully offsetting all CO2 emissions created through the product's manufacturing and shipping. They also use recycled polyester, keeping plastic out of landfills and using less water, energy and carbon during its production. What I also really dig about the company is their efforts to keep gear out of the landfill. With a 5 year warranty, additional option for repairs at a 'nominal charge,' and providing people a place to sell their old gear, EXPED is doubling down on reducing, reusing, and recycling.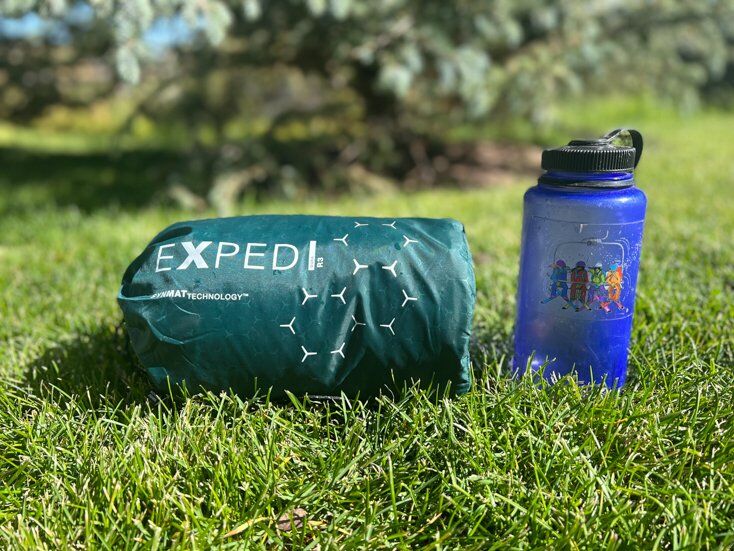 Favorite Features
Separate inflate and deflate valves and the Schnozzel pumpbag for an easy fill option
Thickness of mat when inflated
Durability and thickness of material (less loss of air and better insulation)
Sustainability and RRR efforts
Ease of deflating and packing
Downsides
Heavier, thicker, and bigger when packed compared to more lightweight or 1 season options
Doesn't come in Small (options are Medium, Medium/Wide, Large/Wide)
Overall Impression
I love how the brushed polyester face fabric (the material you're actually laying on) is quieter than most mats I've used and the slight texture keeps me from sliding around in my sleeping bag. Sometimes it's the little things that you didn't realize were annoyances until there was another option. Toss in the Comfort cradle design for head-to-toe support and the Exped Dura 3R Sleeping Pad ($149.95) is a mat most everyone will love for sleeping under the stars.
Related Articles: