The
Fiido E-Gravel Bike
sets out to find that nice bridge between E-biking and gravel grinding, but does it accomplish this? To figure this out we have to establish what defines a good gravel bike and what also what details create a good e-bike. We also have to test this bike to the best of our ability and that means using it for a daily commuter as well as taking longer rides and of course riding it on as many different surfaces as we can and especially gravel.
What Makes a Good Gravel Bike?
Firstly A gravel bike must have reasonably wide tires, 32c or greater. These should give you enough traction on gravel so the bike won't feel as if it's sliding out during cornering or losing traction during climbing. Secondly the bike must be reasonably supple as gravel biking tends to really bounce a rider around quite a bit, especially on the front end. Thirdly a gravel bike must be well geared for hard climbing or just being able to gear down if the bike is fully loaded for longer rides.
So does the Fiido E-Gravel achieve all of these things well enough to inspire adventures away the beaten track? As you might have guessed this answer is yes and no, so let's discuss what it does right and what could use some improvement. Ultimately the tires are the riders connection to the ground and the most important aspect of a bike.
Tires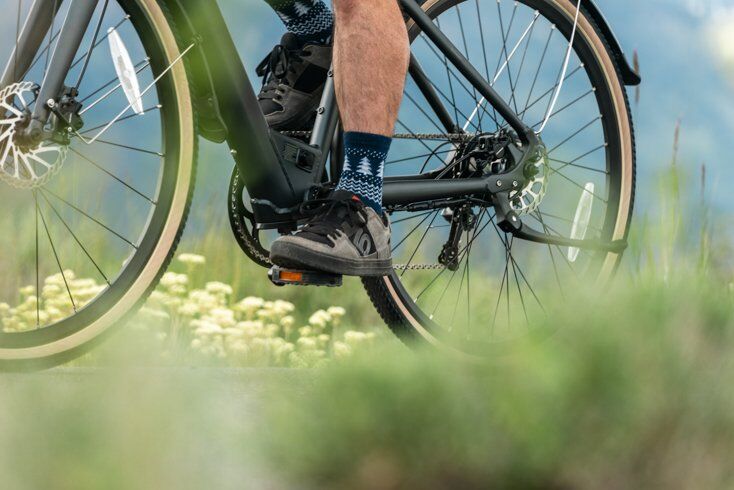 The Fiido has tires that wide enough to classify it as a gravel grinder however the traction was not quite as good as expected to handle some of the rougher roads. The other thing of notice is that the tubes used Schrader valves which makes it difficult to take this bike more seriously. This seems to be a small unimportant detail but small things can easily become big problems. I think if you look at most gravel bikes, mountain bikes and now most road bikes, you should expect to see a tubeless setup with Presta valves.
Tubeless tires for the most part are just better, they're faster, they use a much lower psi which is more damp and smooths out bumpy rides, they pop less and if they do they're likely to seal and you can keep riding. Fellow riders are much more likely to carry Co2 adapters for Presta valves and by having Schrader valves you could be left in the dust if you do happen to pop a tire and left your specific adapter at home that day.
Gearing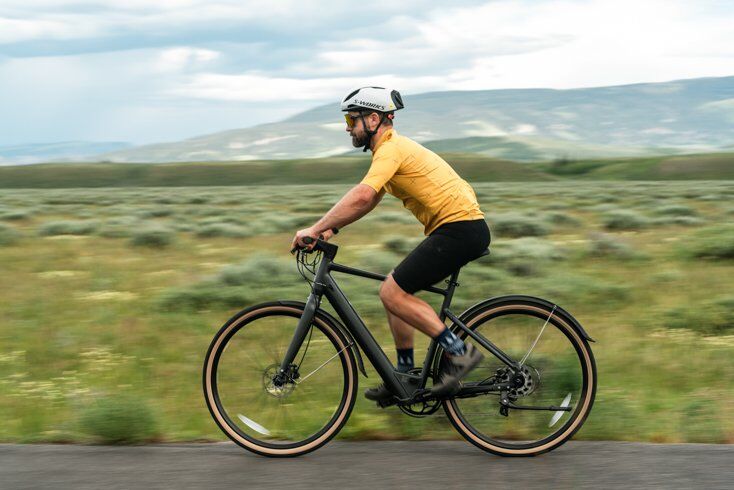 The e-bike comes with a 9-speed cassette which fared well but not extraordinary. The very lowest gear wasn't all that inspiring while climbing steeps but for most hills around town it was more than sufficient. Another detail I noticed is that there is only one water bottle mount. If you really desired to go on a much longer ride where at some point you might drain the batteries and be completely under human power, another hydration solution would probably be in order for such a feat.
Now that we established a few of the details that make up a gravel bike, what ingredients create a good e-bike? I think this is bit harder to establish as different type of bikes fit much different needs. Instead I think its better to ascertain such things by looking at each feature and then try to find the sum of all the parts as well as the greater "whole" or concept of the bike.
Hub Drive Motor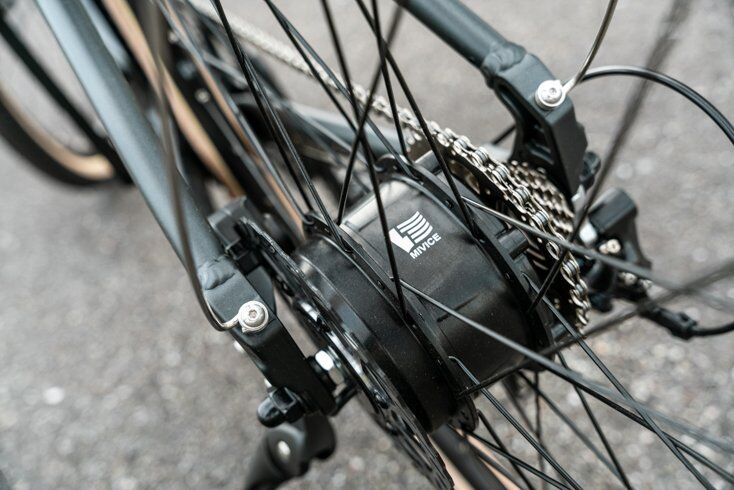 A few things come to mind when talking about an e-bike: the powerhouse and the fuel. In this case what class is the bike, what type of drive it is and also what kind of battery or range does the bike have. In this case the Fiido E-Gravel is a hub driven system which has benefits and draw backs. The best thing about hub driven systems is that they are much lighter which is a plus as I could easily lift the bike and carry it up stairs into my 2nd story apartment or put it into the back of my pickup truck.
The down side to hub driven systems is that they have much less power which isn't great for hauling heavy loads or in areas with lots of hills. I did notice power assist issues as it was somewhat more difficult to climb hills than I expected.
6 Power Levels
Another detail with the power assist is that they give you, is six levels to choose from. Level one as expected just starts giving you some assistance, especially moving from a complete stop. Level 2 and 3 seemed like exactly the same assistance and I could not tell a difference except that the bike accelerates much more quickly from a complete stop than level one. Level 4-5-6 also seemed like exactly the same amount assistance whereas you could barely tell that level 6 had the tiniest bit more top end. Another bug that kept creeping into rides where I'd be in level 6, come to a complete stop then go to accelerate only to find I was in "level 0" or no power.
This may be a safety feature but I found it to be very un-intuitive and confusing. The other issue I found with the power system is that the assist seemed to really die off between 16-18 mph and topping out at 24 mph down a fairly large hill. If I wanted to go any faster than 18 mph, say 20mph I would have to really push those pedals hard whereas on my normal road bike, I can easily cruise at 20mph without all that much effort and my road bike topped out at 30 mph down the same hill.
So in conclusion it doesn't make all that much sense to me that on the top end a bike without power is faster than a bike that has a motor and battery.
Battery
Speaking of batteries, that is one of the areas I feel like this bike really excels at. I rode this bike every day to work and back home for a week and during this time I only lost about 30% in battery life. When I went to charge the batteries however it did approximately 4 hours to get to full charge which is quite a long time if you have longer commutes. From 0-100% charge seemed to take overnight. I never felt like this bike lacked battery power but was never able to truly put it to the test trying to drain the batteries all the way to zero in a single ride which would have seemed to be in the 40-50 mile range.
Hydraulic Disk Brakes
One aspect we really haven't touched on but is super important are the brakes and how this bike comes to a stop. E-bikes are generally heavier than normal bikes and I was excited to see that there was actual hydraulic disc brakes installed on this bike, which performed extremely well. They had really great stopping power, even when someone cut me off and I had to slow down extremely fast. They had good feel and sensitivity, never over or under performed when I needed them to. So A+ on the brakes, braking power which builds confidence when riding.
Overall Impression
All in all I would say the Fiido E-Gravel is a decent E-bike,
especially for the price which is around $1600
. Is this bike the champion of gravel adventures it's made out to be? Well, honestly no but I would give it a solid 80 overall as an "All City" bike. It really is a great commuter for those in need of a lighter weight bike that has good battery life and want to cruise at moderate speeds.
It accelerates the rider quickly and has great braking power thanks to the hydraulics. Improvements on this bike could be installing tubeless wheels and tires with Presta valves as well as a faster charge for people who have longer commutes and might need to recharge while at the office. Enjoy the Fiido E-gravel but might need to be renamed the Fiido E-All City.
Related Articles: