A good glove for a reasonable price can be hard to come by, luckily Free The Powder Gloves have been designed to meet that challenge while offering a high-quality product. All gloves from Free the Powder are made with genuine leather palms, and a breathable and waterproof softshell backing.
I have found leather gloves to be the only type that can stand up to abuse while remaining waterproof and warm. Having some breathability is definitely a bonus with the Short Cuff Glove.
Fit and Feel
These gloves are thick. The Free the Powder Ski Glove include a very soft and lofty lining, that felt restrictive at first. There is definitely enough material to keep your digits warm through fairly cold temperatures. Perfect for mid-winter shredding or skiing in places like Colorado.
My hands were already overheating after managing to wrestle my fingers all the way in. Once on, these gloves felt fairly restrictive and cumbersome but started to feel better as they were broken in. They definitely seem to be built to last, with sturdy fabric and good reinforcement for critical wear points.
On the slope
I first took the Free The Powder Short Cuff glove out during a snowstorm in Tahoe with the temps in the upper 20's. I have fairly warm hands to start with, and found that these puppies kept my hands very toasty. After long runs down to near lake-level I felt the need to take them off to breathe a bit before gloving back up for the chair ride. This proved to be a bit of a pain, as the thickness of these gloves made a quick on and off not so easy. However, after a few days of use through snowstorms and touring they have softened up considerably and now offer quite good dexterity with a fit that seems to now be just right with some normal compacting of the liner.
While these snowboard gloves feel fairly sturdy, I made the mistake of pulling on the velcro wrist strap while putting the glove on, which separated some of the stitching. With the small and tight-fitting cuffs on these gloves there isn't much to grab onto while pulling them on, and the stitching holding the velcro strap is too weak.
These gloves would benefit from a more sturdy strap connection to the glove as putting them on would be much easier by utilizing this easy to pull strap.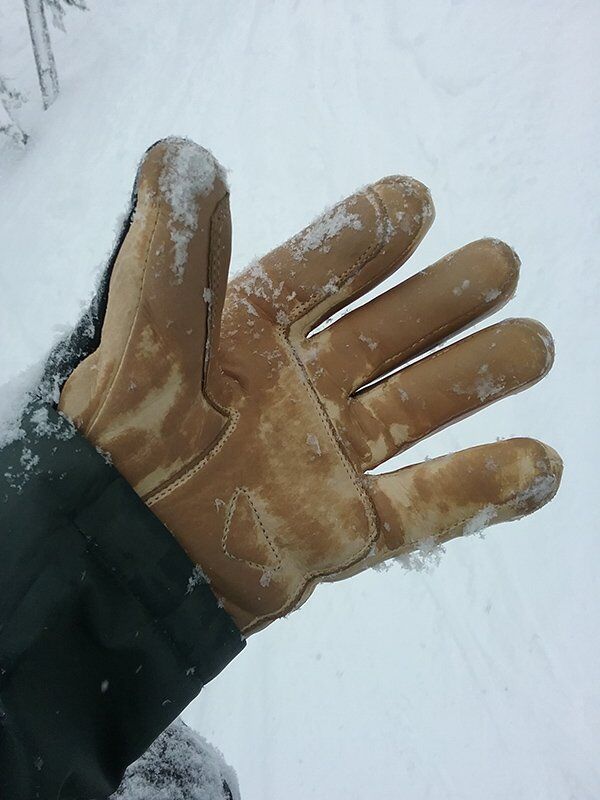 I never managed to get these gloves wet on the inside, partially because they are too warm to take out anytime the temperatures above freezing. However, considering the thickness of the gloves and the option to treat your leather with waterproofing cream, I doubt these would let water in.
They are not treated from the get-go, and the outer leather will become wet without treatment, so I would definitely recommend applying Free The Powder's all natural blend or perhaps some nikwax. It would be nice if these came with a single application's worth, but if your any sort of glove connoisseur you should have some waterproofing wax lying around.
Breathability
Having warm hands, things get clammy fairly easily, and I found the breathability of these gloves to be fairly average. The softshell backing is still thick, and being so waterproof there is less breathability than a lightweight glove. However, for those with cold hands or if your out during a chilly day in the Rockies these would be an excellent choice, giving you the dexterity of five fingers without compromising on warmth.
Overall Impression
After about five days breaking in these gloves, the fit is great and my hands are very comfortable throughout cold weather. The price is reasonable, and with the exception of the wrist strap I'd expect a nice long life out of these gloves. 4 out of 5 stars.
Related Articles: