The greatest power source anywhere in about a 3 billion mile radius is the Sun, and GoSun's SolarTable 60 combined with its 266wh Solar Power Bank are the only tools you need to tap into that big burning generator and keep your party going.
This is setup is sick, no other way to describe it. Like, "I've great the best toy for every campout, tailgate, backyard outdoor epic time ever" sick. This it, boys and girls. I watched my guests' eyes cloud over when they checked out this setup. You wanna set up the most epic river trip/base camp/hunting camp ever? Then see how deep this sun-capturing rabbit hole goes.
When I started camping, solar energy wasn't even a thing used by anything except, like, flowers. A few years back, solar went from being these big arrays that power houses to portable devices that bring a lot to the backcountry. We need our phones and radios; our cameras and our lights and sometimes, during a party in the woods, a speaker's nice. For real power, you need a real solar panel, which is where GoSun's SolarTable 60 comes in.
Solar Table Design
Let's start with brilliance of design: It's a table. This aluminum/stainless steel/tempered glass table folds up and, with easy carry handles, makes it a sleek, portable solar array that can fit anywhere. At 30 pounds, it can go anywhere that a boat, a chopper, a sled, or some pack animals will take you. Then you set it up and it'll start pumping out 60 watts harvested from the great burning ball in the sky. But what do you do with it then?
GoSun Power Bank
The best option is to send it to GoSun's 266wh Solar Power Bank. This is some serious juice storage; way more than all my kids' Capri Sun boxes combined. 266 watt hours. That's like 5 laptops. And that's if it's not continually being replenished by the SolarTable 60. The two of them together can run a camp in full, illuminated, electricity-filled backcountry splendor. You can even give it one full charge before heading out, simply replenishing the bank from there on out.
It takes and gives out charges through the USB, and even out through the lightning outs. And like the rest of the setup, it's sleek, powerful, and rugged. How'd it work for me? Amazingly well.
Camping with GoSun Table + Power Bank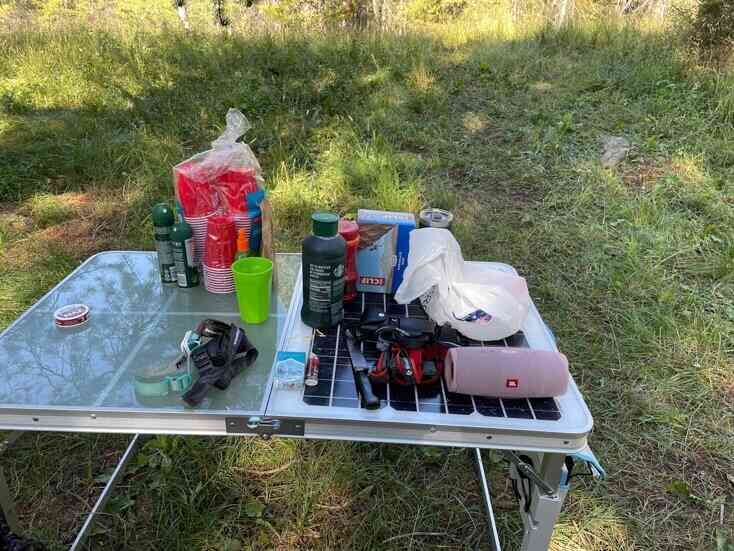 My family and I spend a lot of time outdoors. It's where we sleep, play, and dream the best. Plus we've been living in my parents' house ever since our house fire so we've been spending lots of time outdoors. We especially love our backyard wall tent. Which is a perfect place to hide out from the main house and to have sleepovers. The best use, though, is for parties in the woods.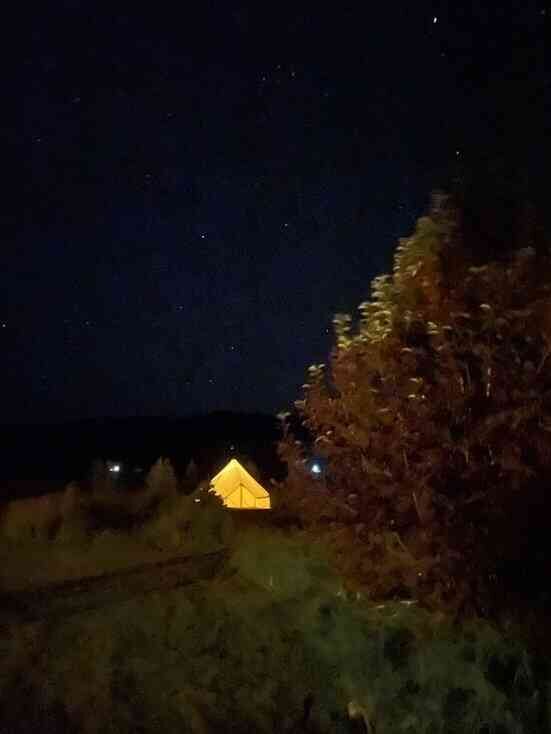 In August, we set up the wall tent in Darby Canyon for a kid's birthday party. The table side of it was perfect for food, staging, prep. We were constantly hooking up phones since service was just weak enough to drain the batteries but we needed to get lots of pictures. When I discovered that I'd forgotten to charge the speaker, we hooked it into the 266wh Power Bank, hooked up to the SolarTable 60, and kept the party going until 1 AM (a great way to keep the bears away, and yes, we made sure we were far enough from any other campers they couldn't hear).
I also set it up when I was in the yard working, enjoying the sun, to keep my computer charged. And when that work turned to night, in the wall tent in the yard behind my parents' house, it kept my phone alive. Next we'll be setting it up for my sons' clubhouse in the yard of our own house, once it's rebuilt.
Overall Impression
From the first second I set eyes on the GoSun SolarTable 60 ($219.00) I was impressed by how simply beautiful it is. I'm even more impressed now with how well it stood up to the knives, food, and 12 rambunctious kids. As far as the solar battery, not only is it powerful but it holds its charge for seemingly forever. Plus the power runs from the sun to the table to the bank like water through a firehose, or like my people down steep icy couloir.
We're about more than backcountry adventure; we're about backcountry luxury, and documenting and enjoying every second of it. For that, there's nothing better than GoSun's epic, bombproof supermachines. To play seriously hard under the sun, you gotta learn to harness the sun itself. GoSun's got that – so you need to go get your sun on with the Table60 and the 266wh Power Bank ($299.00).
Related Articles: