The KBO Ranger is a Class 3 electric cargo bike that carries a lot of expectations. As an e-cargo model that's more compact and affordable than most, it punches well above its weight but is it worth the investment? From replacing car trips to transporting the picnic, we've put feet to pedals on the KBO Ranger E-Bike in order to test out its abilities— check out our thoughts below!
Electric Cargo Bike KBO Ranger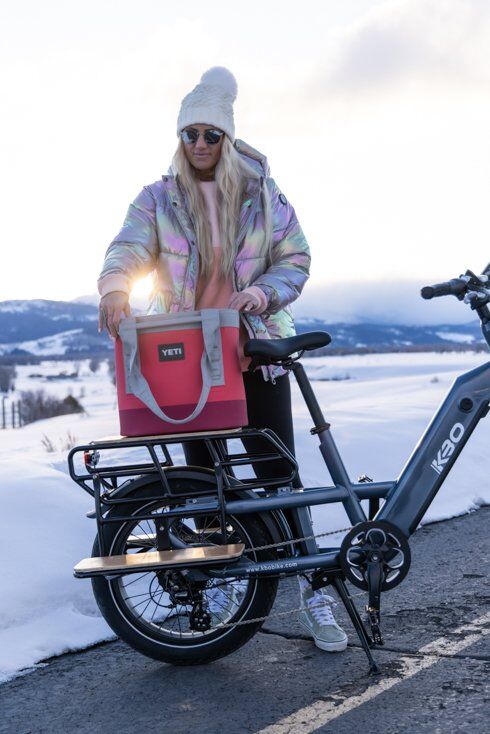 Electric cargo bikes are a popular category that's existed for a while and for good reason. The electric motor helps riders get started and keep pedaling, even when carrying heavy loads. Though previously reserved for bike couriers or dedicated haulers, e-cargo bikes are persuading recreational riders to add this bike to their arsenal. The idea is that they can comfortably displace short car trips— groceries, commute, or kids to school— and let you carry much more than a typical bike.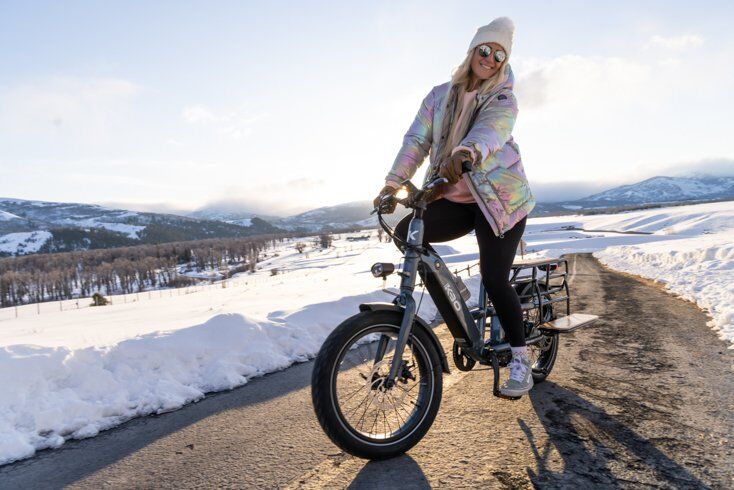 The KBO Ranger is clearly a cargo e-bike but it's noticeably more compact than many other models. Its 6061 aluminum frame has a relatively short wheelbase of only 47 inches, meaning it can feel a bit less stable while riding. However, that shorter length makes it more maneuverable, especially when not loaded down, and gives it a smaller turning radius than those extra-long cargo behemoths.
It's a tradeoff I hadn't thought about much before but could make a big difference to some riders. Overall, its compact silhouette comes in handy for riders short on space who still need some serious two-wheeled hauling capabilities.
Available Accessories
This electrified workhorse comes ready to go, equipped with an extended, wooden-topped rear rack. Depending on your needs, though, you'll probably want to purchase additional accessories tailored for transporting kids, hauling gear, or delivery. KBO offers a decent selection of packages but it's not at wide a range as some other brands— however, they seem to be continually adding products. The compatible front rack can hold up to 50 lbs. but it'll cost extra. The rear rack's weight limit is 120 lbs. while the complete bike's maximum payload is a generous 400 lbs., including the rider.
750W Rear Hub Motor
The Ranger gets its boost from a powerful 750W rear hub motor capable of Class 3 speeds. This means the cargo bike can reach up to 28 mph with pedal assist and maxes out somewhere between 22-24 mph using the throttle. There are five pedal assist modes, a right-hand twist throttle, and a walk mode that's helpful when pushing a loaded bike around.
During testing, we noticed that the delivery of power is smooth and predictable the Ranger is a total blast to ride. The black-and-white LCD display is nothing special but is large and easy to read, showing all the typical ride stats above the stem.
Designed for Families
The rear-wheel-drive feeling adds a whole lot of fun to the experience, especially if you ride with kids in the back as there is a place on the running boards for their feet. They'll love it and the Ranger is comfortable for the main rider up front too, making it a great choice for families taking trips to school, the store, or other errands.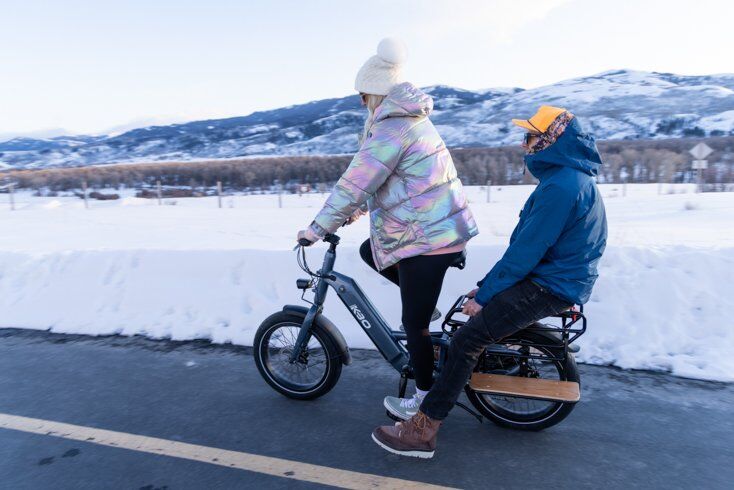 The Ranger's clean look is available in either cool grey or orange and reminds me of the Magicycle Factory or rival Himiway e-bikes. The one-sized frame is recommended for riders between 4'11" – 6'3". But keep in mind that cyclists taller than 6' are probably not getting full leg extension because of the limited seat post length.
Battery Range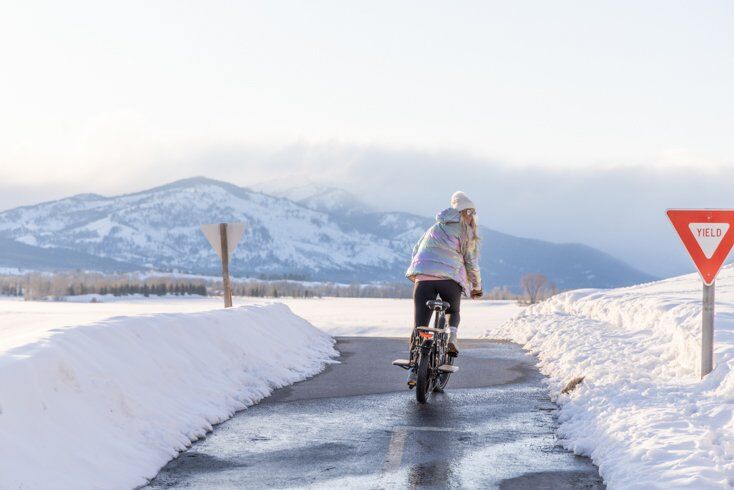 A pleasant surprise was that the Ranger exceeded expectations regarding its battery range. The battery is rated as 840Wh or 17.5Ah and can reach nearly 60 miles on the lowest pedal assist levels. That's impressive for a standard e-bike let alone a heavy cargo model— the Range slots in at a hefty 77 lbs. The bike takes just 5 hours to fully charge and the battery is removable, too.
The battery slides out from the underside of the downtube and can be finicky to remove with the front wheel in the way, especially since the wheel can turn slightly while the bike is supported on the center stand. However, there's more clearance between the downtube and front wheel than most other bikes so it's normally not much of an issue.
Fat Tires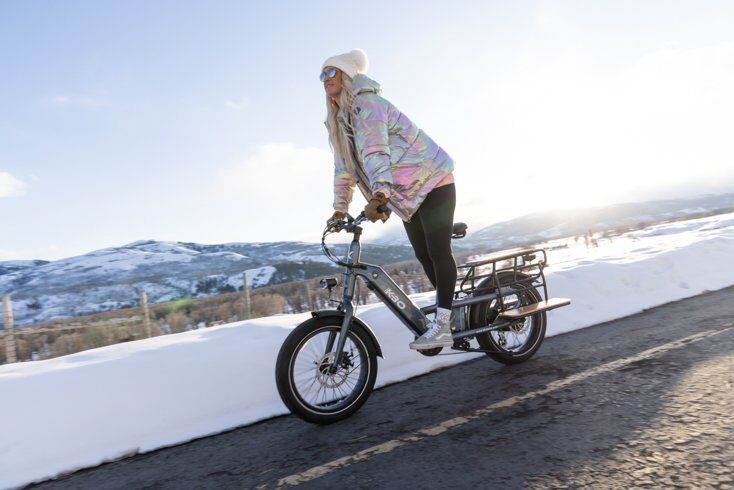 The KBO Ranger Cargo Bike rolls confidently over almost anything thanks to its CST 20×3.0" fat tires. The medium tread pattern offers plenty of traction and so much air volume helps achieve a buttery-smooth ride. The 20" rims are a bit small, but efficiency isn't such a priority considering its a powerful e-bike. There are also included plastic fenders and a stable center stand.
Components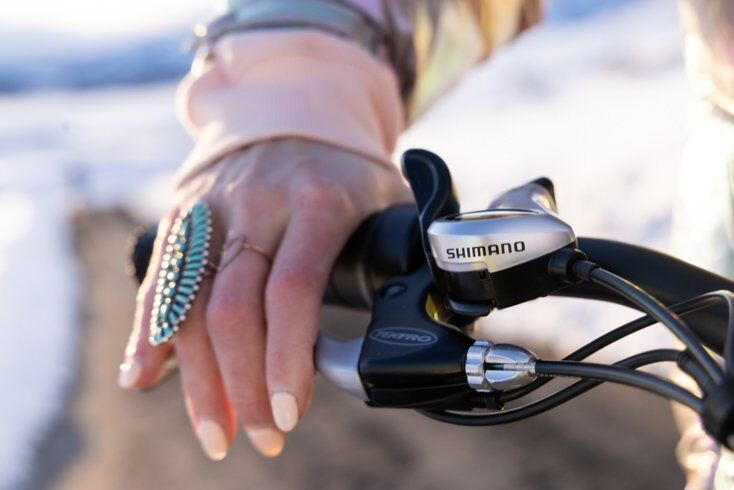 Further along the KBO Ranger E-Bike, there is a Shimano Altus 7-speed drivetrain and Tektro mechanical disc brakes. These standard components surely don't provide any wow factor but they get the job done reliably. I would have liked to see an upgrade from the outdated SiS shifter and have hydraulic disc brakes considering the serious weight and speed of the KBO Ranger.
There is a bright LED front light and automatic brake light at the rear. A simple, but very useful, touch is the comfy seat that has a handle beneath the saddle to help pivot or lift the bike.
Overall Impression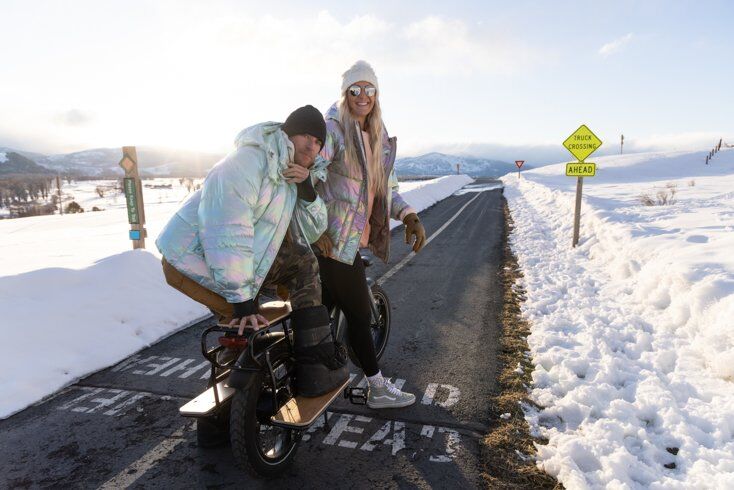 With a price tag of just $1,599, it's hard not to be persuaded by the KBO Ranger Electric Bike. For people on the hunt for a cargo e-bike, if you are not looking for a setup that's very particular or niche, why drop big bucks when this model ticks many of the same boxes at such an affordable price? This entry-level model won't have the most premium specs, but it's an excellent way to see how riding a cargo e-bike fits into your lifestyle.
Related Articles: