Without playing favorites, the Kemper Screamer Snowboard is hand's down the best solid board I have ridden in a decade perhaps ever?  When the board arrived and I saw the aggressive looking edges (think Magne-Traction), which Kemper calls Shark Bite edge traction combined with the lack of snow we have had this winter and I wasn't sure if this was the sort of board I wanted to ride on hardpack.
Kemper Screamer Profile
So I took the Kemper Screamer for a lap, and even put the new Kemper Bindings on (review to follow soon).  Which normally I don't recommend changing up your entire setup like this as it can be tougher to pinpoint what works and doesn't. As soon as I slid off the lift I though huh, this board is much less catchy then it looks with its edges.   I started ripping down the cat track, being cautious again just waiting for the Sharp Bite edges to hook up and have me face planting.
Instead what happened was I found a board with the perfect small amount of rocker in the middle which seems to allow the Kemper Screamer to rail from edge to edge faster without much energy needed.  Then camber under foot, the sort of camber that once it locks in while turning it will continue until you release it.  If your riding a banked slalom this season, this is the board you want as it handles heel side turns with ease and is fun on the toes as well. I wish I had this shape when I competed in the Mt. Baker Legendary Banked Slalom over the years.
Although the board has a directional profile, it rides much more like a twin tip snowboard.  With blunt tip and tail it's got a familiar look to it as well.  Heck it reminds me of the boards Travis Rice had been riding with Lib Tech for years. Kemper's onto something here.
Big Mountain Board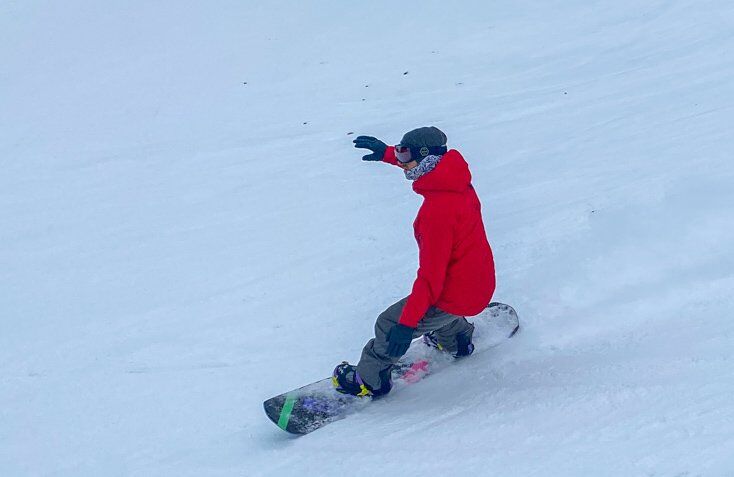 Thanks to solid camber underfoot the Kemper Screamer can take on the entire mountain offering performance in every ride.  Especially if conditions are not epic, that's where this board excels.  And honestly with a lack of snow I have yet to ride this on a powder day.  But when it comes to taking a lap or three at lunch time on a steep icy ski hill in town, the Kemper Screamer has become my daily driver.  And for good reasons.
Kemper's Screamer feels like the sort of snowboard that you have ridden for years.  A board that's easy to trust, fun to ride and even more fun to look at.  Just don't freak out on how the edge look.
Everyone comes up to me like, dude Kemper?  What's that all about.  And it turns out the people that know, know..  Kemper is starting to show up a lot more in Jackson, WY and most likely will start in your town or resort too.
Who's the Board For?
I saw another review on this board that said you can't jib or butter on it?  I found that not to be the case.  It's camber, and its new so you really need to lean if you want to butter. It's a stiff board for sure Kemper rates it 7 out of 10.
Camber = pop when it comes to loading the Kemper Screamer Snowboard up for small cat track airs, spins and such the board seems to know what to do, especially if you land on the bolts so to speak.  This board wants to go fall line and will if you stay on your feet.
The guy that's going to love this board rides hard top to bottom at his local resort or while on vacation.   This is the board for the guy over 30, rides often, knows how to handle camber, wants to have fun and likes to ride regardless of what the conditions are doing.
I fall into the category off all but the last, normally I would not snowboard if the conditions suck.  I live where it snows, and have taken epic snowboard trips over the years. So to find a snowboard I want to ride, even when it's not snowing, even when the conditions are beat, really has helped me to fall in love with snowboarding again.  As we have said in other reviews, Kemper is making snowboarding fun again.
I even managed to hit some flat bars rails albeit 50-50, and the Screamer did it's thing.  Keep in mind Kemper has much better boards available in their lineup for park riders.
Overall Impression
I forgot how much fun putting a snowboard on it's edges can be when you can really trust it's stability and performance.  The boards  powerful long turns really mimic the way you plain while surfing on water.  I use the entire mountain as one big wave, looking for fall line, looking for the prefect place to make a turn and thanks to the Kemper Screamer ($545.00) I now have a snowboard that can keep up with how I want to ride.
And in fact it made me a better rider.  Or at least reminded me how it feels to have a solid heel side turn and board you can rail over onto the toes.
Could this board be better?  Doubt it. Although the glossy top sheet is a little slick, if that's the only thing that can be improved well Kemper is winning at the snowboard game.
Be sure to listen to the podcast I did with Jib Hunt, the CEO and the guy that's responsible for brining a classic snowboard brand, Kemper Snowboards back to life. Available on iTunes of via the Mountain Weekly News.
Related Articles: