Will there be any snow for the 2022 Jackson Hole ShaperSummit? TBD but it's been a rough start to 2022 for snow in the Tetons. That was evident during the Natural Selection, as riders really had to have strong legs to handle the conditions at Jackson Hole Mountain Resort. Here's a 14 day Jackson Hole forecast.
What's the ShaperSummit All About?
The Jackson Hole ShaperSummit was founded by Rob Kingwill almost a decade ago with the help of Teton Gravity Research. The event takes place annually at Jackson Hole Mountain Resort. What makes the event unique is it provides valuable and honest feedback from a variety of board testers known as Mountain Warriors. This feedback is then shared with each snowboard brand, and in theory with their designers.
One thing to keep in mind is all of these shapes from the major snowboard brands are the following years production models. So feedback can go into the design phase for boards 2 years out.
These days the Jackson Hole ShaperSummit is more of an event to see friends, ride some boards, listen to talks and just be snowboarders for a few days. Perhaps it will be the new "tradeshow".
It seemed the brands that get the most out of the ShaperSummit are smaller brands, the ones where the owner is the designer and can take feedback and make it instant.
Or in the case of Telos Snowboard, they came to the show unknown to most. Even the brands Telos was making snowboards for in their GP87 Factory in China had no clue who Ben and his team where. Now everyone is talking about Telos Snowboards and Telos Splitboards.
What to Expect?
There's a big old tent with lots of brands, lots of boards and at times lots of beer. Did I say lots of boards? This is a private event, as the majority of "testers" are involved in the snowboard industry. Even if some ride boards from other brands that rip, the brand representatives have a hard time publicly talking about how great their competitors boards ride.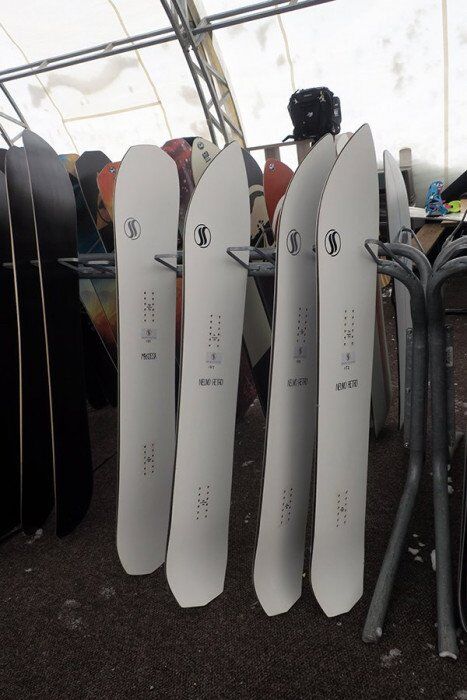 One thing I found about testing boards in a format like this is Jackson Hole Mountain Resort is a burly mountain. When the snow's super deep and untracked you can get away with riding a board with a huge tail or some funky surf-inspired shape. This is why the event was formally called the Jackson Hole PowWow.
There have been years Jackson Hole ShaperSummit went off with 6 feet of snow in 5 days at the legendary as Jackson Hole Mountain Resort. And there have been years of high pressure drought like we are seeing now.
The dates for the 2022 event have already been set for early March. If it snows the event is classic Jackson Hole, real snowboarding, freeriding powder with old friends and new like minded friends. However, there have been years it didn't snow during the former powder board test. So the the name of the event was changed from the PowWow, to something a little more politically correct and more inclusive of all the boards, not just powder boards.
Here's something I learned, if the snow's not deep and untracked during the ShaperSummit you may want to stay safe and ride a snowboard with a more traditional shape (think non powder design).
If it doesn't snow the event becomes a groomer trenching event as Jackson Hole is not really a mountain to ride off piste in hard pack. Everyone wants to get their snow surf on. As an actual surfer with decades of experience as a waterman first and foremost and as a snowboarder second it's easy to take offense to this new "fad" in snowboarding. Hell skiers are using the term "surfy" now. But that's my rant, on my blog.
ShaperSummit Snowboard Ratings
These are the Top 3 boards I tested the last time I attended the ShaperSummit Snowboard Test. With the Telos being the stand out, all around.

Price: $599

Price: $599.95
Price: $749.99
Why did I ride these boards? When the snow starts to gets tracked it's much easier to pick a snowboard that offered a familiar feel. In my case, that's more of a twin tip, directional board to be able to handle riding Jackson Hole Mountain Resort from the top to bottom across a variety of terrain and snow conditions.
Related Articles: