JACKSON, WY – For my 42nd birthday I got invited to test ride the Jackson Hole Bike Park and survived to tell the tale. To be honest I was a bit nervous going into this event as I don't currently own a mountain bike, have never ridden a chairlift with a bicycle and was surrounded by journalist from bike magazines, professional riders, marketing folks and few cameraman on hand to document all the action.
When people think of Jackson Hole skiing is most likely the first thing that comes to mind, while biking is more of an afterthought. Over the past 10 years the resort has slowly been developing their mountain bike trails on the lower part of the mountain. And in 2021 the mountain opened up additional bike trails via the Sweetwater Gondola offering longer rides with stunning views to the valley floor.
Jackson Hole Bike Park Map
As we geared up I started to notice all the people in the rental shop wearing head to toe body armor which had me wondering, did I bite off more than I could chew by accepting an invitation to ride a bike park in Jackson Hole?
Then I noticed it wasn't all seasoned bikers but families of tourist of all shapes and sizes getting geared up for what simply looked like full contact battle.
I just kept reminding myself to breathe.
We left the rental shop, walked our sweet Scott Bikes over to the Teewinot Lift and a few minutes later I found myself getting to the top of the chair with a group of riders eager to rip. Before we left our guide mentioned there were easy ways around any of the terrain park features we might encounter.
I chose to ride towards the back of the pack as I didn't want to slow anyone down. The riders that knew the deal dropped in first and we basically played follow the leader down the mountain. Within a few seconds I had this huge smile on my face that didn't seem to go away all day or even into the night. I noticed everyone else was in the same state of mind.
The stoke was especially apparent while sharing high fives and stories at the bottom of each run.
Any fear I had of downhill mountain biking was put aside as these trails were fun, easy to ride and worked for all levels of riders.
Lap 1 was a blast. Lap 2 was even better.
We started with the green trails on the lower part of the mountain. Then we progressed to the blue trails on the Sweetwater Gondola which took us higher up the mountain offering more trails and longer descents. And even some jumps.
Jackson Hole wants to become a destination for year round human powered adventures. With the help of the bike trail crew and the local adaptive program the mountain aims to make mountain biking more accessible to riders of all levels, abilities and disabilities.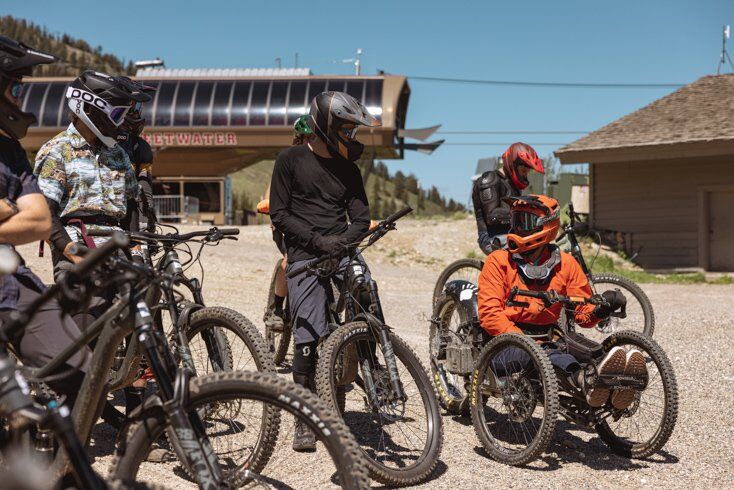 One of the most recent trails to be built on the mountain called Deepest Darkest was the hit of the day with our group. The flowy trail was wide, fast, had lots of jumps, banked turns and was designed with adaptive riders in mind. Say what?
Why did the trails flow so well? Two words, Gravity Logic. Gravity Logic was hired to come and work with the local Jackson Hole Bike Park builders to create new trails and new vision for the future of mountain biking at the resort. Gravity Logic's team cut their teeth designing and building Whistler's Bike Park which is ranked as the #1 bike park in North America.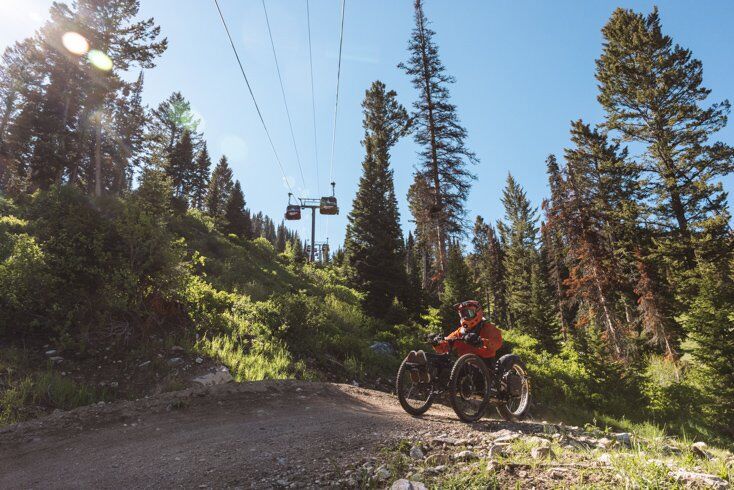 In the past ADA type trails were dumbed down for adaptive mountain bike riders, now the same trails that work for mountain biking can also work for adaptive trike style bikes thanks to the forward thinking of local adaptive athletes Joe Stone and Pierre Bergman with support from Jackson Hole Mountain Resort and Teton Adaptive Sports.
Watching Joe Stone rip his sit down bike down the mountain was equally inspiring, humbling and motivating all in one. If Joe can rip these trails, you can too.
After spending almost 6 hours in total riding, my confidence on a bike and on trails like this grew immensely. I got an incredibly workout, got to see new parts of the mountain and the views were breathtaking. If you find yourself in the Tetons this summer, be sure to visit the resort and ride some of these fantastic mountain bike trails.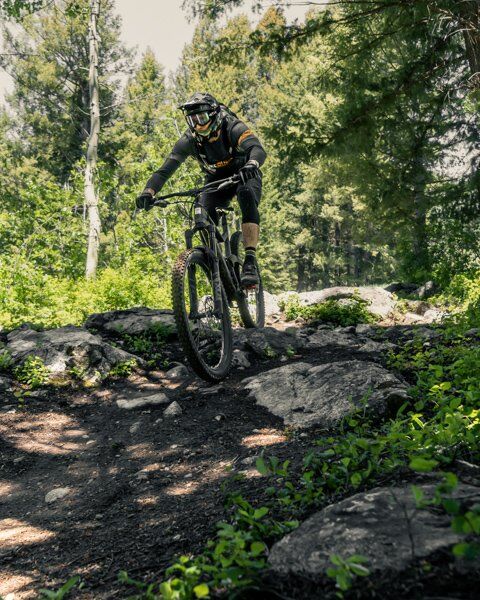 And for the crowd that really likes to get after it, there's plenty of black and double black options to wet your whistle.
To learn more about riding bikes at Jackson Hole Mountain Bike Park please visit: https://www.jacksonhole.com/bike-park
And to see some serious bike stoke check out this video with Joe and friends ripping their adaptive bikes.
Related Articles: