A guide to men's fashion for winter. Just because the days are shorter, doesn't mean we can't still look our best, even when bundled up. This list covers our favorite 2019 Men's Winter Styles and must have's for living through a cold winter.
Men's Winter Style Guide
The best-fitting men's jeans on the market, with an active lifestyle twist, comes to us from DU/ER who has figured out a way to make jeans flexible. Read that last part again.  Finding a pair of jeans that offer a perfect fit can be like the tail of the Three Little Bears.  They are either going to be too small, too tall, too wide and so forth.
Like to skate in jeans, but over the tight ass fitting look?  Performance Denim is a must.  DU/ER created the  L2X Performance Denim out of 70% COTTON, 28% COOL MAX and 2% LYCRA DU/ER that comes with anti-bacterial and moisture-wicking properties.  These are the sort of jeans you can wear day after day, without stinking of showing much sign of wear and tear.   When you wear DU/ER Jeans you get the comfort of pajamas yet have a style that will fit in just about anywhere, even places with signs stating no jeans allowed.
Yak Wool, need I say more?  This is perhaps the first time we've tried any products with Yak Wool and surely won't be the last.  Kora not only made the Xenolith Sweater comfortable its got incredible warmth to weight ratio thanks to Polartec Alpha insulation. On top of that, the Kora Yak Wool Xenolith Sweater also uses Merino Wool that gives a nice stretchy feel to the piece.
Kora's Xenolith Sweater is the sort of piece you can wear for a day on the mountain and then absolutely crush apres ski, this Sweater is cougar friendly approved. The only downside is the word sweater in the product title as this is more of an all-around active lifestyle piece for anyone living in the mountains that wants style even when it comes to layering pieces.
Everyone you know will be talking about the Eddie Bauer Thindown™ in years to come. Eddie Bauer way back in 1936 was the first person to introduce a down jacket designed for outdoor sports. So it's fitting that 80 years later the Eddie Bauer brand launches the Evertherm jacket with Thindown™ which will surely be another legendary innovation for EB. What makes the Eddie Bauer EverTherm Down Jacket unique is the non-use of quilting, channels or baffles which are known to create dead spaces in down insulation. Instead, thin sheets of down feathers are blended together into a solid sheet of down insulation for consistent warmth throughout the entire jacket.
The Eddie Bauer EverTherm Down Hooded Jacket can be used as a stand-alone shell thanks to its DWR finish and temperature range all the way down to -15°F / -26°C. This 12 oz jacket is easy to pack down and should come with you on all your outdoor adventures.
I would be willing to bet once you try a Slide Belt you will never go back to traditional style belts.  Slide Belts make your belt, well actually fit.  You actually get a belt and can easily cut it down to size at home.  No more belt sticking out in awkward places.
Made of Vegan leather, you know the cruelty-free type, no animals were killed here.  However it would be pretty much impossible to tell the difference, heck the belt even smells like real leather.  There are different style buckles available and even widths.  Keep your pants where they belong this winter with a Slide Belt.
Soon to be your favorite pair of base layers come from a smaller company based in Mammoth Lakes, CA that goes by the name Ridge Merino. You may have noticed a trend in this men's buyers guide as Merino Wool is a great product that's super comfortable to wear against your skin with a ton of great properties including moisture-wicking, less stink and more. If you wear your long johns more than one time per week ( we all do ) a nice set of Ridge Merino Wool base layer tops and bottoms can routinely be worn over and over again without much stink, even in the taint.
Ridge Merino uses an 84% Merino Wool, 16% Nylon blend, its the sort of base layer piece you won't be rushing in the door to take off, instead you just may find yourself wearing the Ride Merino Aspect Base Layer well into the night.  And if you're really sending it, these base layers have a UPF 50+ certified  SPF rating. At this price, no other base layers can compare to Ridge Merino's quality.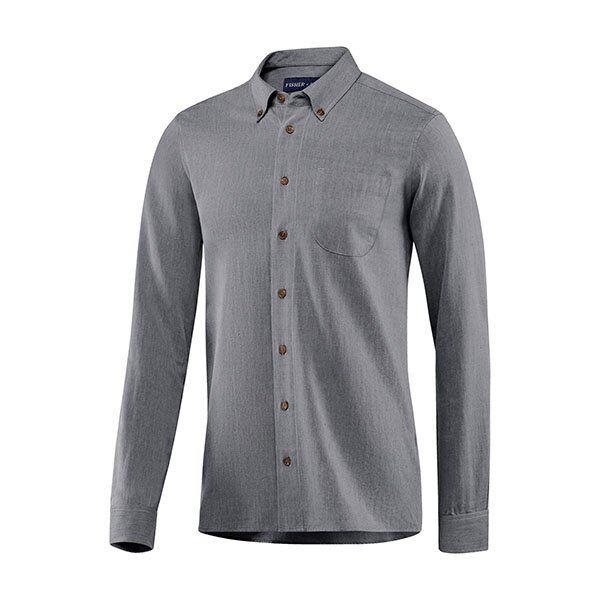 Fisher + Baker Camden Shirt – ($158.00)
For the guy that's living in the mountains and looking for some city-style, look no further than Fisher + Baker's Camden Shirt.   With a clean slim-fitting design, Fisher + Baker shirts look great on anyone that takes care of their body. This short offers a blend of 58% Merino Wool and 42% Organic Cotton, making the Camden Shirt breathable and able to regulate temperatures better than a traditional button-down shirt.
The Fisher + Baker Camden Shirt works equally well in the office as it does for a night out on the town.  Best of all with the Merino blend you can even get away with wearing the shirt a few days in a row without smelling too bad.
[Purchase: $158]