Montana is a Swiss company that has been making climbing skins since 1939. Their earliest models were literally made out of seal skin, and Montana's uphill tech has evolved a long way over the last 84 years.
FUSIONTECH
Recently Montana incorporated a "FUSIONTECH" glueless adhesion system into their new line of Montamix Adrenaline backcountry ski and splitboard skins. I was eager to get my hands on a pair because keeping skins stuck to bases can be a challenge while setting skin tracks in the bottomless cowboy powder of NW Wyoming.
We all know how quickly a snowfouled or glopped up set of skins can turn an enjoyable tour into a frustrating epic. In my experience the quality and reliability of skins varies widely between manufacturers, so I am always looking for any improvements in skin tech. Over the years I have experimented with skins from a half dozen different manufacturers, and this is my first set made in Switzerland by Montana.
I have been testing the new FUSIONTECH Montamix Adrenaline Skins while splitboarding in the mountains surrounding Jackson Hole, WY. So far I am very pleased with these skins and am hopeful that they will stand up to the test of time.
Skin Length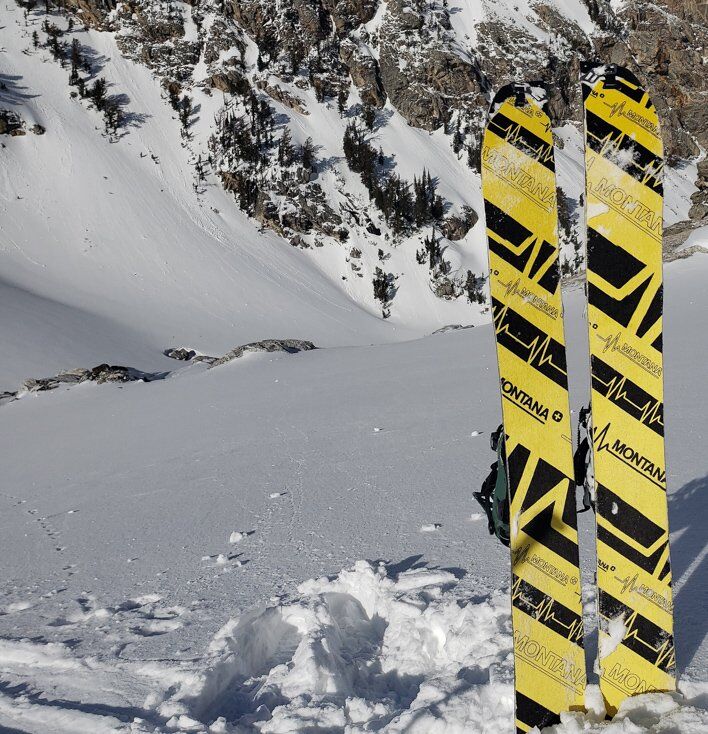 Out of the box these skins were remarkably easy to set up. They came pre-cut to length for a 155-162cm splitboard with the tip and tail clips already attached. All I had to do was secure them to my splitboard and slice off the excess around the edges. Unlike some other manufacturers Montana includes an excellent skin cutting tool which streamlined and simplified the cutting process. It is the best skincutting tool I have used, and it has replaced the old worn out Pomoca skincutter in my toolbox.
I am impressed by the beefy all steel tip and tail clips on these Montana Montamix Adrenaline skins. Many skins incorporate plastic into the tip and tail attachment systems, and I would rather carry a little extra weight than bet the farm on plastic while travelling through extremes of temperature and terrain. My splitboard — the 2022 Arbor Bryan Iguchi pro model — has a unique fishy tail and the Montana tailclips strap to it securely despite the atypical shape.
Mohair / Nylon Blend
I have tested these skins in a variety of snow conditions ranging from powder to ice and they have great grip, adequate glide, and resist hotpow glop buildup out of the box. The Montamix skins are a mixture of mohair 65% and nylon 35% blend, and I find their grip and glide properties similar to the high end blended Glidelight models from Black Diamond which have been my skin of choice for the last several years.
My only gripe with the BD Glidelight skins is that they might be a little *too* light and thus easy to tear up while traversing sections of rocky mixed terrain. These Montamix skins strike me a slightly thicker and more durable, so I am interested to see how they hold up over time. Despite being a bit beefier they don't feel heavy or bulky while stowed.
Glueless Skins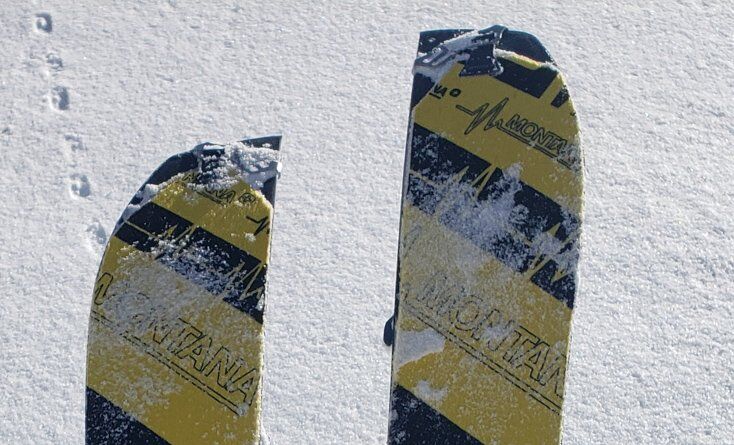 As for the FUSIONTECH "glueless" system, I didn't know what to expect but whatever magical compound they've incorporated sure seems quite similar to glue. These skins stick to my bases very well, and leave no residue behind even when left out baking in the sun for a day as part of my testing process. Montana says you can roll these skins up for short term storage instead of folding them over, which is a nice option to have in windy conditions.
My only concern with these Montamix Adrenaline skins is that the tail clip strikes me as a bit *too* easy to adjust and could potentially slide off the rubber strap if I didn't notice a blown tail clip and skinned for an extended period with it dragging in the snow behind me. I have mitigated this concern by wrapping a small strip of gorilla tape around the end of the rubber strap and hitting it with a heat gun. (Mike our editor experienced this too)
Overall Impression
All in all I am pleased with the Montana Montamix Adrenaline Skin System ($279.99). It is now my splitboard skin of choice, and I hope to get my hands on a pair for my backcountry ski setup as well.
Related Articles: