The Never Summer Swift Splitboard with its huge early rise nose, goes back in time to the roots of snowboarding.  If you like to float in the deep, the Never Summer Swift Splitboard is for you.
Never Summer Fushion Rocker Profile
On our first tour on a Never Summer Swift Splitboard we knew something was entirely different about this board.
Everything comes back in style including snowboard shapes. Way back in 1983/84 the idea for the Never Summer Swift came to fruition somewhere in the Colorado backcountry. Fast forward 25+ years and the team at Never Summer has brought a legendary snowboard shape back to life in the Never Summer Swift Splitboard.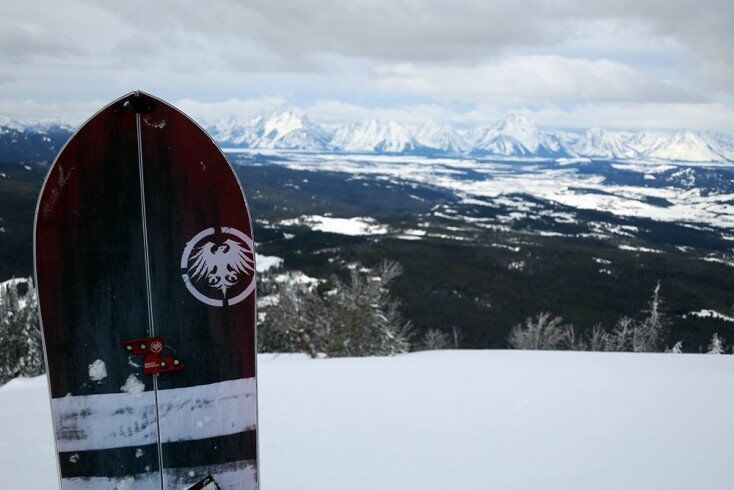 Then we found out NS was making a splitboard version of the Swift and once again everyone got really excited, and here's why.
With the Never Summer Swift Splitboard the brand sought ought to make one of the best powder board possible. So how does the board ride in powder? With a huge early rise nose, the Swift goes back in time to the roots of snowboarding, aka floating effortlessly over deep snow.
Fusion Rocker Profile Skinning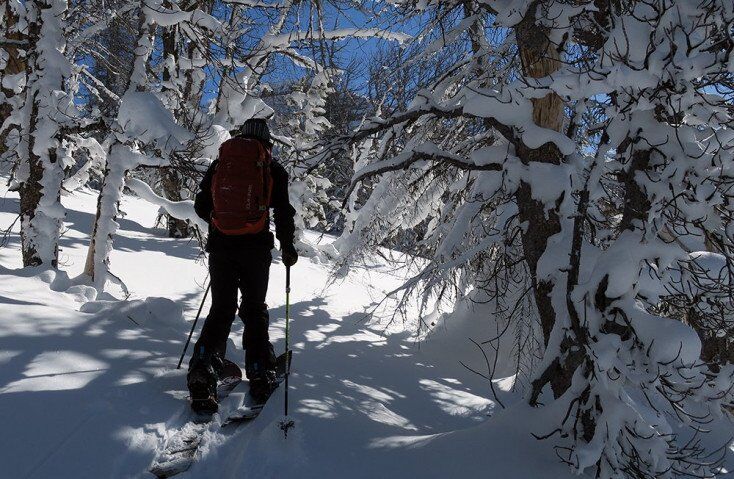 Clearly, this splitboard rips powder, however, how does it tour with the Fusion Rocker Profile? I loved riding this board, however touring was tougher on this setup than others we tested conditions dependent.
When touring in deep snow the Never Summer Swift Splitboard charged along fine, however when walking on hard pack the board's skis always wanted to stay off the snow.
There's a point where the skis want to start walking all over the place on hard-packed snow. I believe this is due to the amount of rocker being directly under the touring bracket. So if you're going to be touring in icy conditions or skiing out on fast trails, this is something to keep in mind.
Installing Skins Never Summer Swift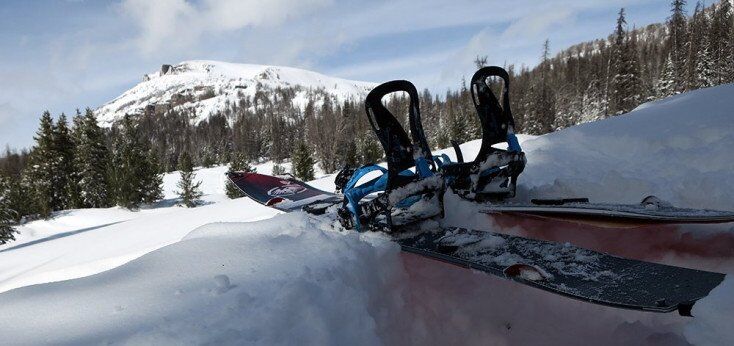 Also to note is skins, it took 3-4 sets to finally find a pair of climbing skins that would stay put with this profile. The Jones Pomooca skins ended up working best with the Never Summer Swift Splitboard.
If you stick to touring on powder days, the above shouldn't be of any issue to you.
Never Summer Swift Splitboarding Video
The Never Summer Swift has a surfy feel and rocks edge to edge with ease which is largely due in part to the Fusion Rocker Camber Profile. Which makes total sense as the entire Shaper Series line for 2017/18 (which absolutely rips) comes with the Fusion Rocker Camber Profile. That includes the Maverix, Insta/Gator, and Big Gun as well. With the Swift having the most taper of them all.
The trend continues with the pointed nose boards and bat tails, both of which the Never Summer Swift Splitbord features. The pointed tip helps to cut through snow, although with an aggressive early rise nose is almost impossible to bury this board in the snow. As for the tail, the Swift is actually fun to land on, and surprisingly offers a decent bit of stability for stomping landings.
Like to go fast, point this splitboard fall line and you'll be flying in no time.
Overall Impression
If you like to go fast, plan on touring in deep snow throughout AK, BC or in the lower 48's the Never Summer Swift Splitboard ($1,059.99) will make a great addition to your quiver. The Swift features Never Summer legendary craftsmanship and comes with a 3-year limited warranty and when combined with P-tex Sidewalls, a sintered base and aluminum tip and tail protectors this board along with all the boards in the Never line are essentially bulletproof.
Never Summer snowboard and splitboards are designed and built by hand, by snowboarders in Denver, Colorado.
Related Articles: