Finally the folks at Never Summer have been listening to what their customers want and have created a mostly camber dominate snowboard in the Never Summer Easy Rider. The Easy Rider Snowboard is built around Never Summer's Triple Camber Profile meaning there are 3 camber sections throughout the base with a little reverse camber thrown in (it's a Never Summer after all).
About Never Summer
Never Summer has proudly been making hand made snowboards in Denver, Colorado since 1991. There owners snowboard as does a majority of their staff which is apparent when you see the ideas, technologies and innovations the brand has brought to snowboarding over the years.
They were one of the first companies to blend rocker and camber together (RC) and sort of took off and ran with that design in all their boards for decades. So when I heard they were making a mostly camber dominate board with triple camber I got excited as my style of riding sort of drifter away from the rocker/camber blend opting for more traditional camber as I get older and focused more on big mountain riding vs park.
Triple Camber Profile
Instead of the traditional Rocker Camber blend or hybrids Never Summer is known for, on the Easy Rider Snowboard they opted for triple camber. There are camber sections from the inserts to just before the tip and tail at the top and bottom of the board and another camber section in the middle of the board. What all this camber you get incredible edge hold and reliability in how the board would ride. And since there's that tiny section of rocker you still get the ability to butter and spin with ease.
One of the ways I knew this board still had some rocker, even though it's called a Triple Camber is when getting on and off the chairlifts. When you put Never Summer boards flat on the snow, they're known to spin in a circular direction. Which can be really fun if your riding park and spinning off lots of features. However at times you just want the board to stay straight and flat and not be so damn lively.
Luckily even with a bit or rocker in the middle the board for the most part stayed straight.
How's the Board Ride?
The Never Summer Triple Camber Easy Rider Snowboard is packed full of camber, has strips of carbon fiber running from the inserts to the corners of the board, and features a powergrip sidecut that's pretty aggressive at the tip and tail. Taking one look at the board and the specs leads you to believe it's going to be a stiff big mountain focused design. Yet the board is actually built off the Never Summer Proto Twin symmetrical Shape.
Meaning you have a board that can easily be ridden in the park, smash off cliffs and hold it's speed. For anyone that has ever ridden much in Colorado you need an all terrain board that can do it all and with that Never Summer looks to have crafted up a special recipe in the Easy Rider as the board rips on groomers, easily chews up powder and spits it out, has enough flex to be ridden comfortably in the park and just overall makes a wonderful top to bottom snowboard.
Pros: Built off the tried and true Proto Twin Twip shape.
Cons: The little bit or rocker was still noticeably on ice days, where the board wants to be more playful vs grippy like traditional camber.
Overall Impression
The snowboard I found myself riding the most last season was the Never Summer Easy Rider Snowboard ($679.99). I liked that it was a Never Summer, had plenty of camber, not too much rocker, was a true twin and really could hold an edge well.
From riding powder, to hitting jumps, jibbing and making the entire mountain my playground the Never Summer Easy Rider Triple Camber Snowboard is the board that impressed me the most last season. If you are searching for the elusive quiver killer snowboard, you may have just found it with the mid flexing Never Summer Easy Rider Snowboard, oh and don't let the name fool you, this board looks pretty darn tough too.
Never Summer Easy Rider Size Chart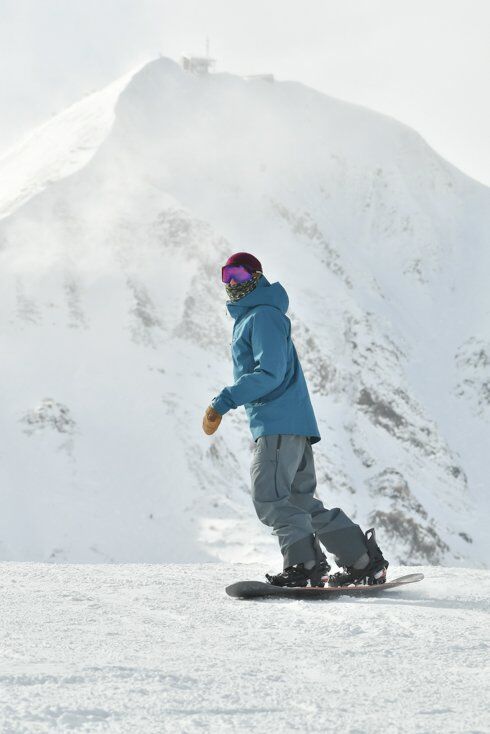 148cm, 154cm, 157cm, 158X, 160X
Related Articles: