It feels like Ortovox decided at some point in the last few years that they're going to push the beacon game and the Zoom+ is part of this transceiver transcendence. The Ortovox Zoom+ is a simple, sleek transmitter and receiver, combining their beacon tech with about the simplest interface you can find. It makes it not only perfect for a beginner, it's just as good for the experienced rider who maybe doesn't get in the backcountry that much and isn't leading large groups. But don't sleep on it; this is still a serious bit of technology.
Start with functionality. The Ortovox Zoom+ Avalanche Beacon has a basic on/off switch on the back and to go into transmitting mode. Need to search? Slide the buttons on top to the side so then button pops up and you're searching. Want to go back to transmit? Just push the button back down, plus it has an auto switch back to transmit if you don't move after 2 minutes of searching (i.e. if you get hit while searching, it'll start transmitting).
Visual Search Mode
Approaching the avalanche victim has never been easier. The Ortovox Zoom+ Transceiver search mode is supported by arrows that give you direction and the display shows the distance. There is some multiple-burial sensing but since this beacon doesn't allow you to flag multiple buried victims, it isn't really meant for the backcountry guide or super avid user who very realistically could be tasked with finding multiple buried partners.
Plus it has a range of only 40m, which is less than most beacons but also could be helpful for a beginner who could get confused with a larger search range. You know what I really loved from this? Teaching my son to search.
Patent Smart Antenna Technology
After I brought the Ortovox Zoom+ Avalanche Transceiver home, first thing I did was play beacon hide and seek with my 7-year-old son, letting him search with the Zoom+. I figured if he could find me, it worked exactly as it promises. Every time he found me using the search instructions I gave him by using the distance directional arrows (except one where I hid in a closet and he found me on the opposite side of the wall, though that also means it receives through walls). I took it out and had him bury a couple beacons. I found them all, even without flagging.
In fact as much as I love this beacon for him, I love it for me too. Super light and simple, streamlined and clean so that you almost forget you're wearing it. I took it out on bigger missions in the backcountry and found and was found by my partner, no problem. But let's Abe honest, where the Zoom+ blows past the competition is its beginner focus.
Ortovox's Zoom+ gets you out there so you can start practicing immediately, with probably the easiest interface in the game using the arrows and information at your finger tips.
Overall Impression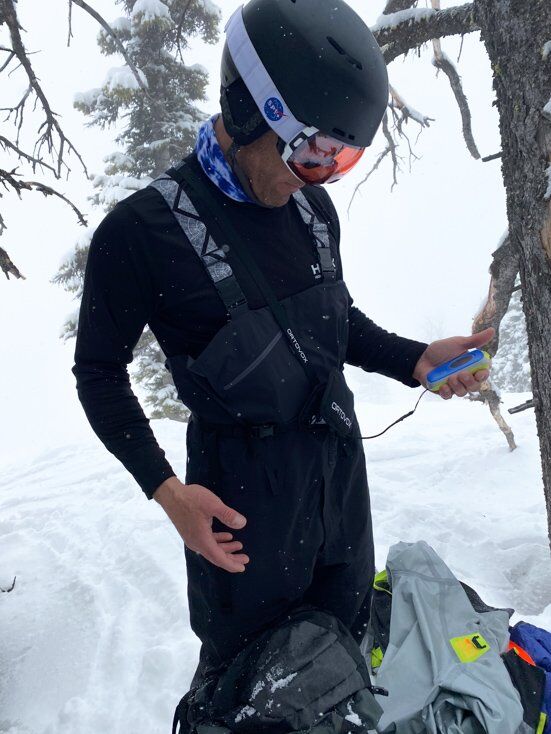 Getting out into the backcountry can be a daunting experience. Yeah you have to get your touring gear, and you need to learn how to tour; but the most important thing to add is knowledge about backcountry safety. That starts with gaining an avalanche beacon and the ability to use it. The Zoom+ makes this extremely easy to do.
Ready to get exploring today? Pick up a Ortovox Zoom+ ($280.00) and begin your journey into a wider, braver new world. It might as well be your first backcountry purchase before pushing out into the great white yonder.
Related Articles: