If you're looking to live out your dream of skiing in battle formation with full communication, music, and even phone calls coming through a device that makes your helmet look like you're a badass help pilot, the Packtalk Ski is exactly the toy you need for your next trip to the slopes. With a hardy, durable build and cutting-edge tech, it's a must for that family vacation at your favorite resort. Or for rocking out your favorite tunes, with a quick break for closing business deals.
Packtalk Pairing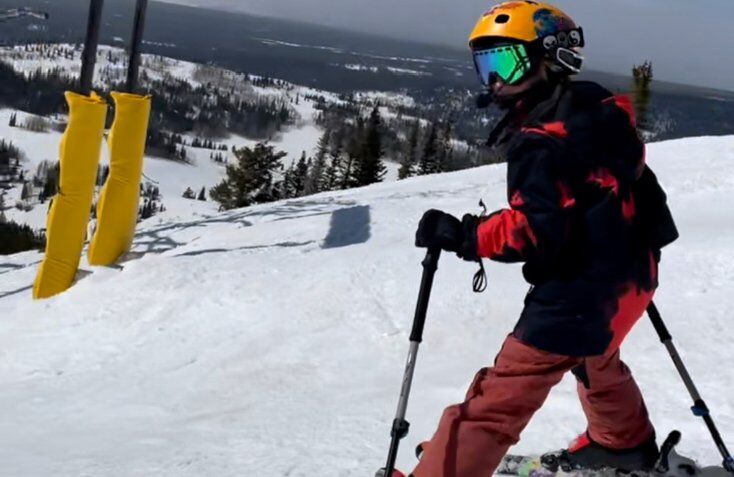 My son and I tried this out on a day at our local hill. To start off, he loved how it looked like he was a soldier, or a pilot, with the small earpiece and the mic reaching into the front of your helmet. Syncing up with your phone is easy enough following the instructions (though you have to make sure your phone's Bluetooth is available for pairing). The feature I was really excited for, though, was the DMC Intercom Grouping. That took a little practice. First, do do anything you have to make sure that your headsets are charged, using the easy charging port. Then hold the top button down for 5 seconds. It will flash green and black; once synced it turns purple. We did it in our car in the parking lot.
Now for the test. The communication was great, while skiing together my son and I could have all sorts of epic fighter pilots in formation talk. It never flagged even in the subzero temps and the battery life actually lasted for 2 days of riding. That said, there was one drawback: I skied to the bottom of a slope, below a roll-over, and told my son to ski down. He couldn't hear me. So if you're looking for some sort of all-mountain communication device, a traditional walkie might be more your style.
Group Intercom
One of the biggest differences between PackTalk Cardo Systems and other talkies: it's Bluetooth. As in you can hook your phone up to it to be able to place and take calls while on the hill. Then for talking to the rest of your crew, there's an always-on Dynamic Mesh Communications DMC group intercom which allows you too talk with up to 15 people in your synced group, with a range of 1 km between each unit in direct line of sight. Perfect for the team flying down.
Finally, the Cardo Packtalk Ski is temp and snow proof (guaranteed to -20 degrees C and below). And given how quick and easy it is not only to set up the sync but also to hook them to your helmet, you'll be able to get it up and running faster than you can say "party ski."
Overall Impression
Packtalk Ski isn't necessarily an all-mountain communication device; instead, it's an epic party-ski configuration tool for skiers and snowboarders. Plus, if you're the type to get and take calls while shredding, this not only makes it super easy to answer your calls and listen to your music, it lets you close that important business deal while flying downhill. So you can get on that conference call and claim you're in your home office while you're actually ripping hot laps at the hill. Either way, the Packtalk Ski ($264.99) is guaranteed to add to some family group fun or solo bliss on the hills.
Related Articles: