This winter I have been testing the Sena Latitude S1 Bluetooth Intercom Helmet while backcountry skiing and snowmobiling in Wyoming.
The S1 is the latest hi-tech winter sports helmet from Sena's Latitude series. Obviously it has a built in Bluetooth headset, but first and foremost it is a ski/snowboard helmet so let's look at its performance in that regard first.
Sena Latitude S1 Helmet Weight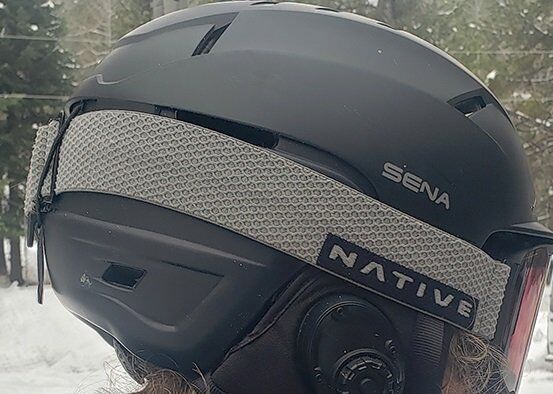 I have found the Sena S1 to be a comfortable, lightweight, stylish helmet that integrates well with a variety of different goggles. I don't feel like a bobblehead while wearing it, and it fits comfortably under the hoods of all the jackets I own. It fits true to size, and the adjustment wheel in the back makes fine tuning the fit a simple and efficient process.
While backcountry skiing and snowmobiling adequate temperature regulation is a strong selling point and the Sena S1 performs well in this regard: the helmet has 10 vents that are easily opened and closed with a gloved hand while wearing it. It also has a couple of other vents on the front and rear that are always open. With the adjustable vents closed I have found it to be warm and comfortable while snowmobiling 25-30 miles at 40-50 mph in temperatures down to 0*F.
With the vents open I have found it to be comfortable while skinning and bootpacking uphill at a moderate pace at temps approaching 32*F.
Importantly, I have found that my goggles do NOT fog up while wearing this helmet, a serious problem I have experienced with other helmets which lack adequate ventilation. It is important to note that the earflaps on this helmet are NOT removable due to the integrated Bluetooth system being built into them.
The Sena S1 only comes in one color scheme (black with bright yellow vent covers) but this suits my sense of style just fine. Similar ski helmets (without the Bluetooth functionality of Sena's S1 ) like the Smith Vantage model retail for twice the price of the Sena S1, so I think it is well worth the $120 price for a high quality ski/snowboard helmet. I give it 5 stars as a helmet alone, because it is comfortable, lightweight, stylish, and breathes well.
Sena Bluetooth Helmet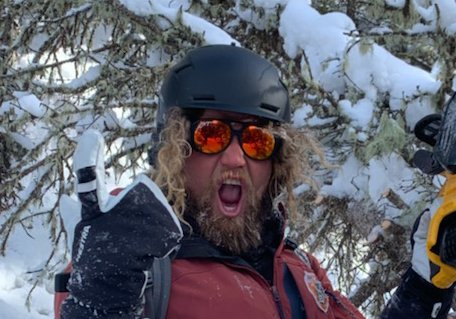 As for the integrated Bluetooth headset, I feel it has many strong points and much room for improvement. It was very easy to sync up with my smartphone without needing to download a smartphone app to make phone calls, and it consistently pairs properly every time I turn it on. I eventually did download the Sena Outdoor app, and it is easy to navigate and adds a bit more functionality to the helmet. It is very easy to adjust the volume of the Sena S1 using the flywheel, and pushing the primary button with a gloved hand is no problem. The incoming sound quality while placing a call is crystal clear, and the microphone transmits high quality as well. I am impressed by how well the mic functions in windy and noisy conditions. Clearly this helmet is well-suited for making and receiving calls.
For listening to music the integrated headphones leave quite a bit to be desired. They put out very little bass, and do not transmit all of the subtle vibes of good music. If there is one thing I could change about the Sena S1 it would be improved sound quality for music listening. That said, I have found it quite enjoyable to wear earplugs underneath my Sena S1 and crank the volume up while snowmobiling: doing so eliminates most of the engine noise and gives me a nice soundtrack to sled around to. The lack of bass is not a dealbreaker for me, as high definition headphones alone cost about as much as the Sena S1 snow helmet does. That said, I go out into the mountains to get away from the world and I would gladly trade some of the other functionality of this helmet for an improved music listening experience.
The Bluetooth intercom function can connect up to four Sena helmets directly (no phone required) with a range of 1 km (0.6 mi) in open terrain. This is adequate range while backcountry and resort skiing with friends, but not quite enough range to keep snowmobilers in consistent contact. Currently, the Sena Latitude series of helmets are quite popular with hockey players as well (#1 best seller on Amazon in hockey helmets) because the intercom helps players communicate on the ice. Of course hockey players would probably prefer more than four simultaneous connections, so I'd say the intercom system could be improved by a longer range and more connection capabilities. For my purposes, it's not an issue because the intercom was not a selling point for me. If I am in a situation where I need to be in contact with buddies in the backcountry we bring our BCA radios due to their much longer range and ability to broadcast over the more universally utilized airwaves. If the Sena S1 could intercom with other brands of Bluetooth headset that would be a bonus as well.
Another area where there could be improvement with the Sena S1 is the battery life and rate of charge: according to Sena talk time is 8 hours, and 3 hours on the charger will get the battery back to 100%.
I have found that with a full charge my Sena S1 is good for a full day of cranking tunes in the backcountry, but if I forget to turn it off at the end of the day or do not give it adequate time hooked to its USB charger I end up running low on battery. I am curious to know if the battery concerns I have experienced are also a factor of cold temperature, or perhaps the helmet might be continually attempting to pair with other helmets after I accidentally activate intercom mode while toggling the volume. Either way, it's more a function of operator error when I forget to turn it off and promptly put it on the charger in preparation for another day on the slopes. That said, I would gladly add an extra ounce of weight to the helmet if running out of juice was less of a concern.
Overall Impression
I give the Sena Bluetooth S1 Helmet ($159.95) earned 5 stars as a helmet, 3 stars as a Bluetooth headset, which puts the total package at a solid 4 stars in my opinion. First and foremost, it is a ski/snowboard helmet, and a darn fine one for the price.
Related Articles: