I often get asked what my favorite outerwear is, the answer is always Patagonia.  This season when I wasn't out reviewing other jackets my main outwear kit was composed of the Patagonia Storm Shift Jacket and Storm Shift Pants.
For this review I will focus on the Patagonia Storm Shift Jacket which after 25+ days of heavy riding still seems to perform and look as it did on day 1.
Patagonia Fit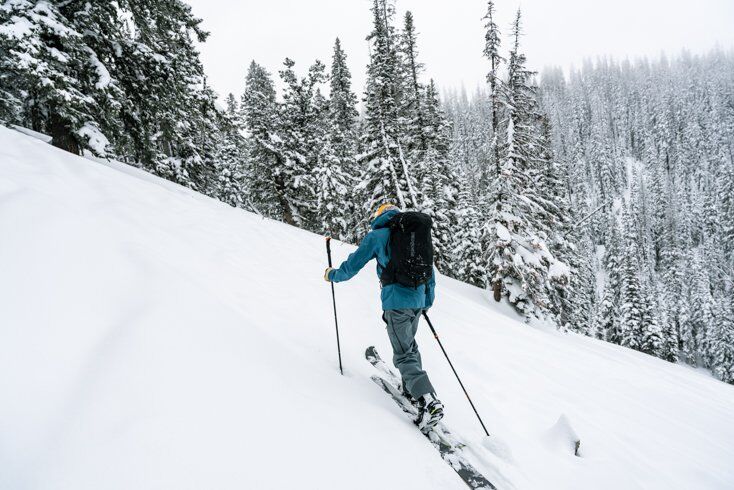 Why do I choose Patagonia over all the other brands I have access to? Well Patagonia's fit works perfect for athletes like myself. In fact Patagonia calls the fit on the Storm Shift Jacket "a refined fit" which offers a nice clean outline.
The length of the arms, the bottom of the jacket and just about everything is perfect.  at 5'11 145lbs. I opted for the Medium fit which in Patagonia I have stayed the same size over the years, which goes back to why I really love how Patagonia's designers are working with their athletes to crank out some of the best fitting, high performing outerwear in the industry.
GORE-TEX 2L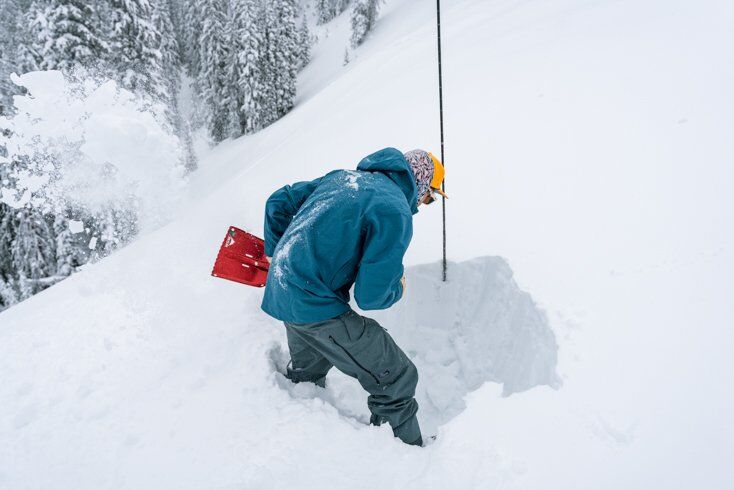 For the most part this jacket stayed nice and dry, I did notice that when it was snowing in temperatures around 32 degrees and above the jacket did show signs of moisture on the outside, however not on the inside. So in theory this 2L GORE-TEX Jacket is best in cold conditions.  And if your really touring in wet conditions like the PNW you may want to consider the GORE-TEX 3L Pro material as it will shed water even better than the 2L.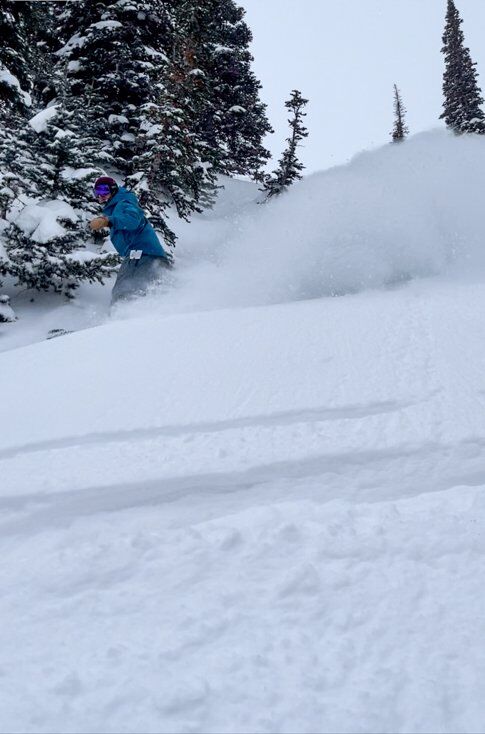 Pockets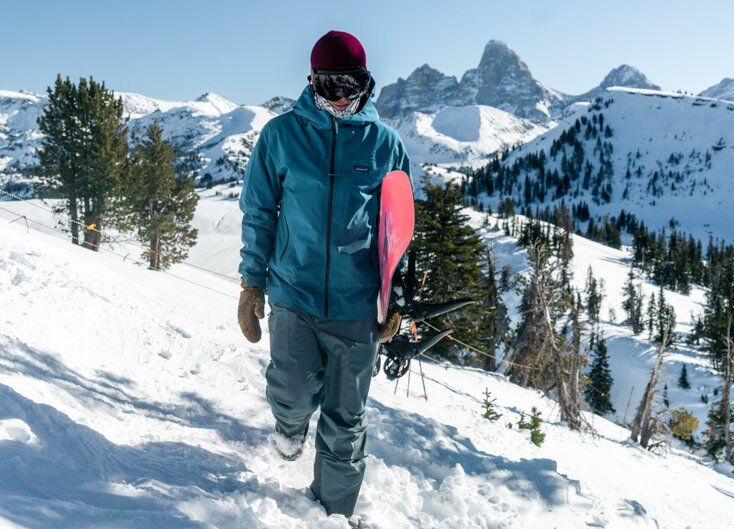 The Patagonia Storm Shift Jacket features a passholder pocket on the left arm that can works for holding an RFID ski pass. On the chest there is a small pocket on the outside and another similarly sized one on the inside. Along with 2 fleece lined hand warmer pockets, although I never found myself really using the hand warmer pockets.
Who's The Jacket For?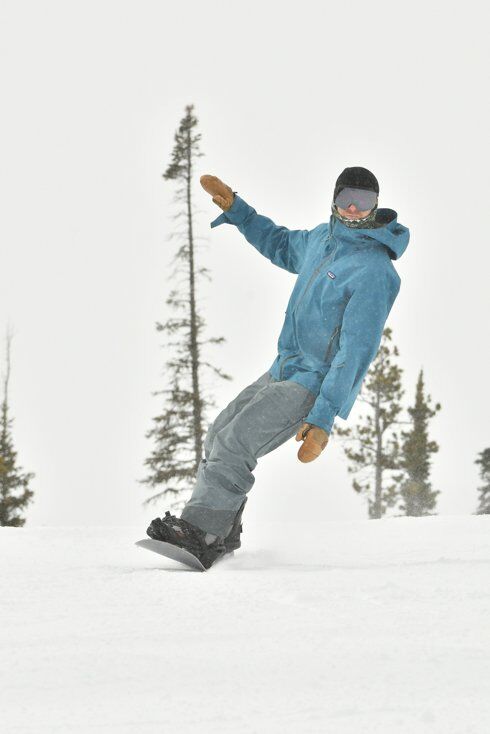 Resort riders and skiers will love this Patagonia Jacket.  It comes with a built in powder skirt, helmet compatible hood, Recco reflector (although lets hope you never have to use it).  And for anyone touring or hiking while wearing this coat, there are 2-way zippers under each arm that allow for lots of airflow.
Body-Mapping Knit
This is not an insulated jacket, however it does have a tricot-knit lining that's body-mapped in a zigzag textured pattern wicks Patagonia claims helps pull moisture away from your body and dries quickly.  I never really felt the inside of the jacket get wet, and maybe that's what this tech did.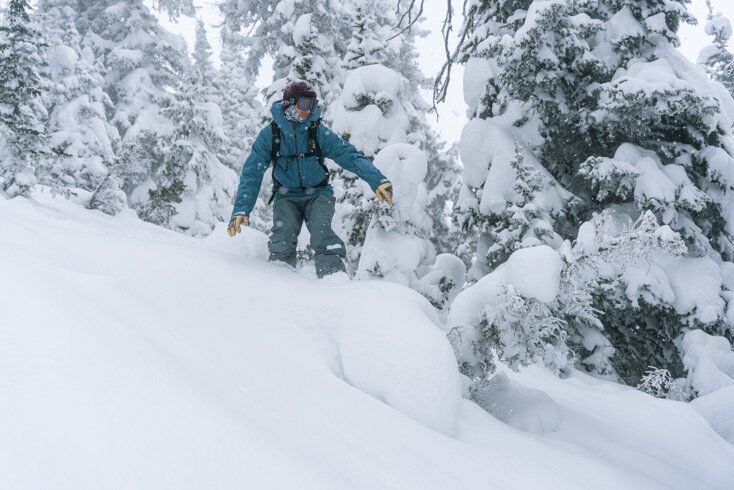 However on colder days, I always opted for the Patagonia Storm Shift Jacket as that little extra bit of knit lining looks and feels warm to the touch. And was noticeably warmer on those really cold mornings, especially when sitting on a chairlift as the back of the jacket is fully knit lined.  Patagonia might be onto something here, by adding a little bit of body-mapping knit to a non insulated jacket.  As shells can be a bit cold and insulated jackets can run to warm.
Overall Impression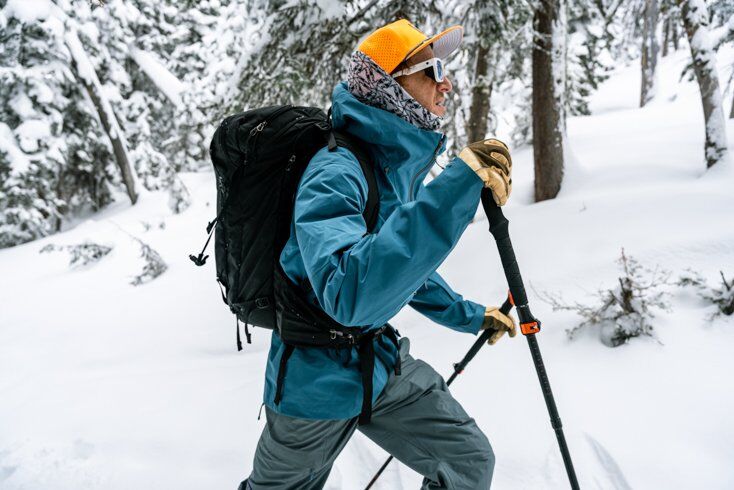 With Patagonia you know what you're getting. You're guaranteed a good fit, you're getting the best materials and latest technology and heck Patagonia is celebrating 50 years of doing business.  And not just business but ethically and socially conscious business.  I feel proud to wear Patagonia gear throughout the year.  Even if people still make smark remarks about Pataguchi, one thing is for sure.  Patagonia knows how to make solid outerwear for playing outdoors.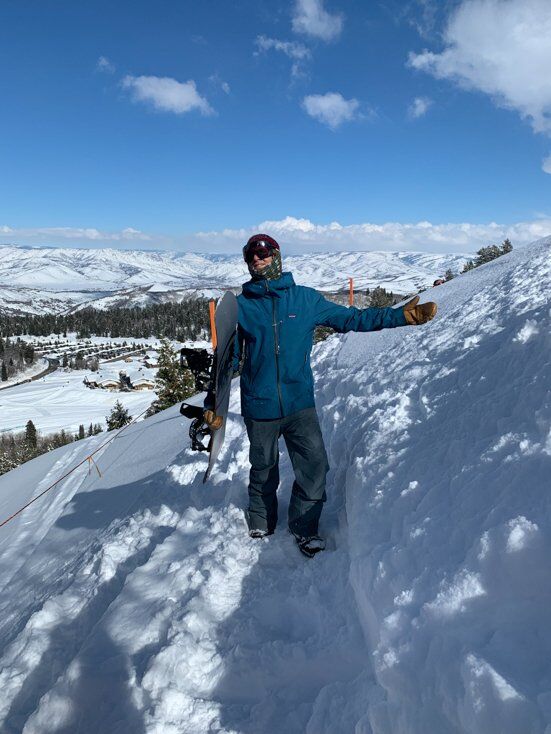 If your riding resort or even ski touring or splitboarding, the Patagonia Storm Shift Jacket ($440.00) looks as good as it performs.
Related Articles: