If you're already feeling the style of these massive POC Devour Sunglasses and you're now looking for valid, practical reasons to buy them, there are plenty. I'll outline them below but in the meantime, run off and plunk down your 250 clams for these very-bold eye covers.
Review any kind of product for long enough and you'll learn that there are two types of people who ask you your opinion of something.
The first group is people who are genuinely open to suggestions and who have yet to make up their minds.
The second group has already made up their minds. Now they're looking to you — the person they cornered at a cocktail party, group ride, or water cooler — to validate their decision.
I'm not here to tell you the POC Devour's look good. You'll need to do that all on your own.
Goggle Style Sunglasses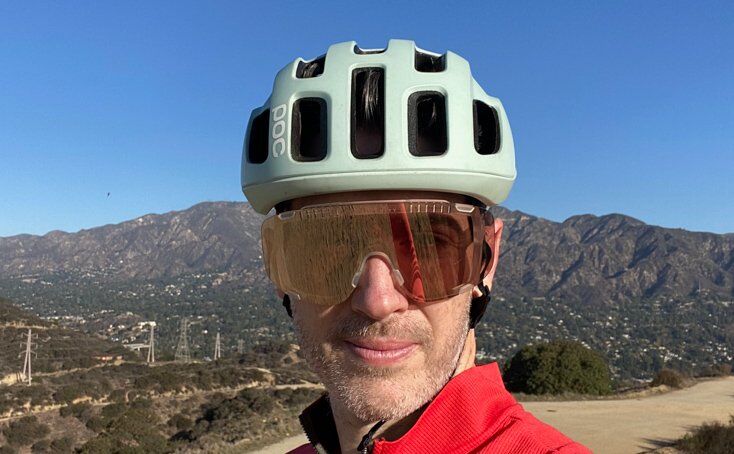 To be fair, POC is upfront about its Devour glasses, marketing them as "Combining the best features of goggles and sunglasses…" That they do; you look and feel like you're wearing goggles with this frame design, for better or worse.
Personally, I couldn't help feeling like a Paris Fashion Week reject every time I wore these on the road or trail. I just don't take my look or myself seriously enough to jibe with these glasses.
But if you're on board with the look — and plenty of my riding buddies were — then the Devours have the goods to keep you happy.
Highlights include an outstanding field of vision, impressive clarity, and a secure, comfortable fit.
The POC Devour Sunglasses come in eight different frame and lens combinations; I tested the Transparent Crystal frame with the awkwardly-named Clarity MTB Silver Mirror Cat 2 lenses. They were great in low-light, shaded situations but if you're more often in full-sun like we are here in Southern California, I'd opt for something darker.
Weight
The glasses are strikingly lightweight yet they sit on your face comfortably and securely. I loved the adjustability of the temples, a feature worthy of all performance sunglasses since they go a long way in dialing in the perfect fit and execution.
The rubber adjustable nose piece was good but not great at holding the glasses in place during sweaty MTB descents; otherwise, they stayed in place admirably.
My only other quibble was that the lenses seemed to scratch easier than I'd expect. A month of testing them over roughly a dozen rides left them with a few marks more than my aforementioned Oakley Flight Jackets — which have been with me for the better part of 10,000 miles of riding.
POC Carl Zeiss Lenses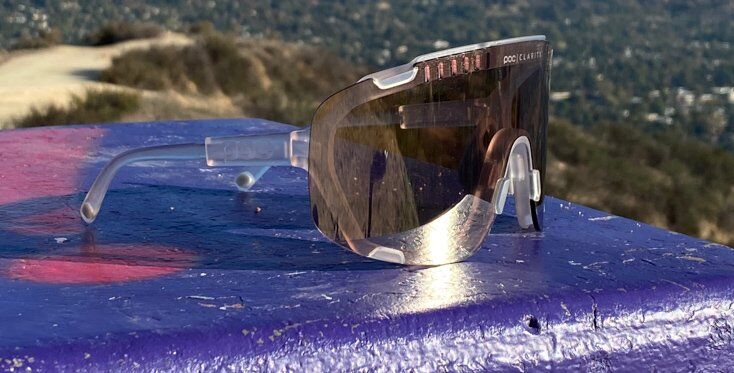 But the Devour's best feature is the lenses themselves. Like the POC Define glasses we tested earlier this year, the Devours use lens technology from the brain trusts over at Carl Zeiss. The crispness, tint, consistency — and above all — the clarity of these lenses easily puts them at the top of the heap for glasses in whatever sunglasses category these compete in.
On the road and the trail, I was regularly impressed with just how capable these glasses are at giving you the clearest look at what's in front of you.
Overall Impression
The clarity on these two pairs of POC sunglasses I've tested is so great, they've now ruined all other lenses for me, my own Oakley Flight Jackets included. They're reason enough to add the POC Devour Sunglasses ($249.95) to your shopping list and the reason why I'll probably keep using them.
So if you want 'em, get 'em. But if you have to ask if they're for you, they probably aren't
Related Articles: