Everything about the Red Paddle Co. 11'3 Sport MSL Inflatable Paddle Board says, pick me up and carry me somewhere and let's do something epic. The Red Paddle Co 11'3" Sports MSL Paddle Board has been designed with adventure in mind. The details and features make this ISUP an excellent choice for a discerning beginner or a seasoned paddler.
The boards have changed over the centuries from when the native Hawaiians were using boards to go from island to island, and the popularity has grown substantially since the 60s surf scene.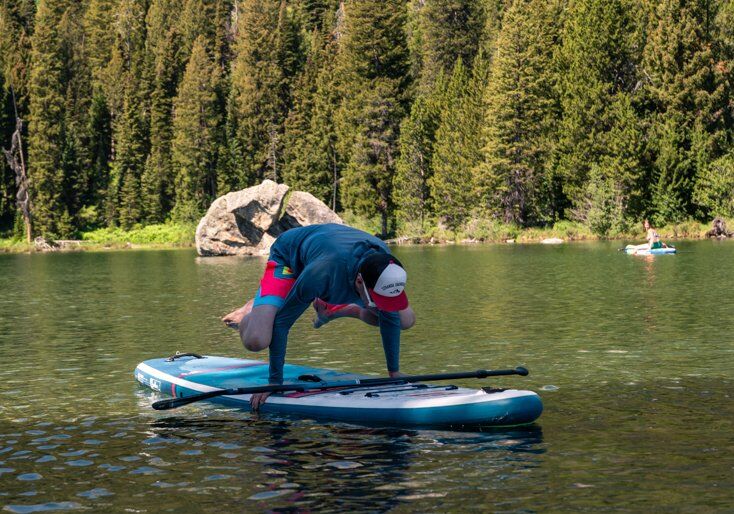 But one thing for sure is that the love of being on the water, along with the physical and mental wellness benefits has opened up opportunities for companies like Red Paddle Co to bring some outstanding boards to get you out there.
The 11'3 Sport MSL is a well-designed touring board that has a racers attitude with features that improve performance, stability, and load capabilities.
Let's look at what makes the 11'3 Sport MSL notable.
RSS Batten
RSS/ Rocker Stiffening System is a design feature that increases the stiffness of an ISUP to enhance weight distribution and helps to prevent flex. The RSS batten used in the 113 Sport is a thin, flexible, flat stringer that has been newly improved. Virtually unbreakable and recyclable, bonus, this feature can overall increase the stiffness of the board up to 50 % at full inflation. That translates to stability and performance.
The yoga mat feel under your feet might have you wanting to do some sun salutations mid-lake but for comfort, it's going to be noticeable. The EVA foam "Red" traction pad drains quickly and dries quickly and has that grippy texture you want and need when the water gets choppy.
FCS Fin
The Fin Control System on this Red Paddle Co. Inflatable Paddle Board is a removable single fin designed with minimal drag and good tracking in mind. For open water maneuverability and speed when you need it, the removable skeg is a US Box fin that is perfect for the beginner as well as the seasoned rider for speed and handling.
ATB Transformer Bag
This might actually be where the adventure begins. With a 3 option system, getting your board to the water is not an issue. Whether it is in a wheelie, backpack, or skeleton sling there is a way to haul your 11'3 Sport to the water.
All the thought has been put into the integral sling frame to take only what you need to set out on an adventure in remote water sections. This feature in itself is a selling point. Adjusting straps to fit the short and the tall makes this rigging a no-hassle way to transport your board,
The ability to strap down what you want or need to take has not been overlooked on the 11'3 Sports MSL. With three single-hand adjustable elastic cargo straps and numerous D-ring attachment points, including an action ring in the nose and a D-ring attachment for your leash in the rear, securing your dry bags or other equipment won't be an issue.
Overall Impression
Overall, this board is an impressive offering from a reputable board company. The Red Paddle Co. has created a premium paddle board to the water with the 11'3 Sport MSL ($1,599). Redesigns and thoughtful features make this board an excellent choice for beginners and experts alike.
This board has maneuverability, speed, stability , comfort and functionality all wrapped up into a mobile package that will not only get you out there but do it in style. And, if you're looking for some flash there's also a 11'3 Sport MSL model in purple.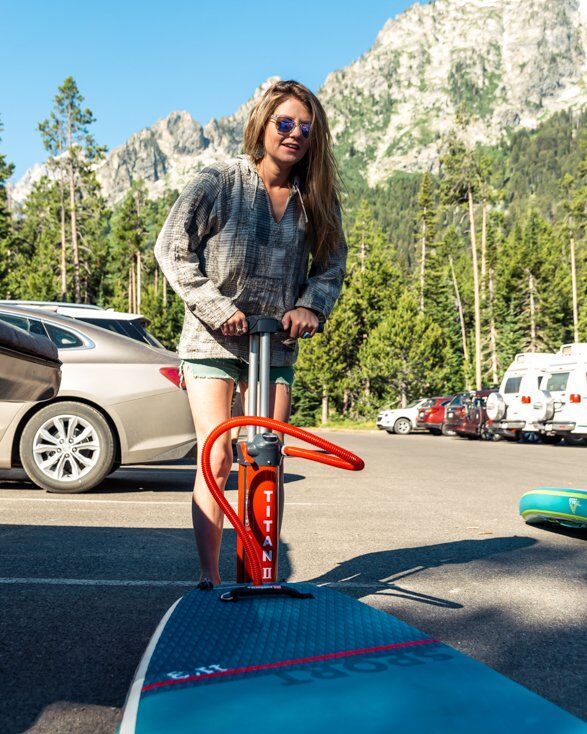 Related Articles: