Over the last decade, the once-bulky paddle board (SUP) has been largely replaced by the remarkably stiff, inflatable models that dominate the sport today. These ultra-light designs can be carried in a backpack and inflated in minutes, making it easy to take your SUP out on glassy lakes, meandering rivers, or rolling surf.
Paddle boards also offer a range of dimensions and shapes for different types of paddlers – from punchy and nimble shapes that perform like surfboards, to canoe-like cruisers that are so stable they have given rise to a new sport: paddleboard yoga.
We tested a range of paddleboards and picked a Top 10 SUP list that offers something for every type of paddleboarder — from long-time enthusiasts, to those dipping their first paddle into the water. Whether you're planning to charge some peeling surf or enjoy a relaxing glide across your local lake, these models are your best bet for durability, performance, and all-around fun.
Best Inflatable Paddle Boards
The South Bay Board Co Hippocamp is a brawny paddle board with super-wide stability and an astounding capacity of 450 pounds – enough to stow all your gear AND a first mate! Youngsters will love stowing away deckside for an aquatic adventure. But what really puts the "deluxe" in the Hippocamp package is the goodies that Hippocamp throws in to make this fishing and utility beast the sportsman's pick.
The Hippocamp Inflatable Paddle Board includes a comfortable kayak seat that mounts neatly to D-rings on the deck, and a 4-piece paddle with 2 mountable, integrated oarlocks. You can row to your favorite fishing spot and keep your hands free so you can catch a trophy. The attachable thermal cooler bag is sweet, but the lumbar dry bag with waterproof phone storage is a genius touch. Throw in a wheeled travel case and an included e-pump, and this is a master-class vessel for the angler on the go.
Dimensions: 11'6" X 34" x 6"
Capacity: 450 lbs.
Price: $1,400

The iROCKER ALL Around Ultra long-but-racey model is the best of this year's collection for the paddleboarder who wants to combine moderate stability with the ability to lean into turns and float over chop. This board's namesake "rocker" (the curve of the board that results in bow sitting above the water) makes it turn on a dime, and its twin-fin setup makes it our favorite candidate for SUP surfing.
But you don't have to be Laird Hamilton to enjoy this model: iROCKER's smart design is still stable enough for yoga, and its comfortable deck can accommodate up to 290 lbs. It also offers mesh tie-downs for creature comfort, and an included electric pump so you can save your arm workout for the water. Throw in a super well-designed carrying pack, and you've got an all-around winner.
Dimensions: 11' X 32" x 6"
Weight: 21.4 lbs.
Capacity: 290 lbs.
Price: $949.99
With all the amenities of a modern paddleboard and a can't-beat-it price, the WOW Sports Zino iSUP is a great choice for beginners ready to get their feet wet. With a universally-compatible fin box, you can change out your skeg over time to match your ability and water conditions.
The ZINO Inflatable Paddle Board has those little touches that add up, like a convenient center-stitched handle for easier portage, and a perfectly-placed cup holder for your bevvie of choice. This board is a bit more responsive than more stable models, so it's best for either smaller-sized beginners or larger riders with some experience. With a weight capacity of 300 lbs., there's more than enough float for any size rider and a stash of gear.
Dimensions: 11' X 32" x 6"
Weight: 21.4 lbs
Capacity: 300 lbs.
Price: $699.99
The Decthlon Itiwit X500 Paddle Board is the perfect model for those who love the effortless glide. It's 13' long hull is the longest we tested, and combined with its minimal-resistance pintail, this is likely to be the fastest paddleboard on the water. As would be expected in a sleeker model, the Itiwit favors speed more than stability, and will feel wobbly at stand-still compared to slower models. For those paddlers with enough energy and endurance to go far and wide, this is your go-to paddleboard.
The X500 is a full 13' long when inflated, so you'll appreciate that Itiwit has included three well-placed handles at the bow, stern, and center. And since you're likely to put in some distance, the X500 has a very smart gear stowage area with ingenious fold-up flaps that will keep your lunch from sliding into the drink halfway across the lake. The X500 inflates in 8 minutes and comes with a 2-year warranty.
Dimensions: 13'x 31"x6"
Weight: 21.4 lbs
Capacity: 300 lbs.
Price: $749.00

The Bote HD Aero 11'6" is the Swiss Army knife of paddle boards, with a host of utility elements that will stoke gearhead-paddlers. If you like to combine paddleboarding with other activities – like fishing, photography, or day-hiking – the Aero is a superb choice. The super-wide shape provides maximal stability, and three fins keep the board tracking correctly. When you need your hands free, the unique Aero Paddle Sheath allow you to stow your paddle by simply wedging the blade into an angled slot.
Seven D-ring attachment points keep all your kit lashed down, and an ingenious magnetic mount keeps aluminum cans flush to the board without requiring an indent in the deck surface. Anglers will want the optional fishing mount and bucket creel/cooler that lock into the deck. The price is high, but for those who must have the the bells-and-whistles, the Bote HD Aero 11'6" Inflatable Paddle Board delivers the goods.
Dimensions: 11'6" X 34" X 6"
Weight: 30 lbs
Capacity: 315 lbs.
Price: $1,149.99
True to its name, this ultra-compact design is the most portable of our list. The Decathlon Itiwit Ultra COMPACT pint-sized performer offers a super-responsiveness that you won't find in the larger models. With just one stroke, the board can be turned around 180 degrees from a stand-still position. The 188mm skegs are optimized for tight turns and overall maneuverability.
The Itiwit Ultra COMPACT M is best-suited for riders between 130 to 175 lbs., making it a great choice for those younger paddleboarders out there. The deflated board fits neatly into a 30-liter backpack, making it ultra-portable and easy to travel with. For lighter paddlers that want to be able to travel to different water features and maneuver nimbly, this model is a winner.
Dimensions: 9' X 33.1" X 4.9"
Weight: 15.5 lbs
Capacity: 175 lbs. (beginners)
Price: $449

The Aqua Marina Dyana Yoga Inflatable Paddle Board offers the largest, widest shape of the list, making it our top choice for stability while practicing yoga. The deck is fully covered with a supple, crocodile-groove pad for maximum comfort and grip. With double-inflation chambers and the super-high capacity of 352 lbs., the Dyanga is the life raft of paddle boards — sturdy, stable and safe.
This width of this model makes it best for one person to carry it overhead (the soft deck makes it possible to perch it on your dome), though two people will find it easier to portage. The padded comfort of the carrying backpack and the removable slide-in center skeg are nice touches. The double-action pump deflates as easily as it inflates. Note: the Dyanga docks seamlessly with the Aqua Marina Yoga deck, which also made this year's Top 10 SUP list.
Dimensions: 11' X 36" X 6"
Weight: 22 lbs.
Capacity: 352 lbs.
Price: $634.99
The Swonder Inflatable Paddle Boards longer profile cuts through chop and pesky boat wakes like a charm. Its military-grade PVC and robust drop-stitching yields a durable watercraft that isn't afraid of a few rock scrapes, and it offers two wieldy handles on the bow and center. The tool-free skeg can be detached for shore landings and the D-ring at the stern is ideal for the 10' leash or a quick tie-off.
With a generous capacity of 300 lbs. and a 4-point cargo tie-down, the Swonder is a vessel that is ready for the journey. The included repair kit is a nice bonus. We recommend the optional cigarette lighter e-pump, which allows you to save your energy for a good, long paddle. The Swonder is a great value for an SUP, and a good investment because it is built to last.
Dimensions: 11'6" X 32" X 6"
Weight: 20 lbs.
Capacity: 300 lbs.
Price: $369.99

The Red Paddle Co 11'3" Sports MSL Paddle Board has all of the high-end design elements you'd expect from industry leader Red Paddle Co. Designed for touring and distances over 2 miles, this model has a sleek hull and drawn-out nose for a super-clean glide. Design aficionados will appreciate the next-gen technology of RSS battens for maximal stiffness, and the FCS skeg is the same type ridden by pro surfers.
Even the carrying pack is next-level: compression straps and a "bagless" system means that you can stow your paddle blade in the protective Velcro-enclosed pocket, and carry the pump with you (no more need to run to the car). The pack even has large, all-terrain wheels for portage over rough terrain. Even the carrying handles are well-designed, with an ergonomic, tubular grip that minimizes hand fatigue. The 11'3" Sport MSL is not cheap, but this slick SUP will be the top choice for adept paddlers and those who can afford the best. A 5-year warranty means that your investment is well-protected.
Dimensions: 11'3" X 32" x 4.7"
Weight: 24.9 lbs.
Capacity: 242 lbs.
Price: $1,599 ($1749 with Hybrid Tough paddle)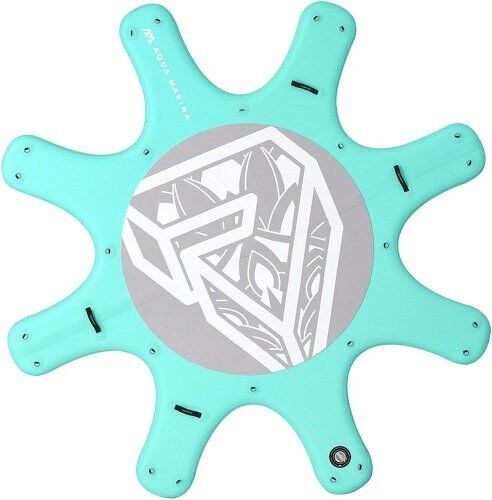 The Aqua Marina Yoga Dock is a beautiful, star-shaped creation that is one part paddleboard, one part paddleboard accessory. You could even say that it counts as eight paddleboard accessories, because that's how many SUPs can be neatly docked into this super-stable platform for group yoga, fishing pals, or a family picnic. And while it is optimized to seamlessly lock in the wider template of Aqua Marina yoga paddleboards, it's easy D-ring tie-offs means you could dock other types of paddleboards, innertubes, or anything fun that floats.
With a remarkable 485 lbs. capacity, this is a true party boat, with an inviting, fully-covered EVA padding deck perfect for hard yoga poses or a lazy nap in the sun. While MWM founder Mike Hardaker was able to carry it solo (see the photo in our review), most will find it best to portage with 2 people. While it's possible to paddle the Aqua Marina Yoga Dock, it's much easier to attach it to the back of your SUP and tow it out onto the lake barge-style.
Dimensions: 9'6" X 6'7" X 4'7"
Weight: 32 lbs.
Capacity: 485 lbs.
Price: $869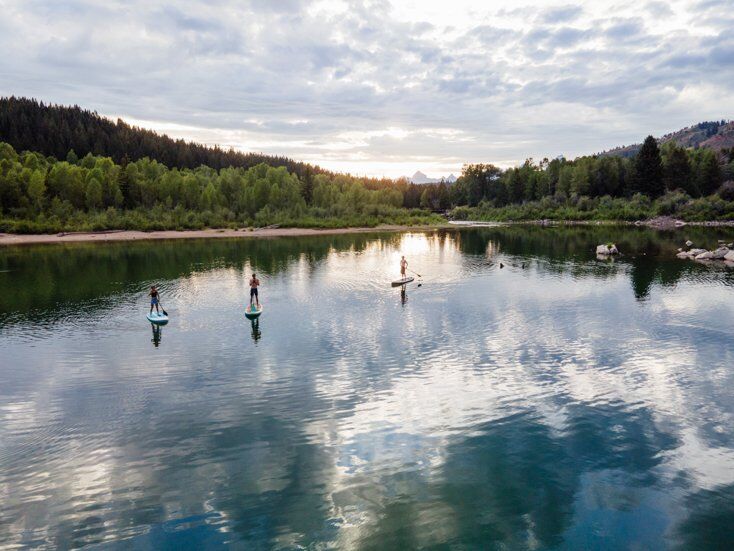 Related Articles: