WOW, a brand that specializes in watersports and fun, offers a SUP worthy of taking for a spin in its iSUP Zino 11' Inflatable Paddle Board. This paddle board is both portable and durable, and we were thoroughly impressed with its maneuverability and speed on the water. With a built-in cupholder and a carrier handle, WOW has gone above and beyond in terms of the convenience factor.
We tested out the Zino 11' Inflatable Paddle Board from WOW in Grand Teton National Park, where we lucked out on the weather. The morning offered ideal conditions for a morning paddle.
SUP Sizing
The WOW Zino iSUP 11" Inflatable Paddle Board is ideal for taller users, but handled well for our shorter testers measuring below 5' 5". The board is 6" thick allowing it to glide smoothly over open water and proved maneuverable in its steering capabilities.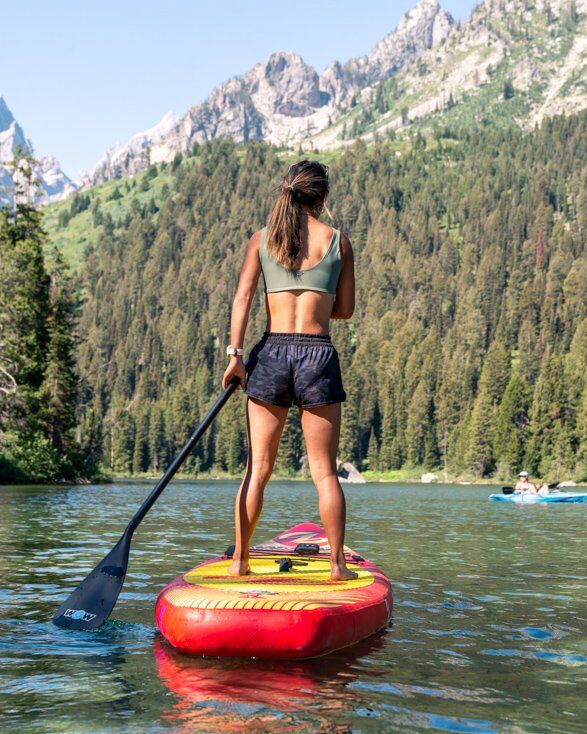 The board measures 32" across and includes a removable fin. Compared to other boards tested in the morning the Zino was noted to be slightly less stable in feel, but would do the trick for heavier riders.
Durability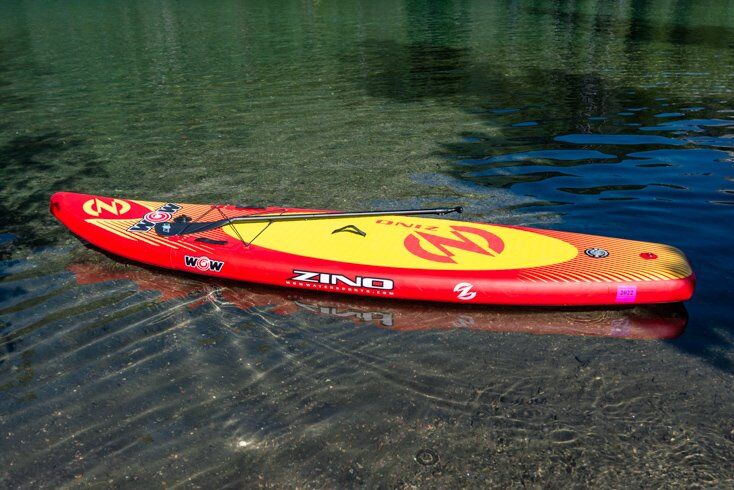 Constructed using military grade drop stitch material and a double layer of heavy-duty PVC, the WOW SUP can be trusted to go the distance. We felt comfortable in shallower water knowing the board could withstand a bit of pressure from unseen rocks below the surface. Plus the packages comes with a nifty little repair kit and valve wrench should an issue arise.
Features
WOW's Zino 11" Inflatable Stand Up Paddle Board offers some convenient features worth mentioning. The board sports a built-in cupholder – perfect for transporting beverages during hot outings. A handle stitched into the center of the board increases its portability and allows for easy transport into and out of the water. This feature was greatly appreciated by our shorter testers.
Who's this Board For?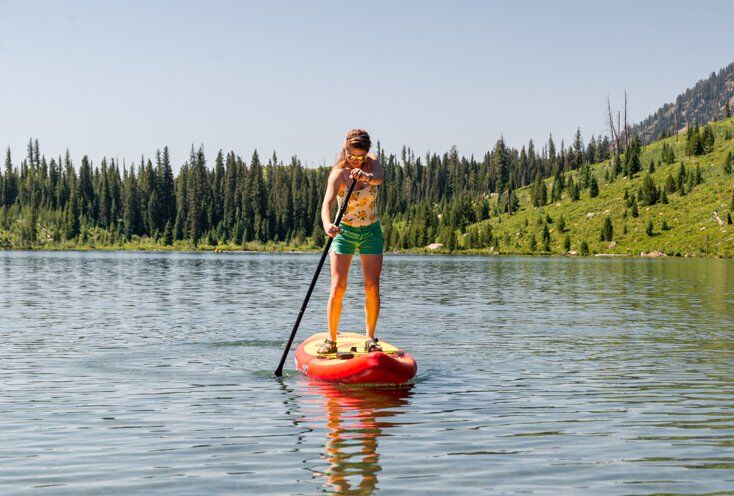 Paddlers looking for a board with outstanding durability will find WOW's Zino 11' Inflatable Paddle Board to meet this quality while still maintaining an easy to maneuver feel. This WOW Paddle Board is perfect for a leisurely day out on the water or a trip down the river. Though two smaller paddlers could definitely use this board – as it dons an impressive weight capacity of up to 300 Lbs – the board narrows at the tip and tail making it most comfortable for a single user.
The Zino weighs about 30 lbs. which makes carrying and transporting the board easy for just about everyone.
Overall Impression
The Zino 11' Inflatable Paddle Board from WOW is a pleasure to paddle. The grippy deck allowed for a secure-feel when wet. It is easy to transport and the package is comprehensive and includes a 3 piece paddle, high-pressure hand pump and convenient backpack for compact storage and transport.
When it comes to inflatable boards, WOW offers a board that can truly provide peace of mind in terms of being able to withstand the inevitable dings and nicks. Its relative maneuverability and sleek design make WOW's Zino iSUP package with Cupholder ($699.99) a great purchase for paddlers of all abilities.
Related Articles: