In Greek mythology, the hippocamp was a fish-tailed horse that Poseidon used to pull his chariot. A symbolic creature to the sailor, representing strength and agility. That symbolism is not only a name but inspirational in the creation of the South Bay Board Co Hippocamp Inflatable Paddle Board.
Paddling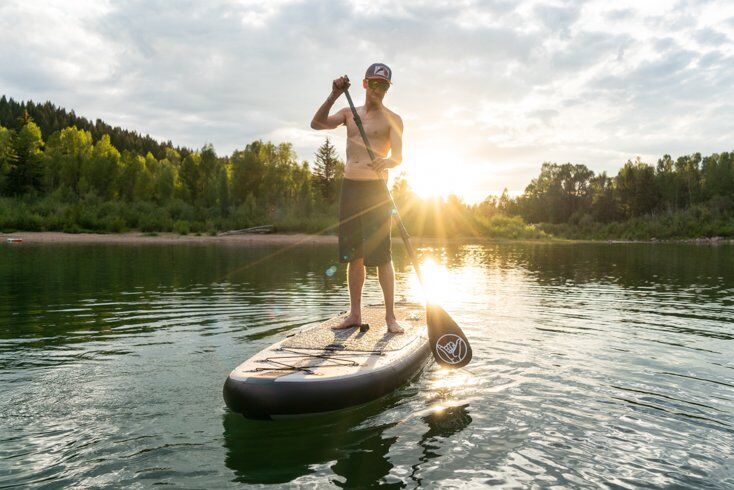 The Hippocamp ISUP body is made with custom double layered PVC military grade PVC, it has carbon fiber rails and carbon fiber stringers making a strong statement right out of the box. Add in a treasure trove of extras and premium features, and SSBC brought the mythical to life in a full-package ISUP aquatic adventure system.
Dimensionally, the Hippocamp is 11'6 long x 34" wide x 6" thick making it stable and capable of supporting up to 450 lbs. Shaped with a slight rocker on the front rail, pulled in nose and rounded tail, reducing drag and adding efficient paddle glide. .
The South Bay Board Co Hippocamp is a premium full package set up with features that are designed for fishing, exploring, and adventuring.
Triple Action Air Pump
The Hippocamp kit comes with a triple-action air pump. The pump can be dialed in to make it easier to inflate and deflate the board. With the three settings to choose from, as the board fills up, it becomes harder to push the pump handle down, so the dialed settings allow for less pump resistance but continued airflow into the board.
The pump has two separate valve ports, one to inflate and one to deflate. When deflating, it makes it easier to refold the board if all the air is sucked out by the pump,
FCS FIN Control System
The Hippocamp comes with a 2-1 fin system. Two pre-installed side bites and a single center fin. The center fin is a 9" performance paddle board fin, with an easy snap-in and wing nut fastener. The fin box is an HD traditional and proper fin box, not one of the cheaper plastic ones. So if ever the need arises that the fin box would have to be replaced it actually could be.
This 2-1 setup gives the Hippocamp better tracking and a higher degree of stability.
Kayak Seat
Available with the Hippocamp kit is a kayak seat. This is the sign that this board is not only set up to adventure, but it is a versatile ISUP. A four D-rIng attachment assembly lets you set up the Hippocamp to act as a kayak. Perfect for when in a fishing mode. The D-rings are pre-installed so its hook up and go.
Backpack
Starting with the 2XL backpack that is designed extra large to carry all the extras that come in the Hippocamp kit. This giant has room for literally everything. It can be carried as a backpack or as a wheelie, making getting all the extras and gear to the water well organized..
4 Piece Carbon Kayak Paddle
With the option of a kayak seat came the need for the right paddle. South Bay Board Co added the 4 piece kayak paddle, a multi tool of paddles. Single handle and second paddle can be interchanged depending on what mode you're in. The easy button and tighten system on the paddle make the transition super easy, going from single paddle to kayak paddle..
Fishing Mount Plates/ Fishing Pole Mounts
The South Bay Board Co. Hippocamp kit comes with three pre-installed mount plates that have been mounted in front and behind the Kayak seat position, making it easy to attach the fishing pole mounts that are added to this adventure SUP kit.
The pole mounts easily slide into the mounts. As a bonus, there are other mounts that can be used with the same mount plates, like a cup holder, or tray.
Waterproof Fanny Pack
They have thought of everything and even added a waterproof fanny pack that can hold a cell phone or other things you want to keep dry.
ISUP Cooler
Don't forget the cooler. When I said they thought of everything I was serious. There are 4 D-rings at the front of the board that you attach the cooler to. Adjustable straps keeps your beverages and bait chilled. It's an insulated bag so it would keep things warm as well. No matter what you put it in, it's an added feature that rounds out the Hippocamp.
Overall Impression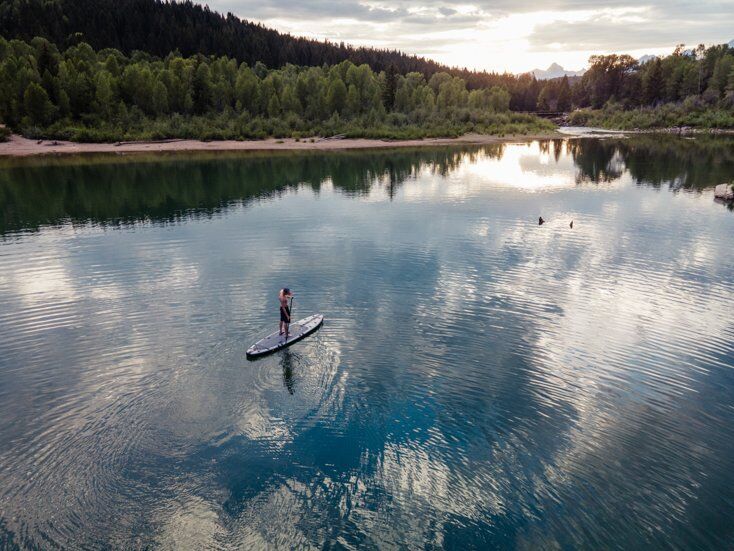 In conclusion, this is an ISUP with adventure and fishing in mind. A solid choice for a beginner as well as a season paddler, SUP fisher or aquatic adventurer.
The South Bay Board Co delivered with the Hippocampo Inflatable Paddle Board ($1400). Little details, big features make this board stand out. There's plenty of room for a second person.
Happy Adventures!
Related Articles: