For the past several years, I have been a minimalist when it comes to snow pants. I only used one pair of non-insulated, soft-shell touring pants, not bibs. I would make do with these same pants in the resort as well. I did not think it was necessary to have pants like these Powderbound insulated bibs from REI, but boy, putting these pants to the test surprised me.
The REI Women's Powderbound Bib Pants have been a piece of gear I didn't know that I needed, but I sure did, especially because last month, November 2022 was the coldest November on record in Jackson, Wyoming.
Fit and Feel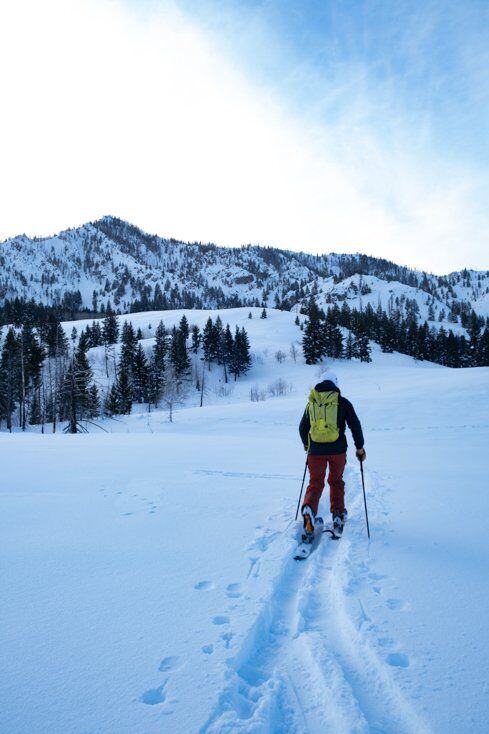 As soon as I put these pants on, I could tell they fit perfectly. I have long legs, and the length fell just where it should. In pants, I can usually go in between a small and a medium. I tend to feel more comfortable when my clothes have just a little bit of extra room. The size I have been wearing is small, and I am actually confident in saying that this would be the size I prefer.
These pants also have elastic straps, and belt loops, and feel very light while still being very warm and giving a comfortable range of motion!
Overall, these pants have a very flattering, comfortable fit. I received several compliments on their look as well. One thing, in particular, I really like about these pants is the bottoms. I love how the fit of the pants is made to flare out at the bottom. The boot gaiter that goes over the boots is the best fit I have ever worn. Unlike my other pants, this part feels extra durable and I do not have to stretch out the bottom elastic band to cover my ski boots. It goes over my boot easily and stays perfectly in place all day.
Features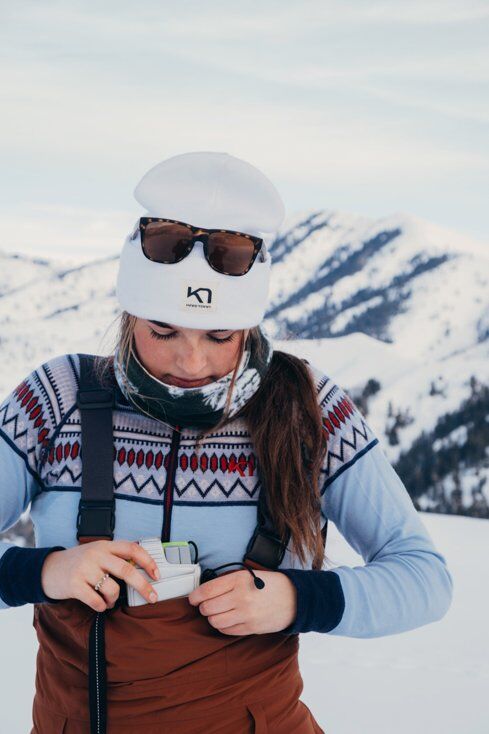 The REI Powderbound bibs do not lack the features of comfort and convenience for skiing. The pants feature 3 zipped pockets in the most essential places. The left waist pocket has been perfect for my ski pass and the chest pocket fits perfectly for a beacon. In my opinion, vents are an essential component, and thankfully the Powderbound bibs have a hip vent that has two zippers that zip both ways down mid-thigh to circulate air when needed.
Most of all, I was pleasantly surprised at how the pants were breathable, windproof, and waterproof all at the same time. At first glance, I expected the pants to be insulated and windproof, but for a tradeoff of not being breathable enough and too hot for touring. I also expected that in wet snow, they would become less water-resistant. However, somehow the Powderbound bibs have all these features working symbiotically. Even on a warm, full ski day while the snow was dumping at Jackson Hole Mountain Resort, I stayed completely dry with REI's Peak 2-layer nylon shell.
Who Are the Bibs For?
The REI Powderbound Insulated Bib Snow Pants are for any skier or rider looking for a pant for both backcountry and resort. I would recommend these pants for colder days, but they are plenty breathable for mid-cold days. On a windy day, I would grab these pants first thing. Even when the winds were high, I never felt the wind come through.
Overall Impression
The REI Powderbound Insulated Bib Snow Pants are very well priced. At $199.00, these pants feel the same quality and offer the same functionality as other high-end bibs that are priced considerably higher. The matte color might be my favorite part. This bib goes well with so many different colors of jackets and functions in a variety of conditions making it a worthwhile purchase at its price point.
Related Articles: