The Rossignol XV Splitboard is designed for straight lining big mountain peaks. If your the sort of rider that doesn't like to turn much, this directional splitboard is for you.
Rossignol XV Splitboard Sizing
The new Rossignol XV Splitboard is the pro model of Xavier De La Rue. With a size range of 159, 163, 164W and 167 you start to get an idea of who this splitboard was designed for. Powerful riders that pack a little extra weight will love this setup. Light and lengthy splitboarders most likely will have a hard time controlling this board at speed as Rossignol recommends riders be between 145 lb to 210 lb for these split. For stronger riders, this is one of the gnarlier splitboards on the market.

Looking for a stiff, rigid splitboard? Rossignol rated the XV Backcountry Splitboard a 10/10 on the stiffness scale, with 1 being the softest. When touring the stiff setup works well thanks to the AMPTEK ELITE camber dominate profile. This profile puts camber underfoot between the bindings where it's needed for touring while adding rocker at the tip and tail for additional float on the way down.
Just like Jones Snowboards, Rossignol has teamed up with Pomoca for custom cut skins for each splitboard they make. Factory cut skins are going to perform better than a DIY job, each and every time. What's cool about the Rossignol Xavier De LA Rue Splitboard is the board has notches cut into the tail that allows the Pomoca skins to lock into place, at the tail where skins are known to fail.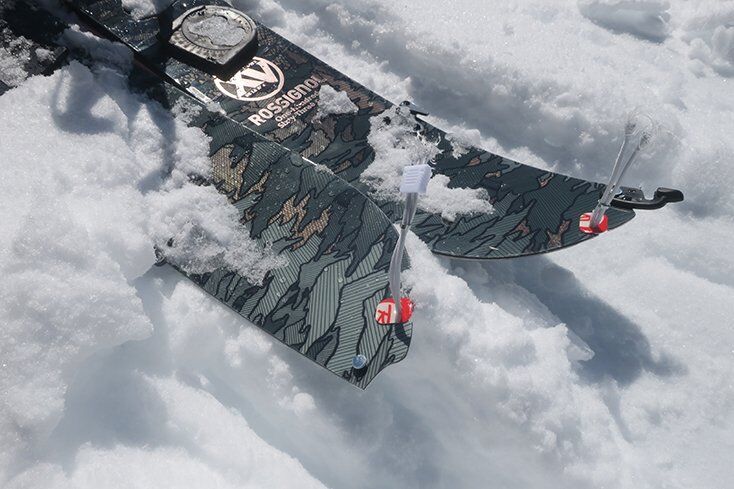 One feature I really dug was the splitboards boat hull style nose and pointed tip. This design puts you in the back seat, lower your chances of tomahawking down the mountain. If you start riding this board nose heavy it's going to hurt. For the most part, the Rossignol XV Splitboard did a great job of staying atop the snow surface. Just remember to lean back, like back leg hurting leaning back.
Xavier runs Plum bindings, the stiffest out there which gives you an idea of the performance he's looking for while riding this split.
Tour Mode
In tour mode, the raised nose and pointed tip of the Rossignol XV Splitboard planes through all types of snow with ease. Just keep your dog away from these pointed edges at the tip and tail and most importantly the aggressive serrated edges that run the length of the Rossignol XV Splitboard.
The XV Split tours through windpacked powder, deep snow and even heavy manky pow without much effort.
Along with a splitboards and skins, Rossignol also has splitboard poles available. These Euro-style poles have become my favorite pair of splitboard poles as of late. As you can see in the picture (below) there are no handles, just big grips to push off of while touring. Rossignol has been makings skis and snowboards for some time, and it clearly shows in the XV Splitboard and accessories.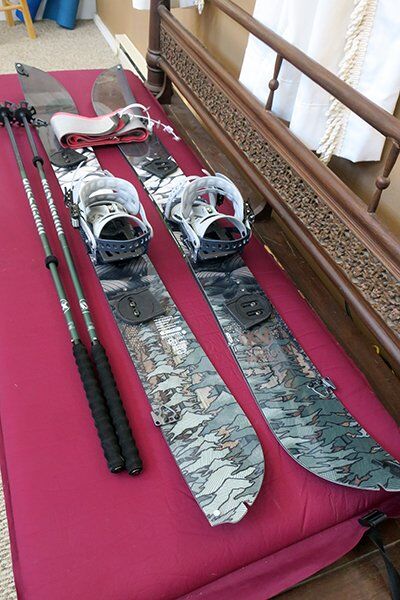 These splitboard poles are apart of Rossignols Xavier De La Rue signature collection and are available in 3 sizes.
With a sintered base and ABS sidewalls Rossignol set out to build a durable splitboard, a board that someone like Xavier De La Rue can ride. Even after 10+ days on the board it still looks brand new, and the flex has not gotten any more forgiving. This splitboard is built to last.
Overall Impression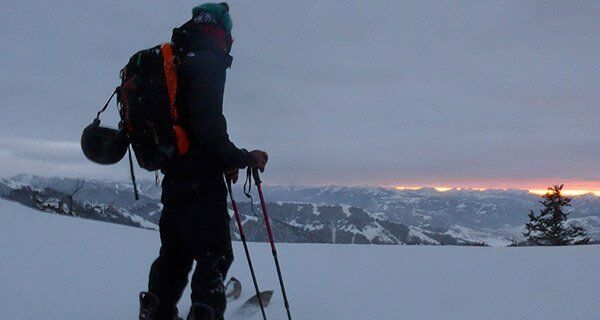 The Rossignol XV Splitboard is NOT for everyone. There were a few times when this board "rode me" and that was sort of scary. I weigh 150 lb which is on the lower end of the weight limit for this board. When I started getting the board up to speed it chattered and locked into place not allowing me to turn, or at least I didn't have the confidence to try and overpower this splitboard.
That being said, if you spend most of your time riding steep big backcountry lines in Europe, hang out above treeline then you will LOVE this splitboard. It would also make a killer splitboard to take someplace like AK, think big open terrain.
Personally, I enjoyed going uphill on the Rossignol XV Magtek Splitboard as much if not more then I did on the way down. If you have always wanted to ride fast and fall line like Xavier, be sure to pick up the Rossignol XV Splitboard ($749.95).
Related Articles: