The Slash ATV Snowboard looks unique with it's "dog ears" and rides the way you would want an all mountain shred stick to perform, without much effort this board goes where its supposed to be ridden. One of the brain child designs of Gigi Rüf the ATV gives you a glimpse of how snowboarding can be made effortlessly and catlike pouncing from feature to feature with ease.
Twin Shape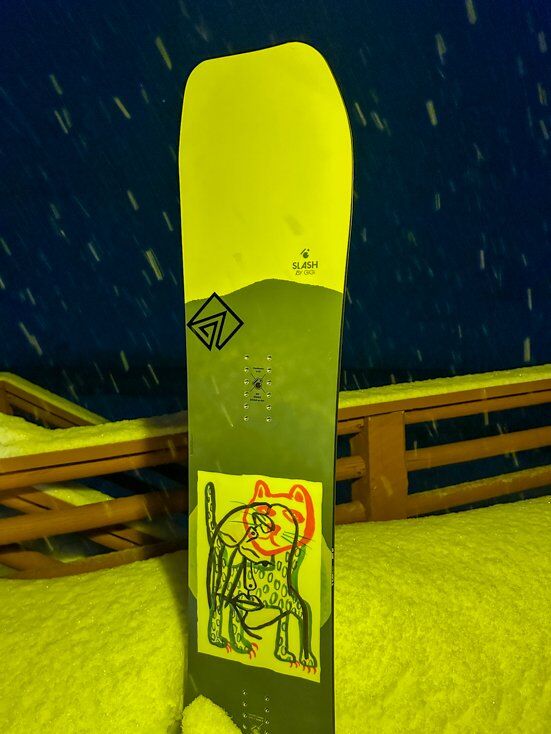 Slash's ATV Snowboard is built around a twin tip directional shape. Although the board looks, feels and rides more like a true twin tip snowboard with the only difference being a slight setback stance and little bit more width in the nose than the tail.
Last winter I took the Slash ATV Snowboard to test up to Big Sky Mountain Resort, Snowbasin and did some laps here in Jackson Hole. Riding everything from groomers to powder, park and sought ought every natural hit I could find.
Camber Profile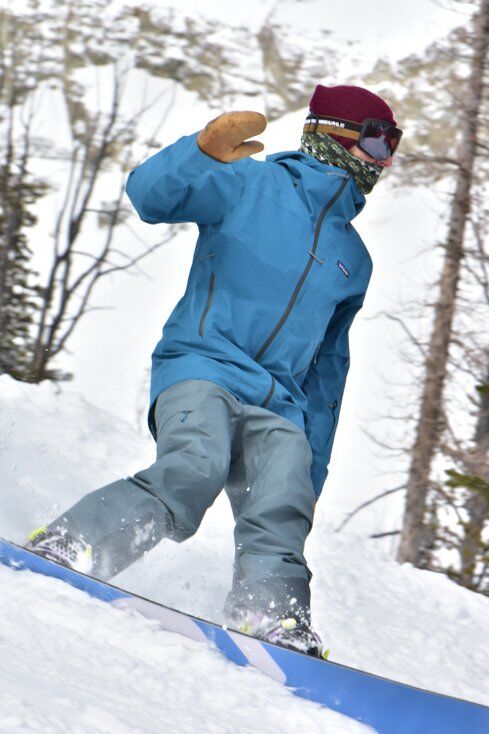 With a mostly traditional camber design throughout the board and flat camber before the tip and tail the Slash ATV Snowboard offers the reliability, edge hold, and pop that camber snowboards are known for. If you like to send it off every feature your eyes can see and load up the tail this all mountain crusher can really get some pop.
Think of the way Gigi likes to snowboard and you may just find yourself mid-air chuckling, how they heck did I load so much power into this board.
What's nice and especially forgiving on this Slash Snowboard is the ATV's flex rating of 5 out of 10. Sometimes with full camber snowboards you end up feeling like you're riding a 2×4 as they can be really stiff. Luckily that's not the case with the Slash ATV Snowboard which is soft enough to easily load the tail, butter around the mountain and jib anything in your path.
This softer camber board combined with the 3D Lift nose and tail allowed for really easy powder riding as leaning back hardly took any effort. So if you're looking for a freestytle deck for ripping around the entire mountain and like jumping into the trees as much as you do lapping the park the Slash ATV Snowboard checks lots of boxes.
Pros: The 3D Lift Ears make for a fun spot to grab the board while doing tricks, lots of camber pop, easy to ride switch.
Cons: Not a ton of sizes to choose from if you have bigger feet, a bit soft in the tail for riding over uneven snow, gets bouncy quick.
Base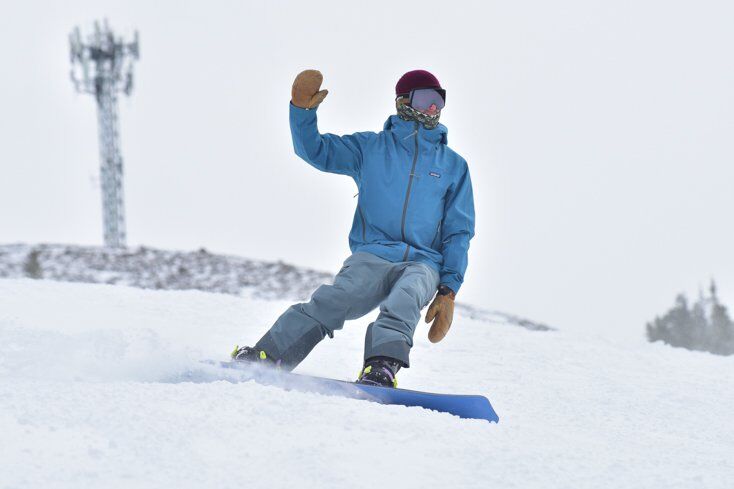 Slash is using a sintered base on the ATV snowboard that is fast and takes less wax to get fully lubed up. If you ride a lot during the season a sintered base will allow you to go longer between waxing and be the person on the cat track passing up all your friends as was the case when I was riding this board around on groomers. Plus they finished the board off with a diamond stone finish which makes it zip that much more. Slowboarding is no fun, snowboarding fast is though.
Core
This camber snowboard features a blend of lively woods including paulownia, spruce, beech and popla. Along with the wood blend there are fiberglass strands running at 45 degree angles away from the center of the board. What this does is make it fun to roll off different parts of the edges for spinning off things. Even landing you can almost at times get away with the board not being completely on the bolts.
So you get the power and pop of camber when taking off and almost the get away with anything feeling of riding reverse camber if that makes sense.
Overall Impression
The Slash ATV Snowboard ($599.99) is a lively snowboard that likes to roll from edge to edge, is happy boosting off terrain features and can easily scoop up and digest powder for any meal of the day. If you like Gigi's riding style, you will enjoy the heck out of this Slash Snowboard.
Slash's ATV Snowboard is best for intermediate to advanced riders that enjoy a softer flexing, twin tip design and that are familiar with traditional camber and like riding fast. Park riders will love this board, as will those looking for a highly responsive all mountain board. It might be a little on the soft side for true big mountain riding though like in Alaska.
Slash ATV Sizing
155cm, 157cm, 159W, 163W
Related Articles: