A snowboarding tool is a must for riding at the resort or splitboarding in the backcountry. Just the other day I was out on the mountain and handed my snowboard tool over to another rider.  Here are our picks for our favorite snowboard tools:
Best Snowboard Tools
One Ball Jay's X-Wing T-86 is just cool. It holds a #2, #3, and #3 bit, as well as a flat head but  when you deploy the x-wings, the magic happens. It's a flat ratcheting wrench but when you need to use it, you fold out the wings. It gives a handle on the end of the wrench and the T-86 aluminum structure of the tool channels your torque into the screw to really lock it down. Just about the coolest little snowboard tools on this list.
Price: $23.95
The Burton Bullet Tool is about the smallest tool in this list. This Burton snowboard adjustment tool, although it may seem small, the thing packs a #2 and #3 Phillips heads, a flat head, a 4mm Allen key and a 10mm wrench inside it. Its unique design incorporates a folding handle and a ratchet so you can crank down and make your adjustments quickly. But especially thanks to the handle you can even do work with a glove on while using the Burton Bullet Snowboard Tool. One of the best snowboard multi tools on the list, year after year.
Price: $29.95
Do you want the absolutely smallest, lightest emergency tool you can get in a compact package? The Burton Est Snowboard Tool is it. About the size of, like, a 9V battery, you can put it in your pocket. This little emergency snowboarding tool packs a #2 and #3 Phillips head with a built-in bottle opener and a keychain loop. You can even flip the drivers at 90 or 180 degrees depending on whether you need some extra torque to really lock it in or speed to get back out there as quick as possible thanks to the Burton EST Tool.
Price: $19.95
If there's a competitor for the Burton EST, it's the Dakine Fidget Tool. Since Dakine obviously has a wide offering of tools, this isn't one to sleep on. It's a smaller version of the BC Tool, designed like a pocket knife with flip-out tools. It's packing a #2 Phillips, a #3 Pozidrive, a 3/32" Hex and a 1/4" flat head so you can quickly adjust your bindings on the hill. It's so easy and small, you might as well get it, attach it to your keys, and forget about it until you need it. The Dakine Fidget Snowboard Tool is a great tool that can handle just about all your on mountain needs.
Price: $12.95
I've been using the Leatherman Wingman Snowboarding Tool for years as my trusty multitool. It's made our list before and will make it again this year. If you spend enough time in the backcountry, from time to time you will have to jury-rig something. There are definitely times when you need a knife, from cutting food to cutting off your arm if it gets caught under a rock like that "127 Hours" guy. Spring-action scissors, spring-action pliers, and spring-action wire clippers (wire can actually be very useful in the backcountry if something happens like, for example, a screw falls out and you don't have a backup). Even more, this is a year-round tool.
Price: $69.95
For snowboard tuning tools this Dakine kit is huge and includes everything you need to tune your board. You're not gonna be burning P-tex midway through your run after hitting that rock. Probably won't be melting wax onto your board. But if you're going on a multi-day backcountry tour, it'd be great to have at your yurt. This Dakine Snowboard Tune Kit zipper case holds an iron, edge tuner, 10 in. file, file-cleaning brush, a metal scraper, a 10-inch wax scraper and a pocket stone. If you're keeping it at home, this is perfect. But if you're actually taking it to a backcountry hut, yurt, or even your hotel room, you can pack those p-tex sticks and wax, and tune it up at the end of every day. hands down the best snowboard tool kit for DYI tunes.
Price: $145.00
Ever drop into that rowdy couloir just to find it's been blown into straight windboard? And then you think "when was the last time I tuned my edges?" The Edge Tuner Pro has what you need to get those edges razor sharp. It incorporates bearings on the bottom so the Toko doesn't scrape off your wax as you get to work. The built-in angle guide taking it from 85-90 degrees gives unmatched precision in the backcountry. And the World Cup universal file is guaranteed to create that knife-blade you crave. All of which guarantees a professional edge tune in the middle of nowhere. The best snowboard edge tool that should be in your garage.
Price: $49.99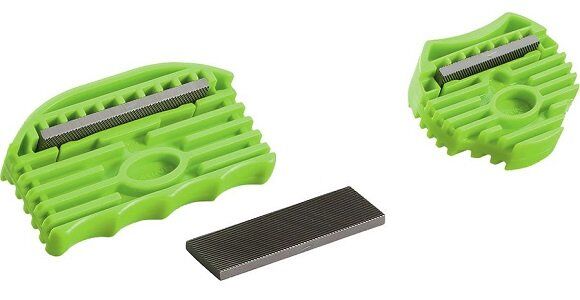 This more basic tuner is quick and easy to use at a super-wallet-friendly price. If you haven't ever used a Dakine Edge Tuner Tool, where have you been? It fits in the palm of your hand, it's bright green and some with built-in grips for your fingers. There are both a double-cut pattern to grind it out and a traditional single-cut for those final finishing touches, and even an extra file for when your first file gets crud. Because you can't clean them out when you're trying to dial it in on the fly.
Price: $17.95
Sometimes – actually a lot of times – you only need a basic #3 screwdriver. G3 knows this with their Shop Tech Pozidriv #3 which works as a great snowboard tool. The molded handle gives you the best grip while the hardened tip gives extra power and durability. A snowboard screwdriver. Simple. But perfect.
Price: $23.00
I've always loved Dakine's tools. They know how to pack the most into a small package and the Dakine BC Tool is no exception. There's an 8 and 10mm wrench; #1, #2, and #3 Phillips bits; 2mm, 3mm, and 4mm Hexes; a #3 Pozidrive; and a 1/4" Flathead that doubles as a bottle opener because you gotta celebrate with apres beers in the trailhead parking lot. Which is why they also included a plastic scraper just as good for getting skin gunk off the bottom of your board as for scraping ice off your car because your significant other "borrowed" yours a month ago.
Price: $27.95