SOHAMO is a relatively new e-bike brand, but they've quickly made a name for themselves with their affordably priced e-bikes. The SOHAMO H3 E-Bike is one of their most popular models, and it's easy to see why. It's a great all-around e-bike that's perfect for commuting, running errands, or just enjoying a leisurely ride.
The SOHAMO H3 is a 750-watt e-bike equipped with a comfortable saddle and adjustable handlebars. The H3 also has a front suspension fork and 20″ tires, which make it a great choice for riding on rough terrain thanks to the bikes responsive handling.
Who's the SOHAMO H3 Bike For?
The SOHAMO H3 is a great choice for anyone who's looking for an affordable, reliable e-bike. It's perfect for commuters, city dwellers, and anyone who wants a fun and easy way to get around. The H3 is also a great choice for people who want an e-bike that can handle a variety of terrain.
Do you plan to run errands or get groceries on your e-bike? This SOHAMO E-Bike comes equipped with a rear rack for storage.
Suspension & Tires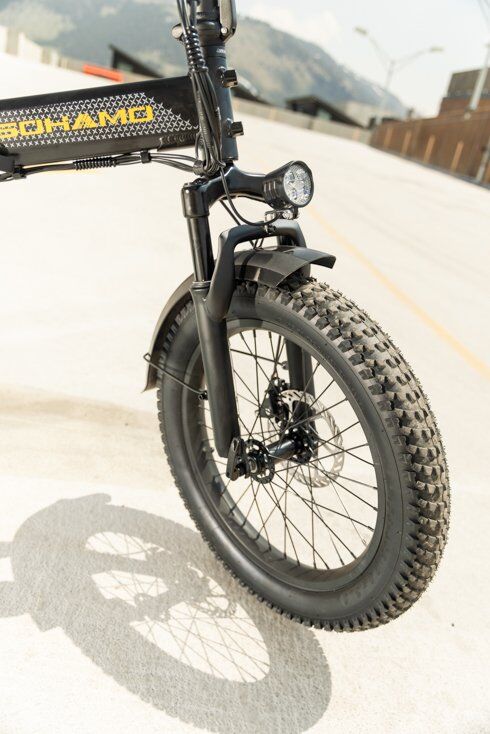 The SOHAMO H3 has a front suspension fork and 20-inch tires which allow the bike to be ridden on a variety of roads including dirt. The suspension fork helps to absorb bumps and vibrations, making for a more comfortable ride in the city if you encounter potholes or even like to ride of curbs from time to time.
The tires are also wide and have pretty burly tread, which makes them ideal for riding on gravel roads.
The SOHAMO H3 comes in a step-over style which is found on traditional bicycles. SOHAMO also has a similar version of the bike called the S3 in a step-over style. Both the SOHAMO H3 and SOHAMO S3 have a recommended rider of 5'1"-6'5″.
Shorter riders will find the S3 easier to get on and off vs the H3 E-Bike. So if buying a his and her bike, consider the H3 for the man, and S3 for a women.
Bike Weight
The SOHAMO H3 weighs 69 lbs. And since this a folding e-bike, you can easily toss the SOHAMO H3 E-Bike into a trunk, the back of your truck or even take with you on a sail boat. Plus the bike has a handlebar under the seat that allows for easy lifting and turning of the bike in tight spaces.
If you live in a small apartment and still want to own an e-bike the compact, foldable design makes storing this style of electric bikes is so much easier than some of the larger fat tire style bikes.
Motor Size
The SOHAMO H3 has a 750-watt motor. This a powerful motor can provide a top speed of up to 28 mph. The 28 mph speed is great for anyone riding on a road with traffic.
Battery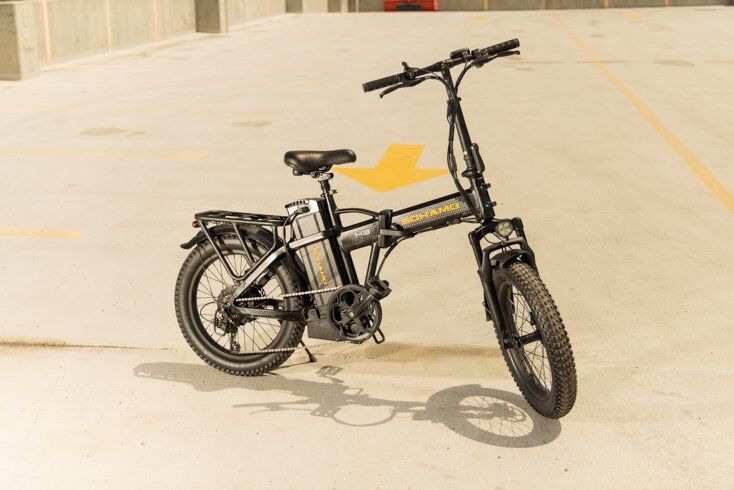 The SOHAMO H3 has a 48-volt, 15ah battery that comes with the standard version of the bike. Along with an upgraded 48-volt, 20 ah battery, The 15ah battery provides a range of 30-40 miles on a single charge. And for longer rides the upgraded battery can go around 40-60 miles on a full charge.
Now keep in mind battery life and range will depend on a few things including, how often your using the throttle, your environment especially wind, and any sort of elevation including riding up hills will make your mileage vary.
The battery of the SOHAMO H3 is also removable, which makes it easy to charge at home or at work. However it is a little bit bulkier than some of the other e-bike batteries we have seen in recent years, especially the ones built into the e-bike frames.
LCD Screen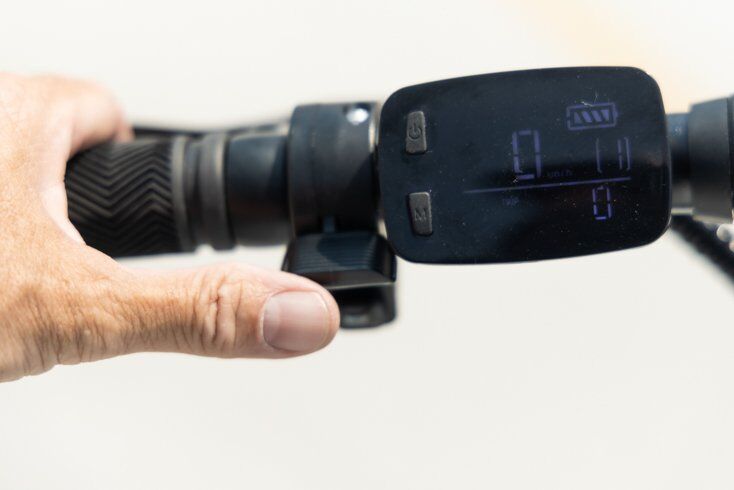 The SOHAMO H3 has an LCD screen that displays information about the e-bike, such as speed, battery level, and trip distance. The screen is easy to read and it's located in a convenient location on the left side of the handlebar just above the left hand thumb throttle.
Overall Impression
The SOHAMO H3 ($799.99) is a great all-around e-bike. It's incredibly affordable, reliable, and easy to use. The H3 is perfect for commuting, running errands, or just enjoying a leisurely ride. I would definitely recommend this e-bike to anyone who's looking for a great way to get around at a price point basically everyone can afford.
The upgraded battery version of this electric bike also currently available for ($999.99) which will give you an additional 20-30 miles of range. Which for $200 is a solid upgrade over the standard version.
Related Articles: