Meet your new day to day boot, the Sperry Duck Boot. Sperry has been creating classic looks in the shoe business for 85 years. Their waterproof shells put the function to fashion. The Sperry Saltwater Duck Boots are made for busy days and fun activities. This season's highlight is the Saltwater Wool Embossed Duck Boot w/ Thinsulate. 
Sperry Boots Warmth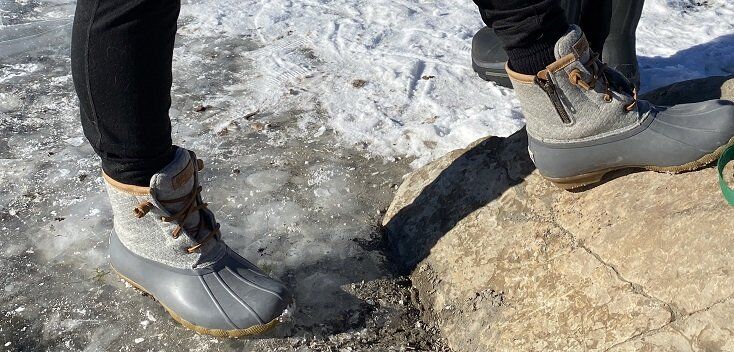 The Sperry Duck Boot is a mid-height boot that cuts off just above your ankle. There is a wide opening and barrel tie laces. A side zipper helps when taking the boot on and off. This makes the boot a comfortable, get up and go option. I have worn every variation of sock thickness possible. I didn't feel my jeans bunched up around the ankle if they were tucked into the boot. Also, these are my most comfortable shoes with ski pants, the length and warmth are perfect for ski or snowboard boot transitions. These boots are comfortable in hockey gear, with new covid19 practices,  I prefer these boots when having to pre-dress in my hockey bottoms.
Warmth
In this style of Sperry Duck Boot, my feet were warm. The upper part of the boot is water resistant wool and the bottoms are Sperry's signature waterproof rubber. With the wool uppers and the Thinsulate under foot my feet have been warm and dry. 
On a daily basis I am running out the door for work, outdoor meetings, stomping around vacant building sites or for fun. You can wear the Sperry Duck Boots as nice looking and functional footwear. Dress them up with and show a thicker sock or hide the socks for a clean look. Anytime works for Sperry Duck Boots. I wore these for working in my garage, going ice skating, long walks and skiing. 
Overall Impression
The Sperry Duck Boot ($119.95) is now a closet essential. The cut, style and functionality of this boot make it an easy choice almost every time. Sperry also offers the Duck Boot in many different colors or styles. You can get the upper material quilted, in leather or wool
Related Articles: