When I first checked out the Thermacell Radius on a camping trip, I was blown away; when I got to take the Thermacell Patio Shield Repellent for a spin in a muggy east coast summer afternoon, it was nothing short of awe-inspiring. This small and inexpensive tool creates a 15-foot zone of protection from those creatures that want to suck your blood, making it the best investment to ensure your family can enjoy those halcyon afternoons no matter how buggy it gets.
Themacell Patio vs Radius
As explained in my Thermacell Radius review, the science behind their mosquito repellent devices is different from seemingly any other solution. No messy foul-smelling Deet spray, stinky citronella candles, or ineffective organic gunk that does nothing but make you sticky. The Patio emits a chemical, allethrin, that scentlessly surrounds the device, creating an invisible anti-bug force field.
The Patio Shield works a little differently, however, from the Radius. The refills are thin 3-and-a-half-inch spray bottles that deliver 12 hours of mosquito protection. The Thermacell Patio also has a heat-activated repelent mat to ensure a steady, strong constant emission of their special juice that fries the mini-vampires' nervous systems. Not only is it super effective, but allethrin is known for having a low toxicity for humans, especially compared to other messy sprays or lotions (skin-applied DEET, I'm looking at you). A great scent free repellent.
Thermacell Patio Refills
The Patio is ridiculously easy to use. Put a repeller refill cartridge in and make sure the mat is in the slit up top. Rotate the bottom, pushing it toward the flame symbol to fire it up, then leave it on "On." The flame burns through the cartridge, emitting it as a vapor into the air. One more thing, these cartridges may not be appreciated by TSA so when I flew back east, I just brought the unit and ordered mosquito repellent refills from Amazon sent directly to the house where I was staying. So how was that test?
The Test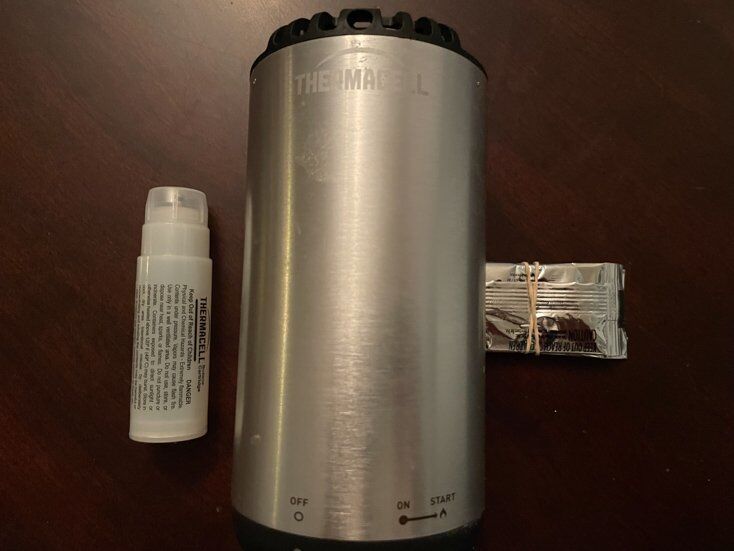 In Maryland it's a time-honored tradition to order a bushel (or at least a couple dozen) crabs and have some friends over. You sit at an outdoor table and dump the crabs out, spending the next few hours ripping open the shellfish, drinking cheap beer, and enjoying being outside. Of course with the humidity (and probably the smell of dead sea-animal carcasses), the pesky mosquitos and bugs will start flying around. So I tested my Thermacell Patio in the middle of August at a Baltimore crab feast. It was noticeable when I stepped outside the Patio Shield's radius how quickly I found a little bloodsucker on my leg.
But inside the 15-by-15 mosquito free foot zone it was miraculous. The Thermacell Patio Shield Mosquito Repeller itself is small enough to be a little almost-unnoticeable centerpiece, about the same size as an Alexa. But everybody noticed its effects. My mom couldn't stop talking about how much of a miracle worker it was, keeping us unmolested all afternoon into the night. You almost forgot how horrible the mosquitoes normally were on a summer crab night thanks to Thermacell that creates a powerful invisible layer of protetction.
Overall Impression
Mosquitoes have been getting worse and worse it seems. Even here in the Tetons, a place where there hardly used to be any mosquitoes, they've gotten really bad. And getting mauled by the bugs can turn a fun afternoon into absolute misery. The Thermacell Patio lets you set up a nice big table to sit out on your patio or deck and enjoy those warm, slow summer days with friends and families without getting so distracted and irritated by the bugs that you forget we're supposed to be having fun thanks to a powerful invisible mosquito free zone.
With its industry-leading low human toxicity, high effectiveness and the ability to create a literal safe zone that repels mosquitos, the Thermacell Patio Shield ($24.99) is a no-brainer if you want to enjoy company outside. Order a few replacement cartridges, fire up the barbecue (or the large crab steamer), and have that summer fest to end all summer fests. Now that we're socializing again, we can't let a couple little bugs get in the way of our good times.
Related Articles: