The boy looked like he had chicken pox, mosquito bites peppering his neck, lower legs, arms. The wife wasn't much better. Our summer camp in the Tetons had become a nightmare, trying to hide from the ravenous horde, crouching over our campfire hoping the smoke would protect us. It didn't. That was last summer. So when I got a chance to test out the Thermacell Radius Zone Mosquito Repellent, I jumped at it. We planned a lakeside backpacking trip and left behind all other no-see-um goos. Either this would work or I'd hear about it from my itchy family for weeks.
Thermacell Mosquito Repellent DEET-Free
For all you chemistry geeks out there, the active ingredient is Metofluthrin, an odorless, DEET-free neurotoxin that specifically takes out mosquitoes. Supposedly it can work against other bugs too but not as well. But yes, it is neurotoxic and you're advised against rubbing it on your body. That said, on one July camping trip into the Winds a few years ago, we brought a bunch of organic mosquito repellent and, as a backup, some DEET.
The lemon-whatever-juice organic repellent worked as well as all such organic compounds – that is, it didn't. So we went with the DEET, covering our bodies, our clothes, even our tent fly. Which led to my wife waking up in the middle of the night with a pounding headache and thereby ending our camping trip at first light. On our most recent backpack, camping next to a lake in the Gros Ventres, we set up the Thermacell Radius Zone Mosquito Repellant and were headache-free.
Protection from Mosquitos
The best test subjects I know are my wife and my son. After a lifetime of playing outdoors and neglecting moisturizer and sunscreen, my skin is leathery. My wife and my son, on the other hand, have skin like mana for skeeters so from June until September we can only camp up very high and away from any bodies of water. On our muggy trip to camp alongside Goodwin Lake, we set up the Thermacell Radius Zone next to our campfire/cooking/eating zone.
Rebecca the skeptic said there was no possible area from mosquitos (that this summer has been worse than I had ever seen them) where should could be with her being eaten alive. And that was true, the bugs feasted when setting up the tent when getting water when sitting in our camp hammock. But when in the Radius's 110-square-foot protection zone, the swarm thinned to 1 or 2. We were cocooned inside an invisible force field neither seen nor smelled nor felt except when you stepped outside and immediately were under attack.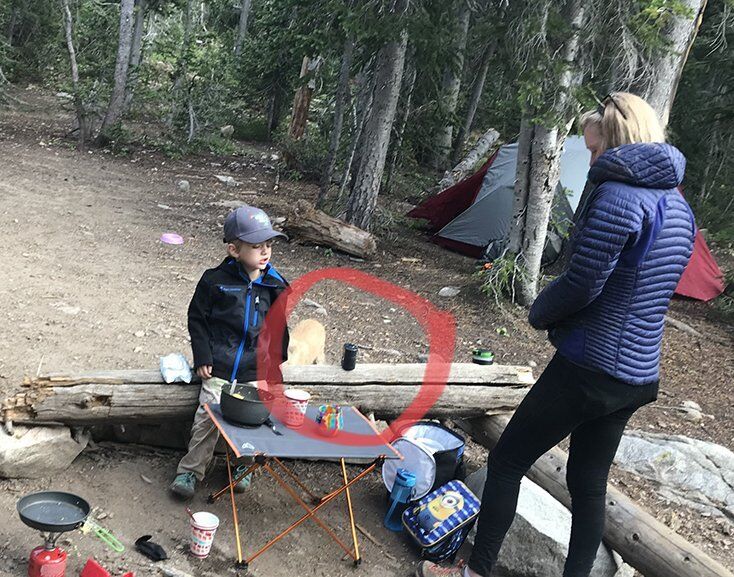 Thermacell Portable Mosquito Fighter
Plus it weighs 7 ounces. 7. That's less than a respectable-sized container of mosquito spray. The size of the Thermacell Radius Zone is about the same as a solar recharger so you put in the refill, slide the operating button to lock, and boom, you've got a compact and powerful mosquito shield fitting comfortably in the pack.
It's also TSA compliant air travel, so if you've got upcoming trips to warm climates – Africa, definitely Brazil, South America in general – this is a no-brainer in your checked luggage. My only advice is to bring a recharger. And if you'll be traveling for any serious amount of time, bring a few refills sold separately.
What can be Fixed?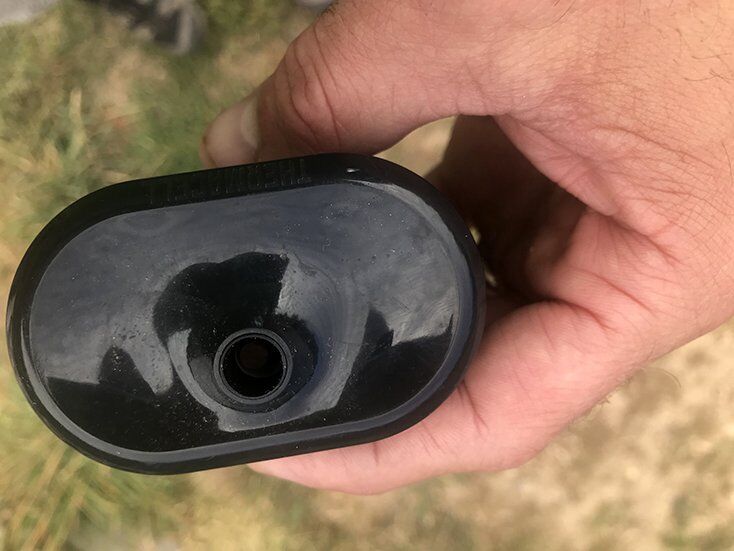 The biggest drawback of the Radius Zone is how fuel- and repellent-intensive this is. The time limit of the bug juice that comes with this is 12 hours. You can buy repellent refills for around $20 that last 40 hours, and while I hate the idea of all the plastic garbage this may create, I'd suggest picking up a few if you're planning on camping in some buggy areas.
The Radius itself runs out of power in 6 hours. That's right, six. It can run while recharging and since it's (like everything else) USB chargeable, you can bring your solar recharger and theoretically operate it until it drains the Metofluthrin cartridge. But yeah, 6 hours running time with a 12-hour fuel cartridge likely wouldn't get you through a two-night camping trip. So plan accordingly.
Overall Impression
It's pretty archaic to think that when most of us are camping in buggy climates, we're covering our bodies with the same crazy chemicals we've been using for decades, basically bathing our flesh in pesticides. There have been countless proposed solutions to repelling mosquitoes, urged on by everything from mere convenience (it sucks to get bit by mosquitoes) to dire health issues (malaria and Zika come quickly to mind).
Thermacell is answering the call with a line of innovative and diverse mosquito-repellent solutions made for the 21st century and beyond. And the Thermacell Radius Zone ($49.99) is sure to be the outdoors person's friend as it blends portability, effectiveness, and decreased toxicity into one rugged, easy-to-use unit.
Related Articles: