With the ability to carry up to 130 lb of bikes, the Thule EasyFold XT hitch mounted bike rack is a great option for transporting just about any bicycle you might own, including e-bikes.
As the name implies Thule's EasyFold system does simply that. The rack fold's up to less than a foot wide when not in use, makes for easy storage and even looks cool on the back of your vehicle when not in use.
Weight Capacity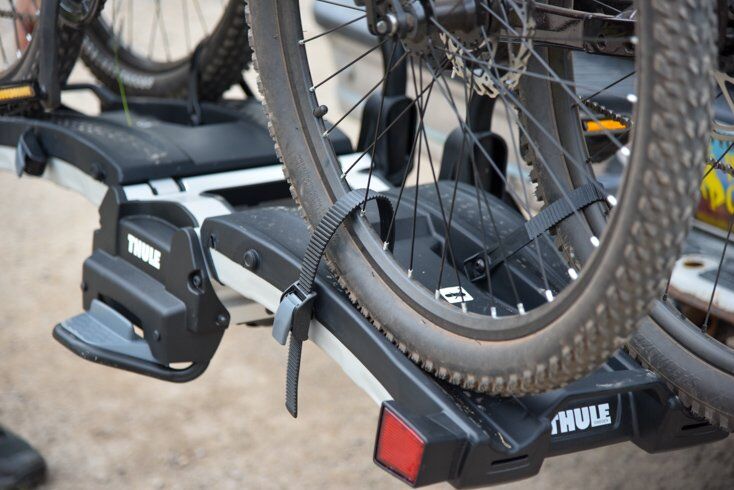 The Thule EasyFold XT Bike Carrier is designed to carry 2 bicycles with a combined weight of 130 lb. or 65 lb. per bike. Most city style e-bikes weigh around 65-75 lb. so this is sort of the sweet spot in terms of weight capacity.
In our test we routinely had 130-140 lb. of weight on the racks, sometimes a little bit more. The Thule EasyFold XT was able to safely transport our brand new ebikes on numerous occasions for testing.
This rack, like any rack isn't rated for zipping down a dirt road with pot holes. So keep that in mind, especially if you decide to load a couple heavier fat tire e-bikes on the back.
Mounting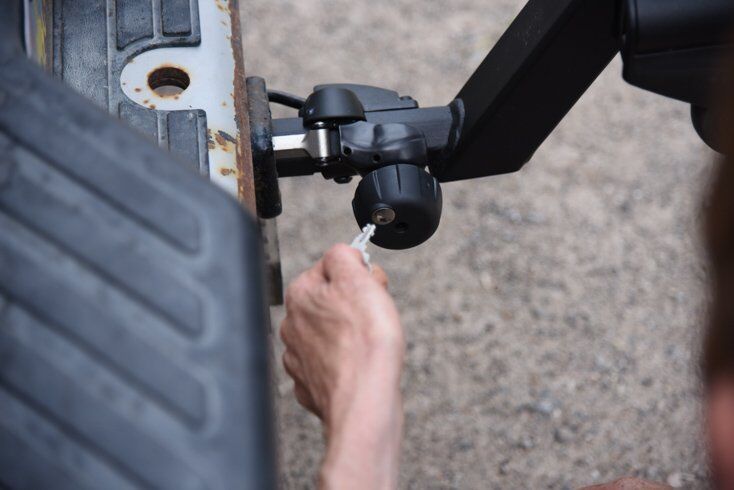 My favorite feature of this rack, and there's a lot of them is hands down how the rack locks to your vehicles frame and to your bikes. And when I say lock, I mean actual locks.
The frame hitch on the Thule EasyFold XT accommodates the standard 2″ receiver hitch and even the smaller 1-1/4″ hitch. This no wobble rack system secures to your hitch without having to use any tools. Instead of tools for tightening the rack to your vehicle, you insert the receiver into the hitch and twist the little knob, you twist some more and you can see and feel the rack tightening. After a few more turns there is no play in the rack.
Here's where it gets fun, the twist handle has a built in key lock. Once the rack is secure simply insert the key, turn the lock and the rack isn't going to move. These same twist handle locks are what helps to secure your bikes to the frame as well.
Locking Bikes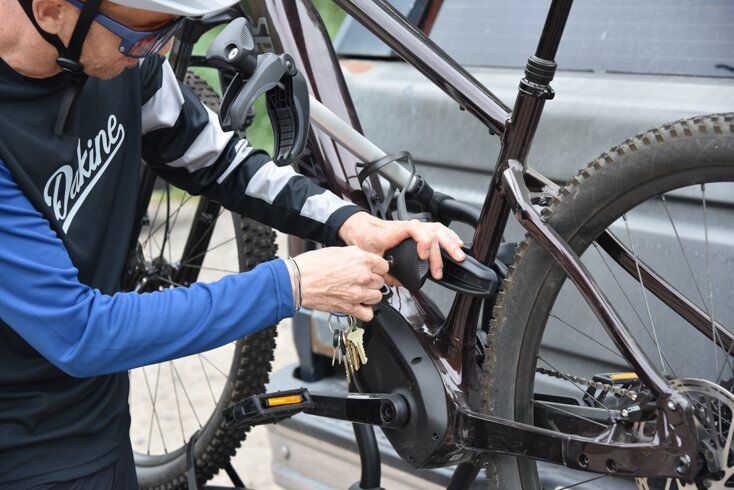 Thule's EasyFold XT Rack can lock 2 bikes at once. This Thule Bike rack has a set of arms in different lengths that are used to grab onto different mounting points of the bike. Depending on the frame size and style you might find yourself using the arms to attach to the top frame bar, seat post or even the handlebar mount.
There are tons of options here.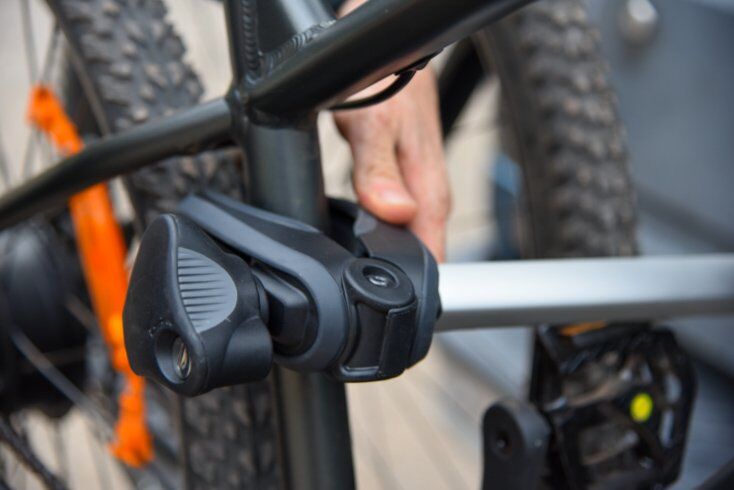 You can slide the arms around a bit to find the best fit for your size bike. In our case we routinely had different sized and shaped bikes which were all accommodated without to much adjustment of the arms.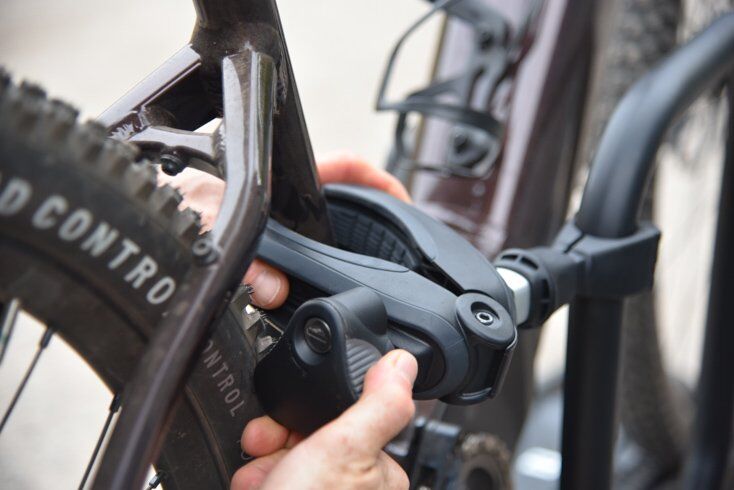 Once the arms are in place, the same twisting motion that locked the frame in place is used. Simply turn the dials a few times until the grabbers have really wrapped around your mounting object, insert the key lock and repeat.
Since were speaking of grabbers, the rubber teeth on the bike lock do a great job of chomping down and clamping around whatever mounting point you have chosen. This eliminates and guessing of is the bike secure enough? You can visually see the teeth clamp down and twisting the knob gives instant real time feedback as to how tight or not the bikes are to the rack.
Foldable Bike Loading Ramp
Since you're most likely loading heavy bikes onto the rack, Thule came included a sweet little foldable ramp that makes rolling bikes up and onto the rack a breeze. Plus the rack tilts down so if you have a road bike and wanted to load it up you can simply lift the bike up onto the rack.
If you plan to transport fat tire bikes, with tires 3″ or more I would suggest adding on the optional XXL Wheel Strap Kit ($24.95) otherwise the fit can be a little bit on the tight side. Especially with 2 fat tire bikes at the same time.
Tilt Ramp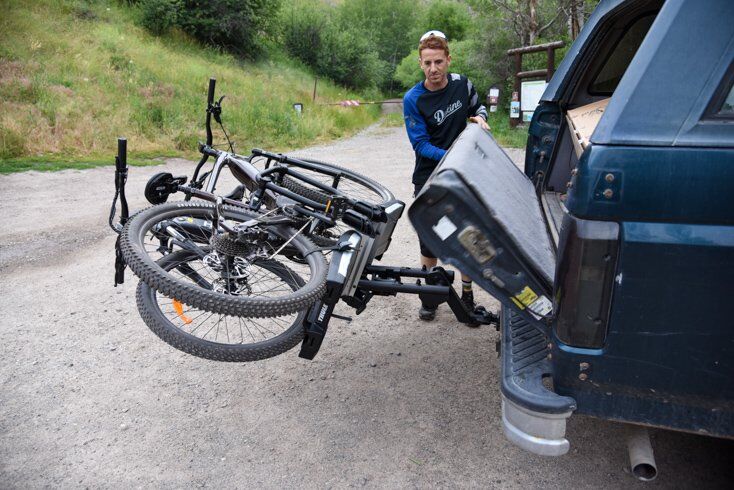 Looking to get into your tailgate or open your rear hitch? With the Thule EasyFold XT Rack it's really simple to access those areas. There's a step located on the back of the rack, simply step down and the rack will come forward toward the ground around a 45-degree angle. And as mentioned above for road bikes you can always load or unload with the rack tilted down toward you.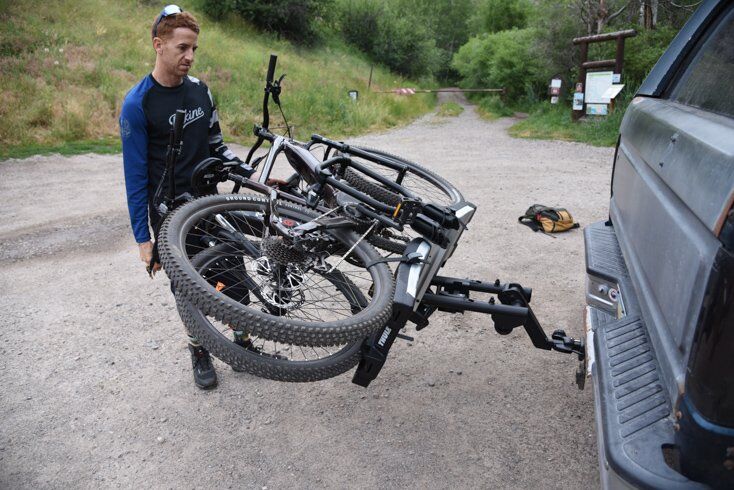 Overall Impression
The Thule EasyFold XT E-Bike Carrier is the sort of rack that would look equally as impressive on the back of a pickup truck as it would on a Tesla Model X. With the carrying capacity rated to handle most ebikes, and just about every regular style of bike out there Thule's Easy Fold XT ($999.99) is an incredibly versatile rack that you can rely on for years to come..
This rack won't take up much space being stored, comes with built in rear taillight reflectors and is simply easy to use! What more could you ask for in a reliable easy to use hitch rack from a trusted company like Thule.
Related Articles: